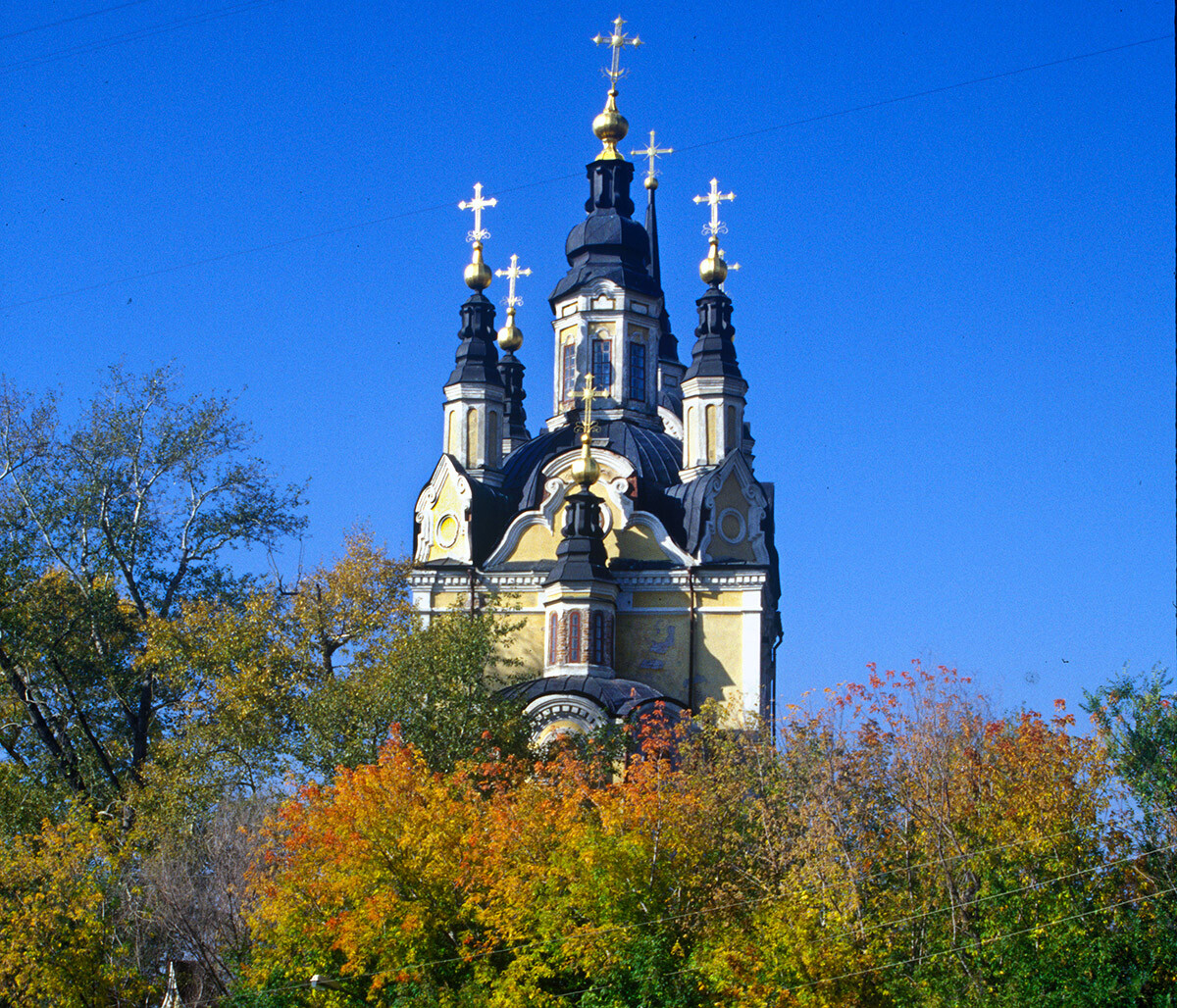 At the beginning of the 20th century the Russian chemist and photographer Sergey Prokudin-Gorsky developed a complex process for vivid color photography. His vision of photography as a form of education and enlightenment was demonstrated with special clarity through his images of architectural monuments in the historic sites throughout the Russian heartland.
In June 1912, Prokudin-Gorsky ventured into Western Siberia as part of a commission to document the Kama-Tobolsk Waterway, a link between the European and Asian sides of the Ural Mountains. The town of Tyumen served as his starting point for productive journeys that included Shadrinsk (current population 68,000), established in 1662 on the Iset River. By the time of Prokudin-Gorsky's visit, the town already had several enterprises, including a ceramics factory, and a population of some 15,000.
Prokudin-Gorsky's photographs of Shadrinsk include the rapid construction of pine log buildings for a railroad station complex – part of a secondary rail line built in 1911-1913. The partially completed buildings show an efficient use of standardized design, with measured log stacks in the foreground. Tall, spindly pine trees complete the picture.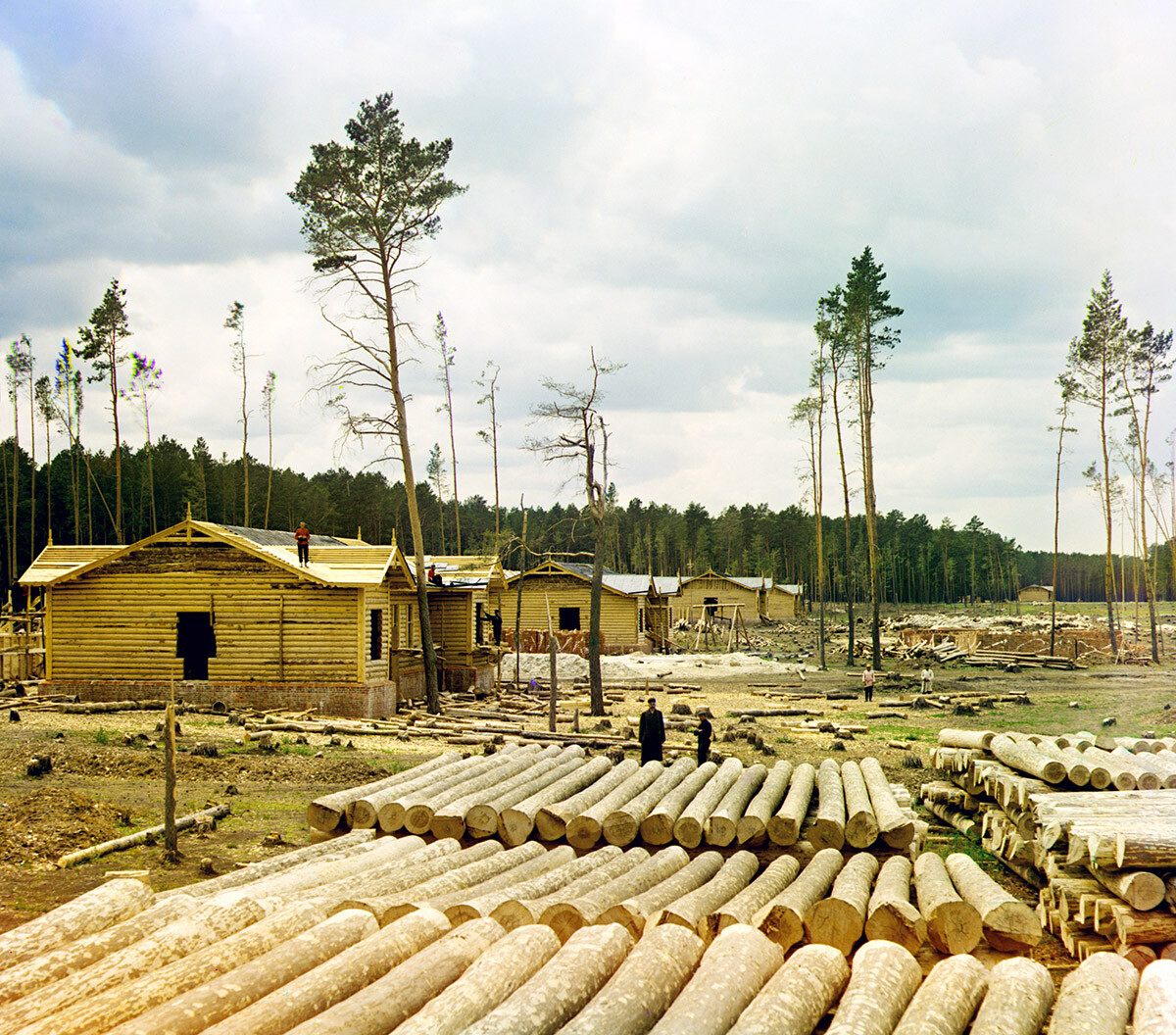 Shadrinsk. Construction of standardized log buildings for a railroad station complex. Summer 1912
Sergey Prokudin-Gorsky
In a broader context, these photographs reflect the expansion of Russia's rail system from Yekaterinburg to the Far East. Although Prokudin-Gorsky did not reach Tomsk (in central Siberia), I visited there in the late Summer of 1999 and saw the extensive use of log structures in an urban environment.
Tomsk beginnings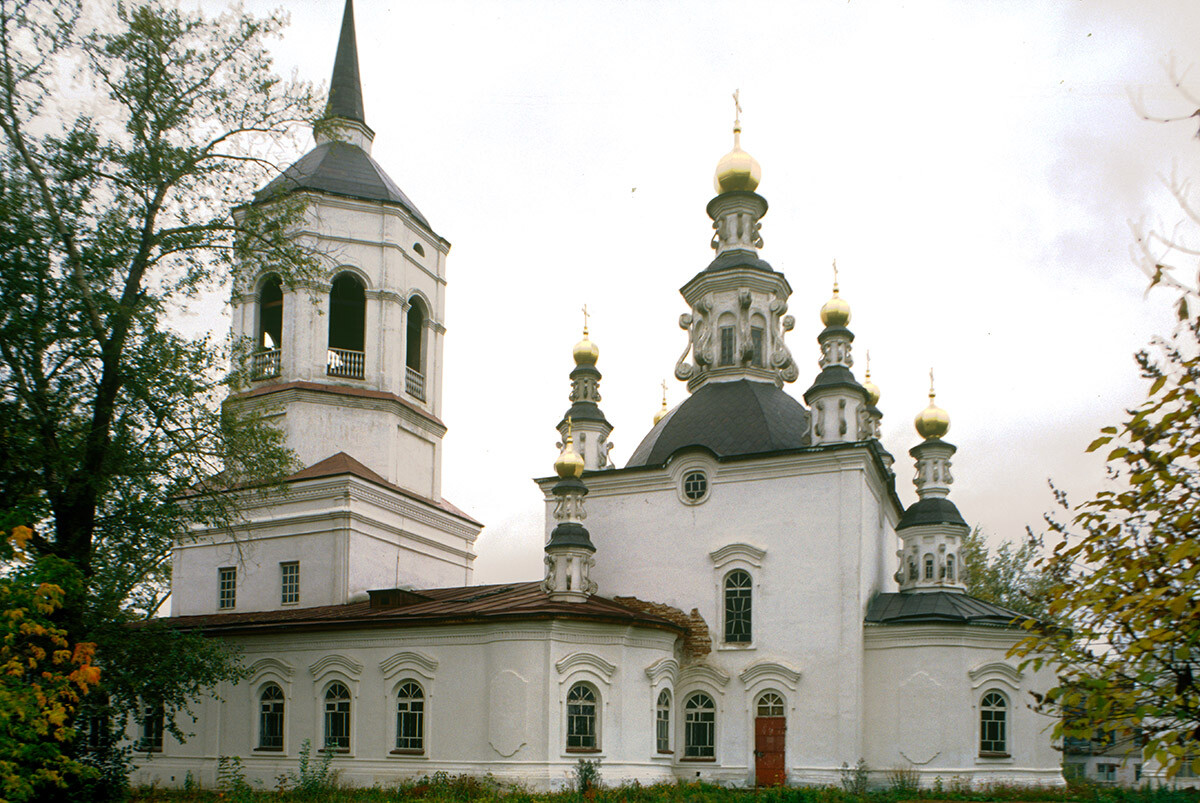 Tomsk. Church of Kazan Icon of the Virgin at Virgin-St. Aleksy Monastery, south view. Built in 1776-89; bell tower added in 1806. September 26, 1999
William Brumfield
Archeological evidence suggests that Tomsk Region, part of the vast Ob River basin in central Siberia, has been settled for at least four millennia.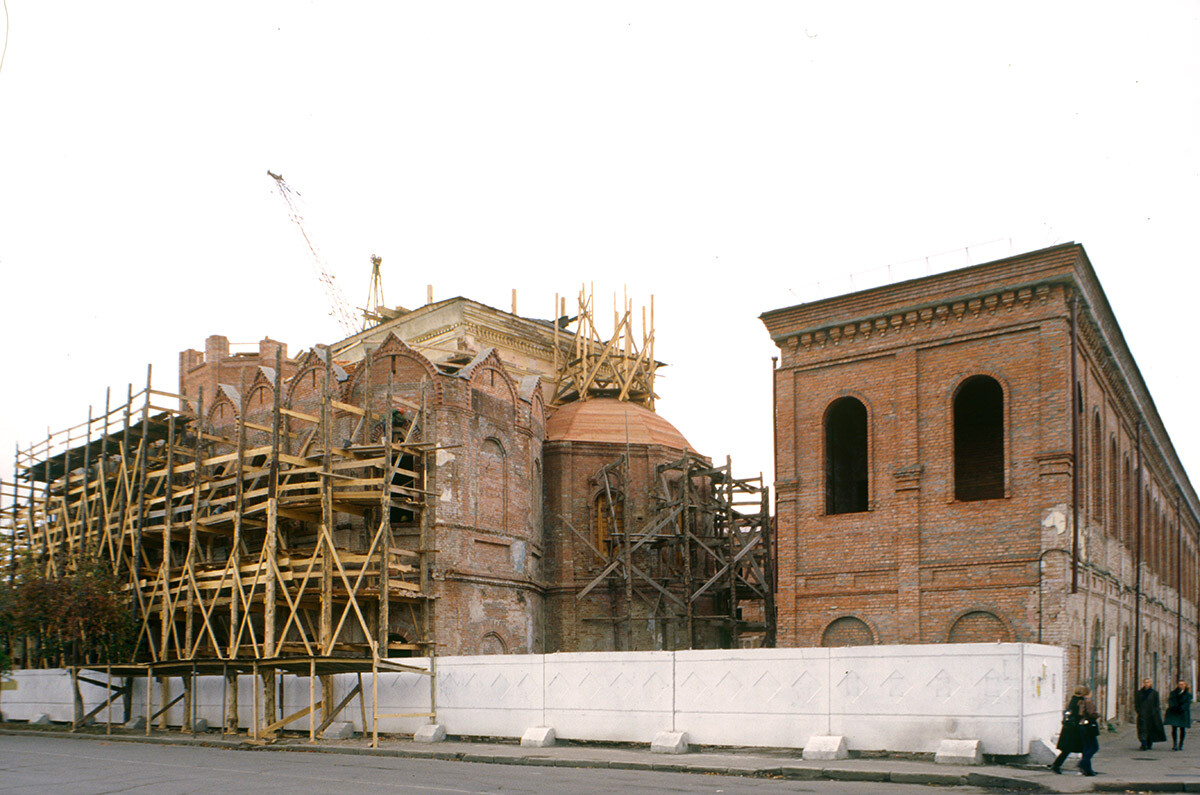 Epiphany Cathedral, southeast view. Built in 1777-84; expanded in 19th century; severely deformed in Soviet period for use as factory. This historic photograph shows the process of restoration, completed in 2002. September 25, 1999
William Brumfield
By the time detachments of Russian Cossacks arrived in 1598, the native inhabitants included the Khants and Siberian Tatars, who, in 1603, accepted the authority of Tsar Boris Godunov.
In 1604, a fort was founded on the banks of the River Tom (a tributary of the Ob) and, throughout the 17th century, the Tomsk settlement served as a bulwark against the Kalmyk and Kirghiz steppe tribes.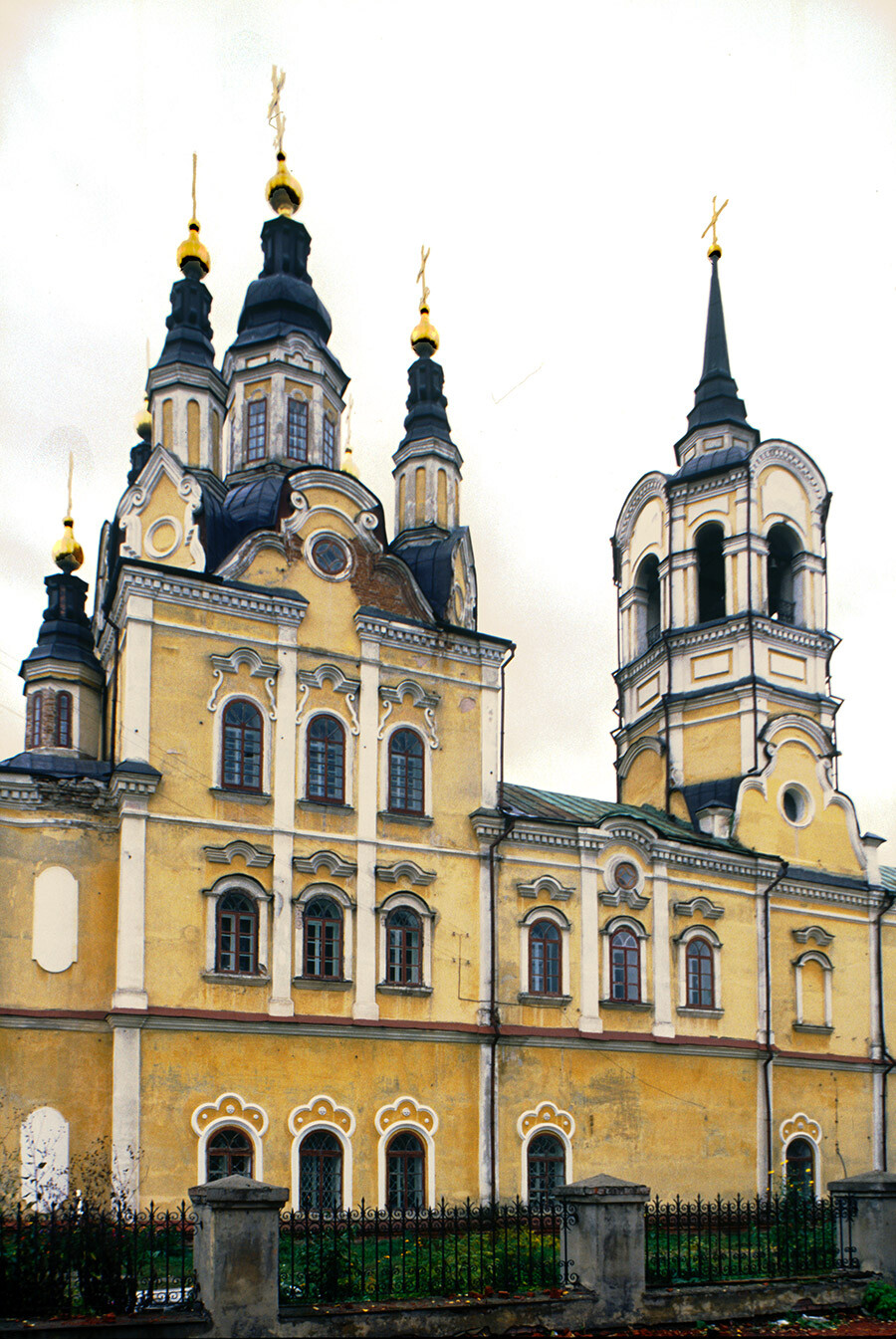 Church of the Resurrection on Resurrection Hill, north view. Built in 1789-1807; excellent example of "Siberian Baroque" architecture. September 26, 1999
William Brumfield
With the expansion of Russian control to the south during the 18th century, the military significance of Tomsk was replaced by trade and transportation, centered on caravans of tea from China.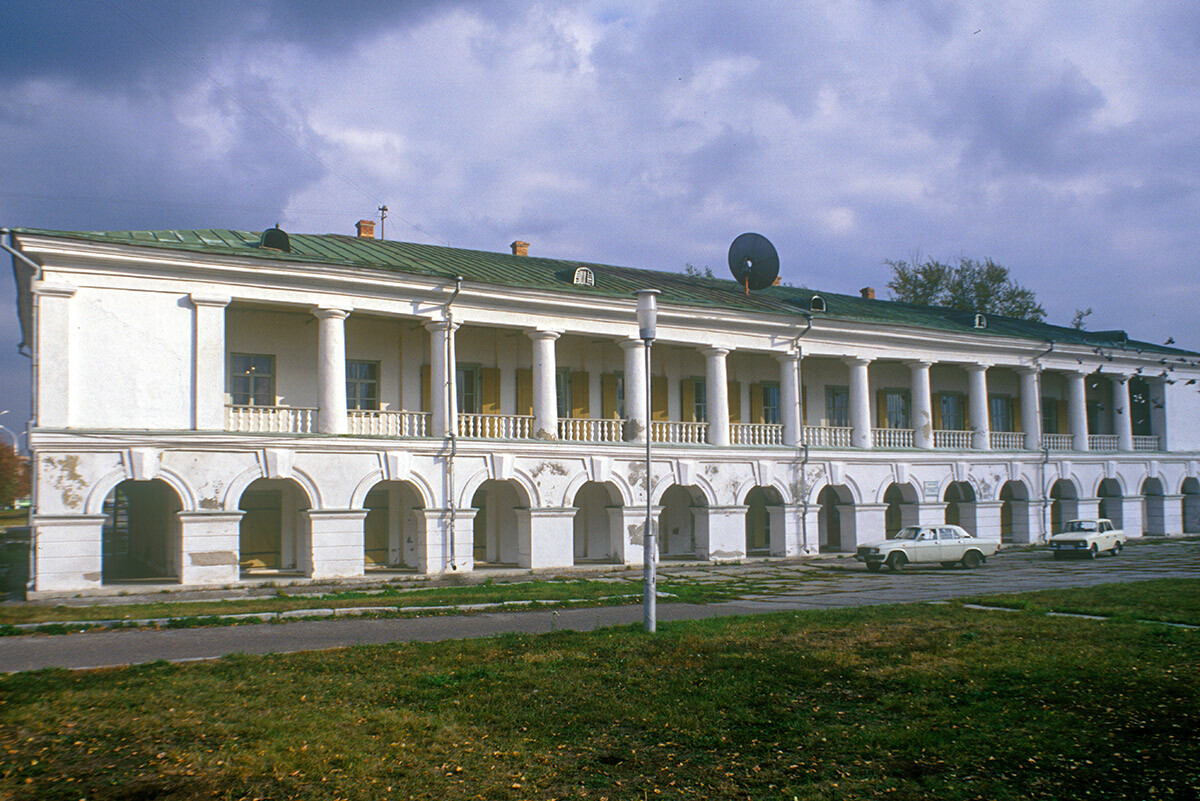 Former Stock Exchange Building, begun in 1825. September 25, 1999
William Brumfield
The expansion of the Moscow Road through Siberia in the middle of the 18th century provided further stimulus for growth that was reflected in the construction of large brick churches, such as the Epiphany Cathedral (first completed in 1784) and the Church of the Resurrection (1789), a masterpiece of Siberian baroque architecture.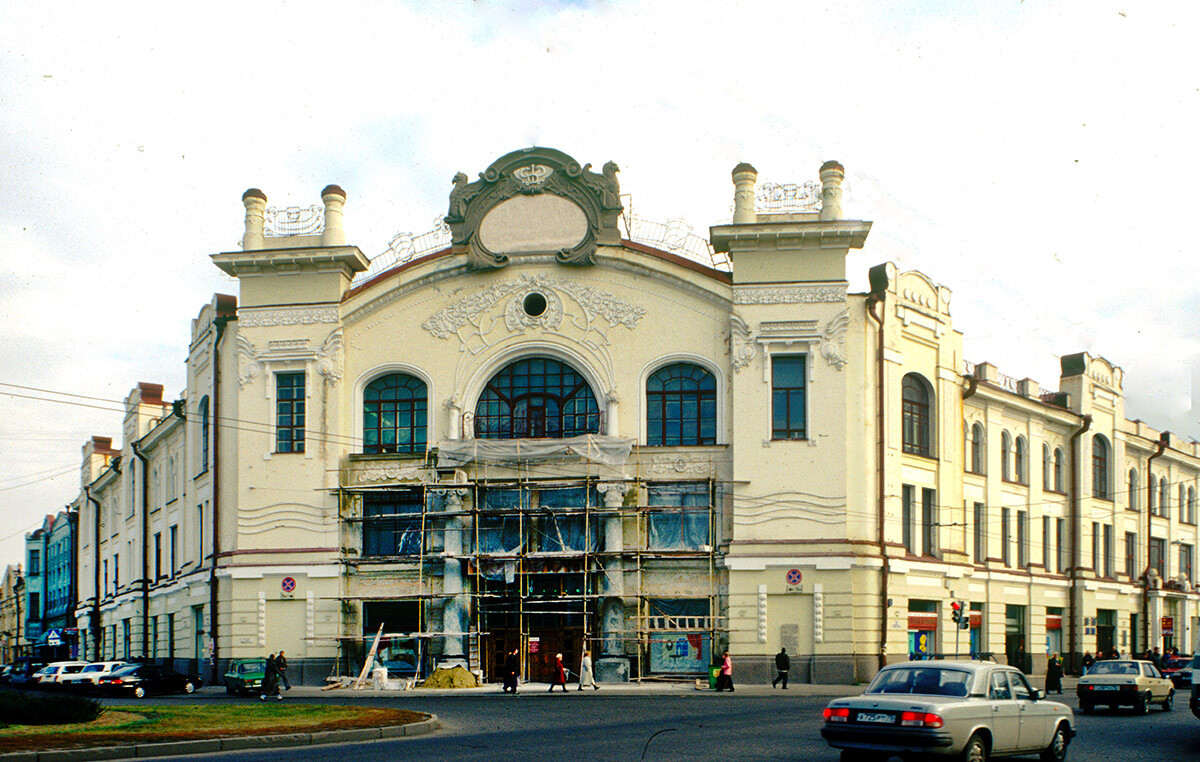 Alexander Vtorov & Sons Building, Lenin Prospect 111. Built in 1903-05 as a department store & hotel; a major example of Art Nouveau architecture in Siberia. September 24, 1999
William Brumfield
During the 1830s, the development of gold mines in the territory greatly increased the town's significance as a center of mining operations and administration. Tomsk Region also continued to serve as a place of political exile, as it had in the 17th and 18th centuries.
'Diverted' opportunities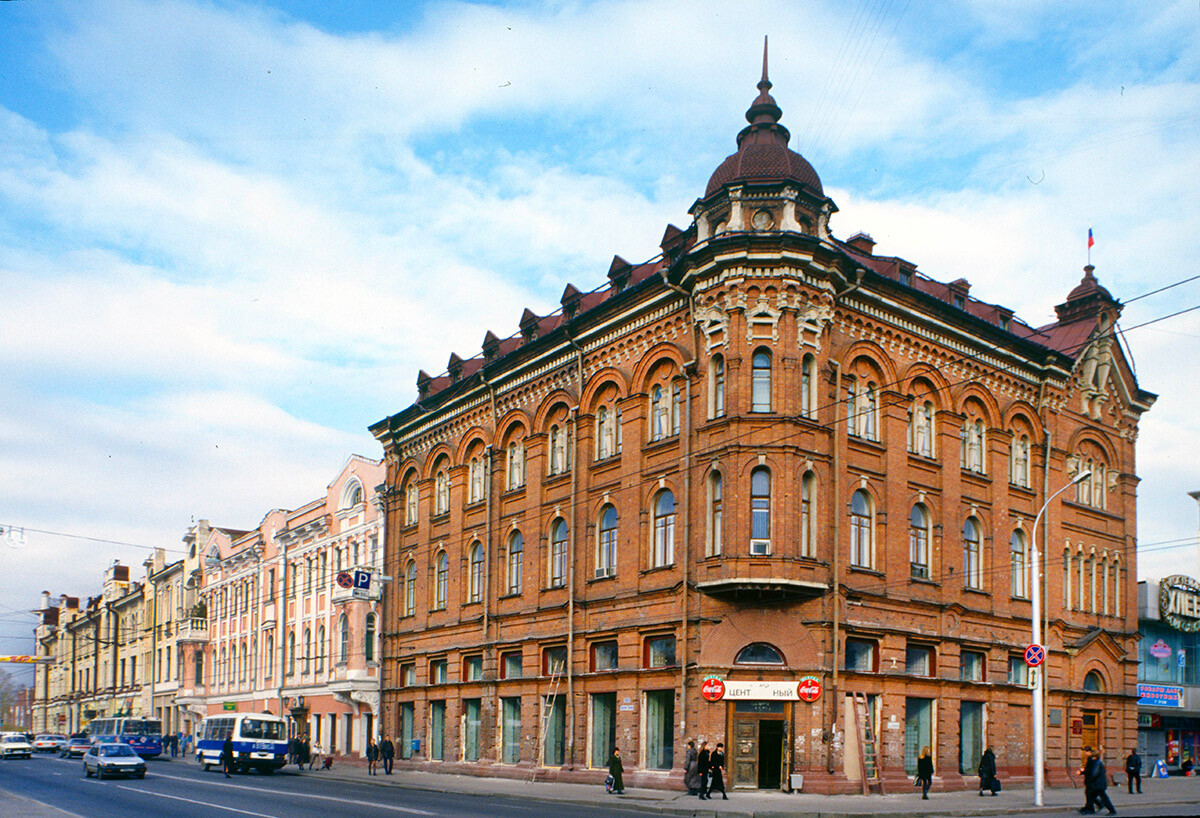 N. S. Zaslavsky "Fashionable Store," Lenin Prospect 105. Built in 1898-99; example of "Brick Style" commercial architecture. September 24, 1999
William Brumfield
During the construction of the Trans-Siberian Railway at the end of the 19th century, Tomsk missed a second golden opportunity when the Ministry of Transportation decided to place the railroad crossing over the Ob' River to the south. There are conflicting explanations for this decision, which slighted Tomsk, but created the town of Novonikolaevsk, subsequently to become the major Siberian metropolis of Novosibirsk.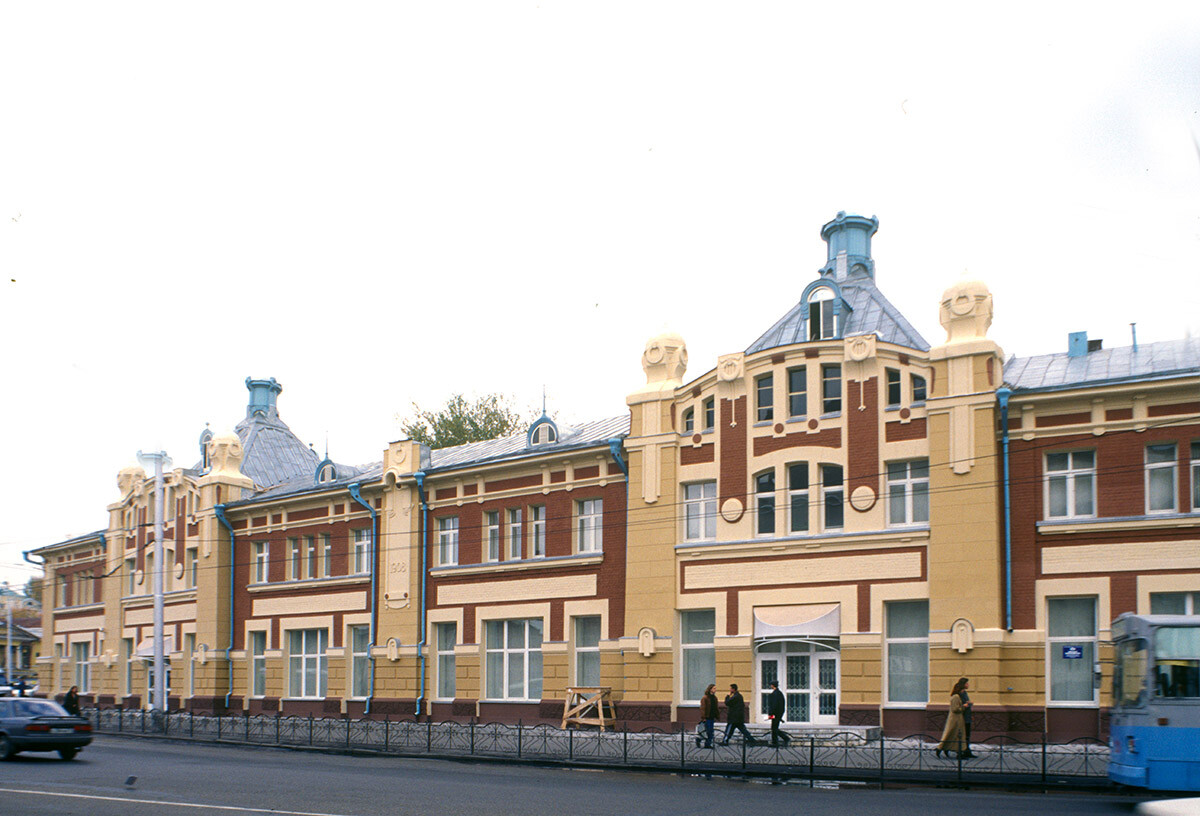 Former building of the Flour Exchange, Lenin Square 14. Built in 1906-08; an example of Art Nouveau architecture. September 25, 1999
William Brumfield
Tomsk settled for a branch line constructed in 1896 through the small junction of Taiga (80 kilometers south of the city) and that spur enabled Tomsk to remain a center of trade and agricultural development in central Siberia.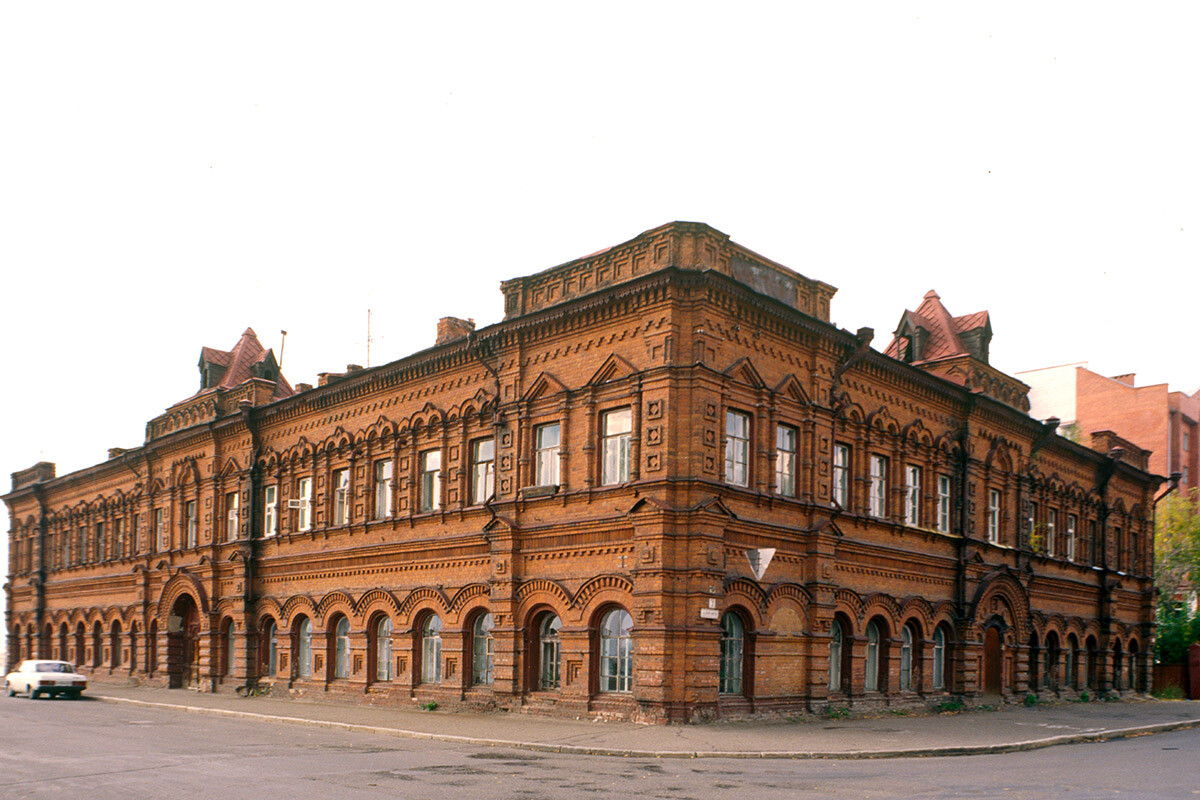 Commercial building of A. V. Shvetsov, steamboat magnate. Built in 1882 in the "Pseudo-Russian" style (based on late medieval Russian architecture). September 25, 1999
William Brumfield
The impressive scale of its commercial and residential architecture illustrates the diversity of Siberian culture at the turn of the 20th century. The Vtorov firm built one of Siberia's largest department stores, which still graces Tomsk's central district. Tomsk also became one of Siberia's preeminent educational centers, the location of Siberia's first university, founded in 1878. Among Russian institutions of higher learning, Tomsk State University is distinguished not only by its academic luster but also by its attractive, spacious campus.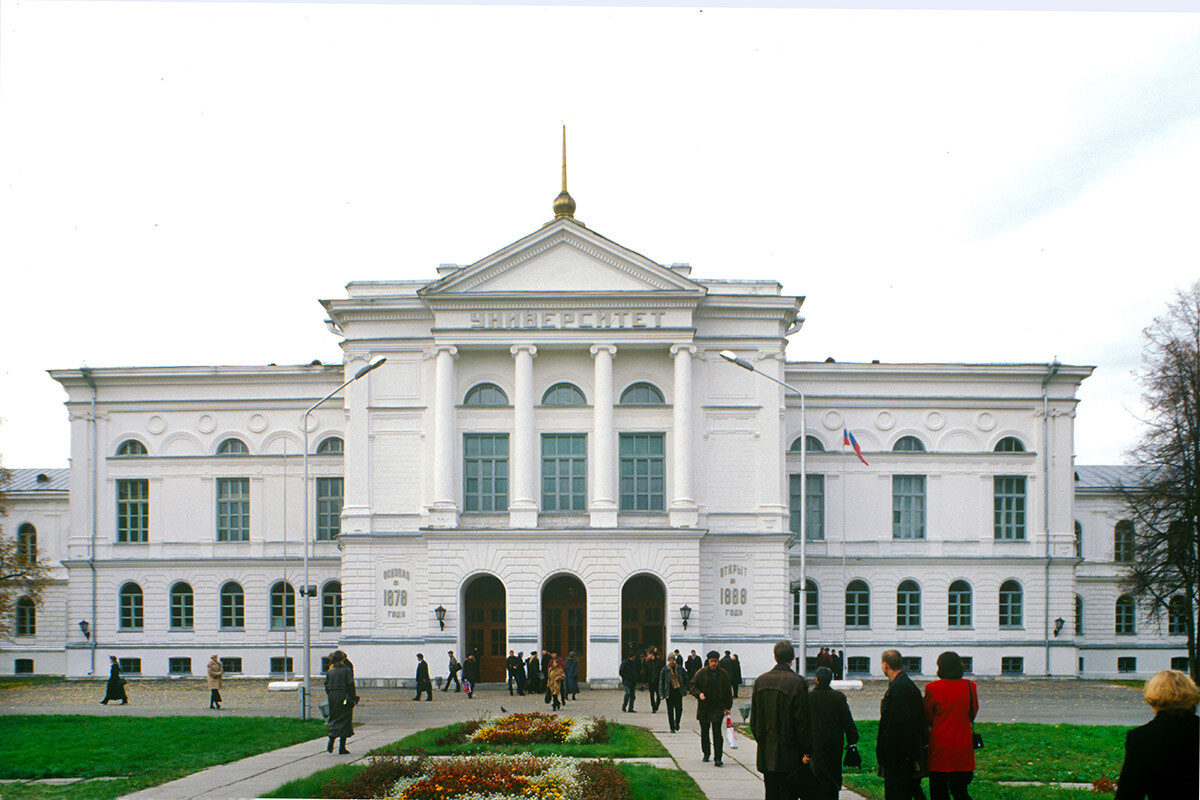 Main Building of Tomsk University. Built in 1885 in a late Neoclassical style. September 27, 1999
William Brumfield
It should be emphasized that Tomsk accepted religious faiths in addition to Russian Orthodoxy. By 1910, the city had a Catholic Church of the Holy Rosary (now restored for use), two mosques (both of which have been restored), a Lutheran church (rebuilt), an Old Believer Orthodox church and a large synagogue that is among the most beautiful in Russia. The dome over its entrance has now been reconstructed.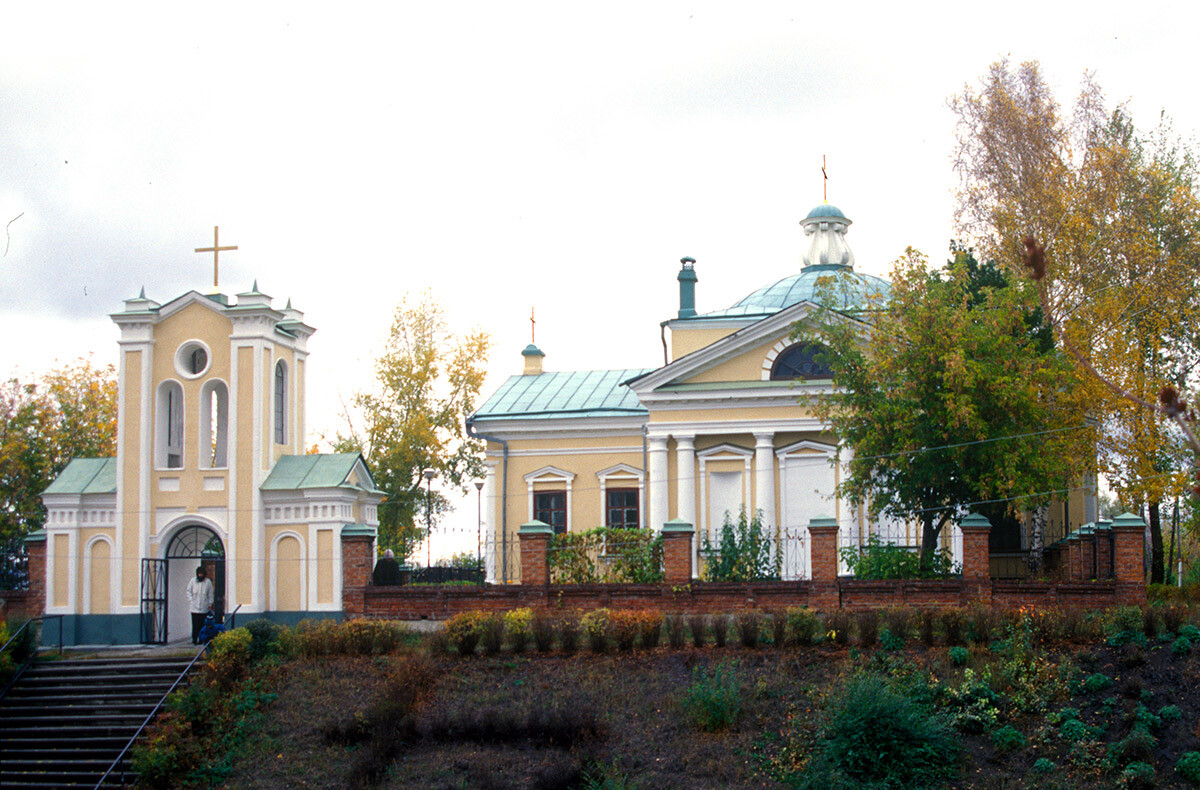 Catholic Church of the Rosary of the Blessed Virgin. Consecrated in 1833 for the community of Polish exiles. Bell tower added in 1856. September 26, 1999
William Brumfield
Architectural heritage
In 1911, the city's northern area gained the neo-Byzantine Cathedral of Sts. Peter and Paul, the only church to remain open for most of the Soviet era. Some of the churches were built of wood, such as the Old Believer Church of the Dormition, completed in 1913 and lovingly maintained today by the parish. I was particularly honored to be asked to photograph Metropolitan Alimpy (Gusev; 1929-2003), who was visiting Tomsk at the same time.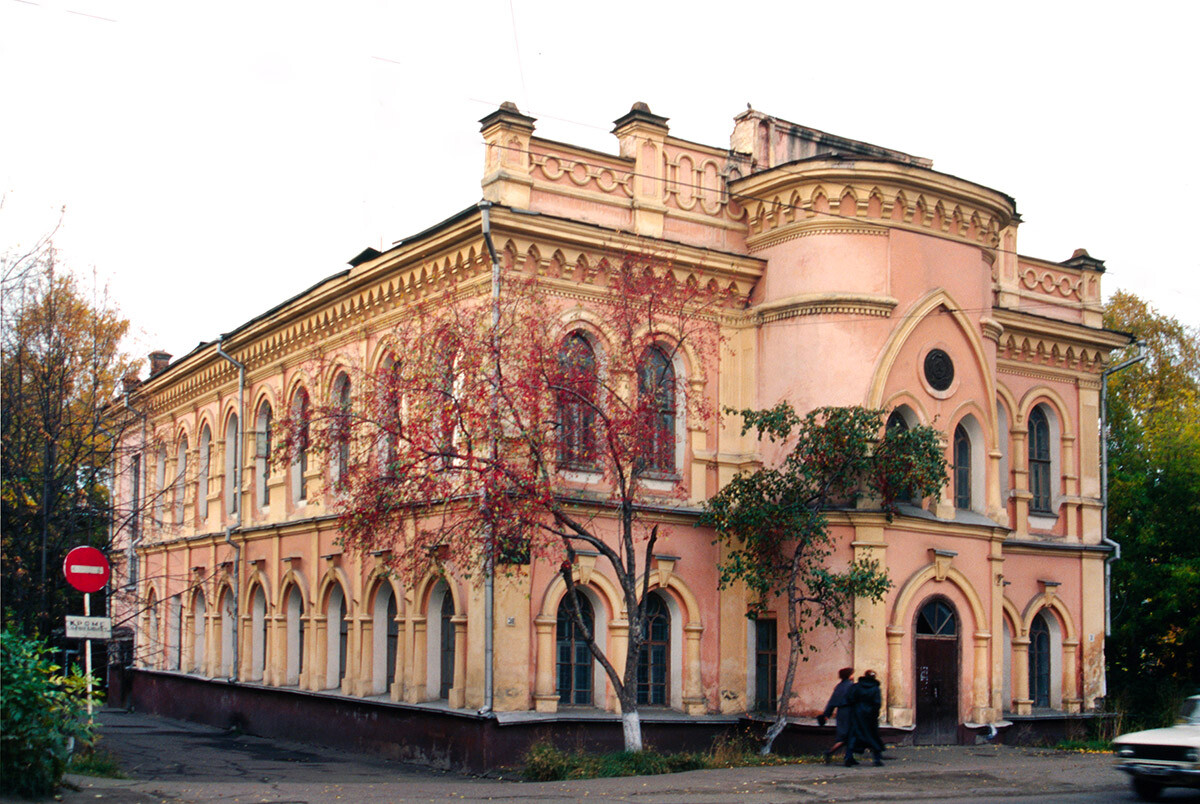 Choral Synagogue, Rosa Luxemburg Street 38. Built in 1902 to replace a wooden synagogue built in 1850. View before restoration of dome above main entrance. September 25, 1999
William Brumfield
The most distinctive part of the city's architectural heritage is displayed in its neighborhoods of elaborately decorated wooden houses, structures of solid logs often covered with plank siding.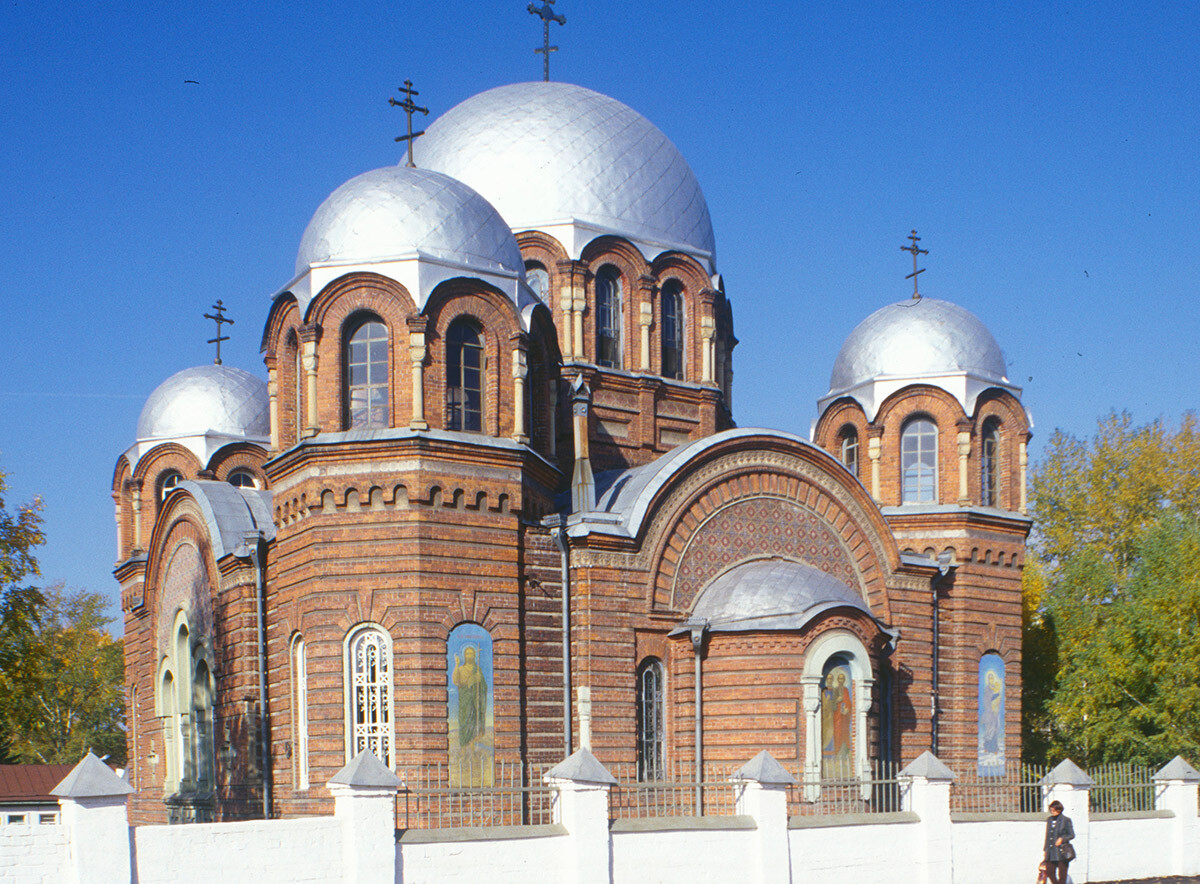 Cathedral of Sts. Peter & Paul, southeast view. Built in 1909-11 in Neo-Byzantine style. September 24, 1999
William Brumfield
It is no exaggeration to say that the "lacework" of Tomsk's wooden architectural ornament – particularly the window surrounds, or nalichniki – is unrivaled in Russia for its lavish detail and the extent of its preservation. Many of these extraordinary wooden houses were built for merchants who lived in the Tatar Quarter.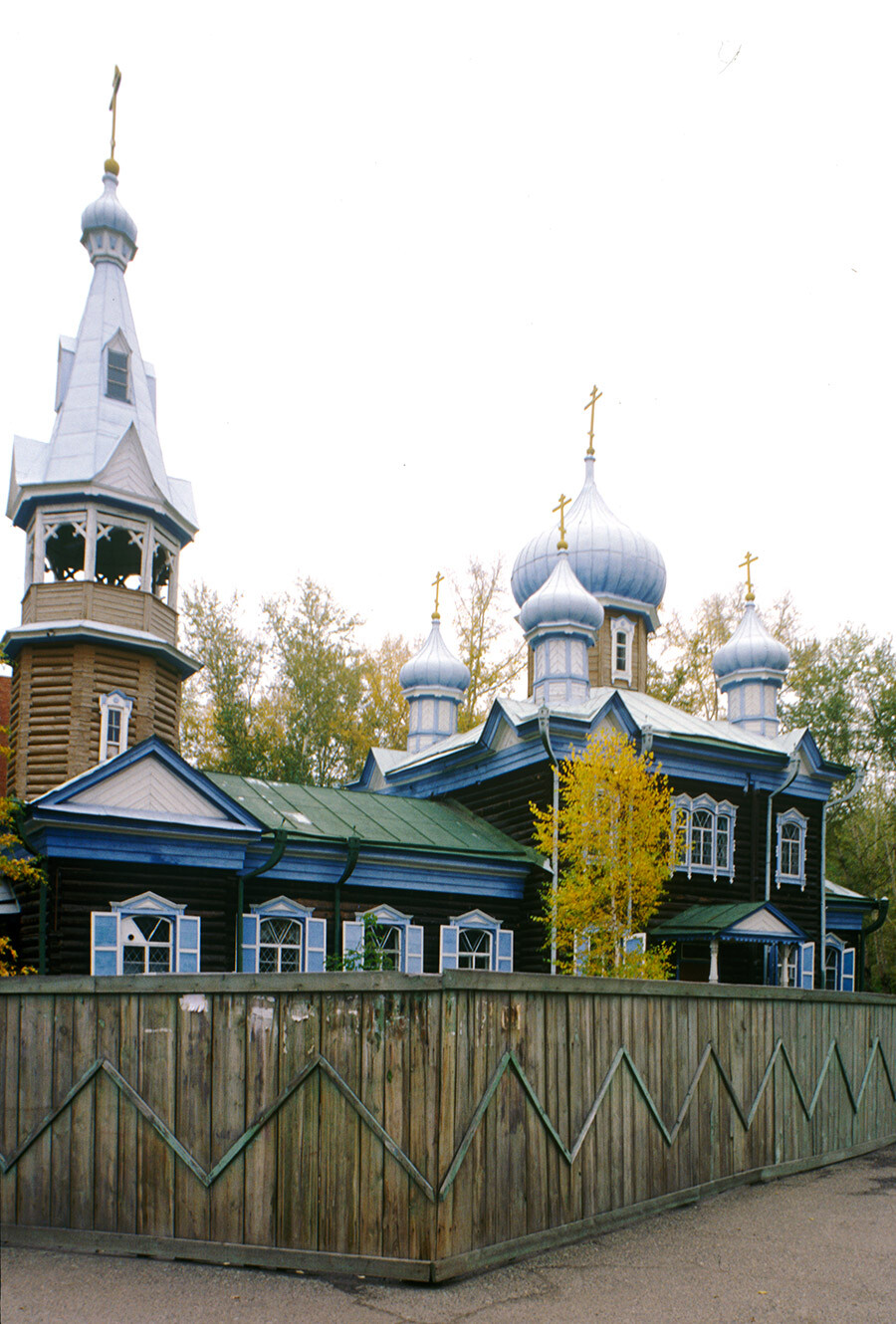 Old Believer Church of the Dormition, southwest view. Wooden structure built in 1909-13 for the Old Believer Orthodox community in Tomsk region. September 27, 1999
William Brumfield
The Tatar Quarter also contains the renovated White Mosque and a cultural center, located in a mansion built at the beginning of the 20th century for Karym Khamitov, a Tatar financial magnate. Other ethnic groups include Russian Germans, composed of settlers who moved to the area beginning in the 19th century. One of them was Viktor Kress, the governor of Tomsk Region in 1991-2012.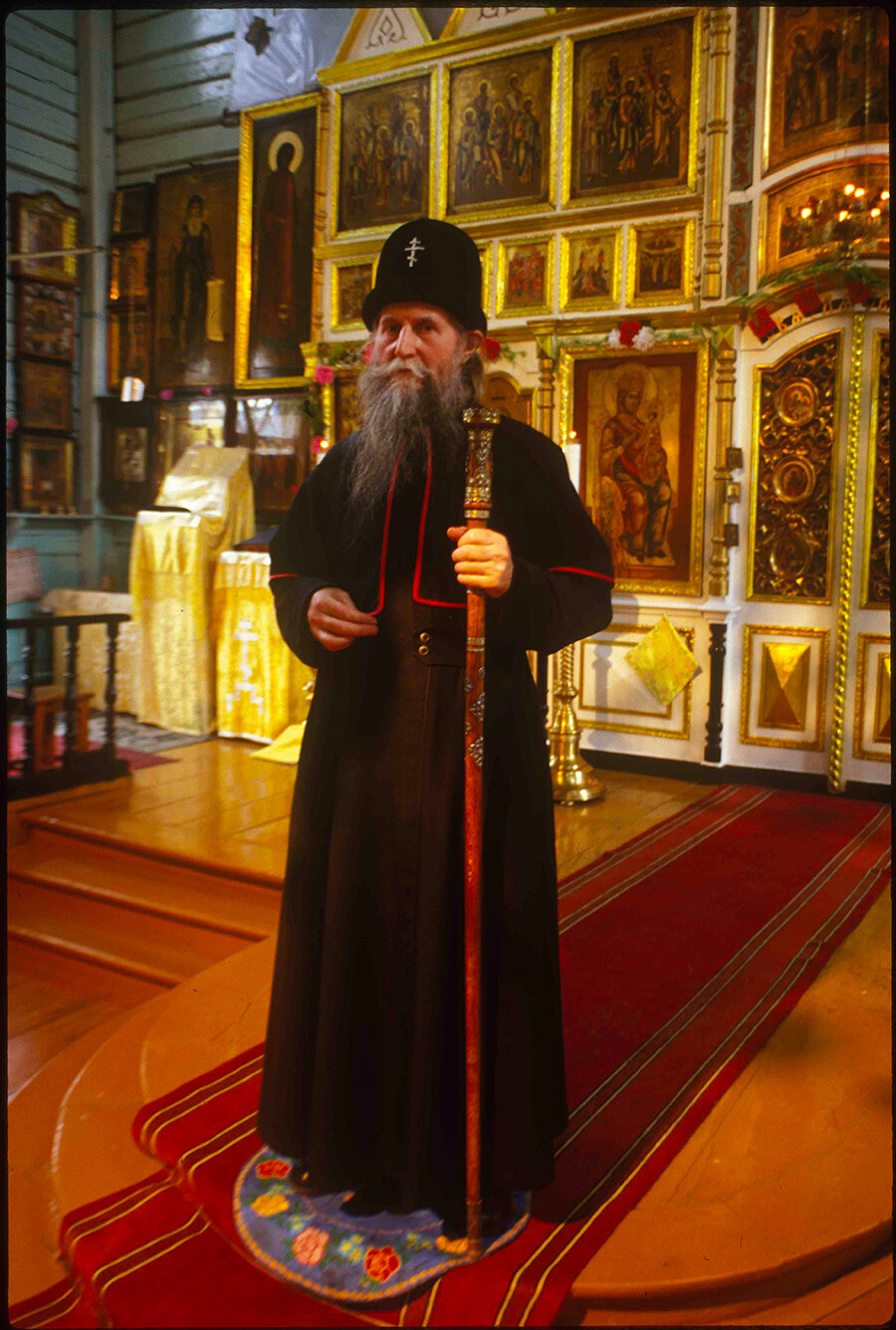 Old Believer Church of the Dormition. Historic photograph of Metropolitan Alimpy (Gusev), spiritual leader of Russian Orthodox Old Believer Church. Photograph taken with the blessing of the prelate, who is standing in front of icon screen. September 27, 1999
William Brumfield
Decline & rebirth
The many positive trends in the region's development during the early 20th century were crushed by the savage fighting of the Civil War between 1918-1921. After that conflict, Tomsk entered a decline that was reversed by the evacuation to the city of industrial and research facilities during World War II.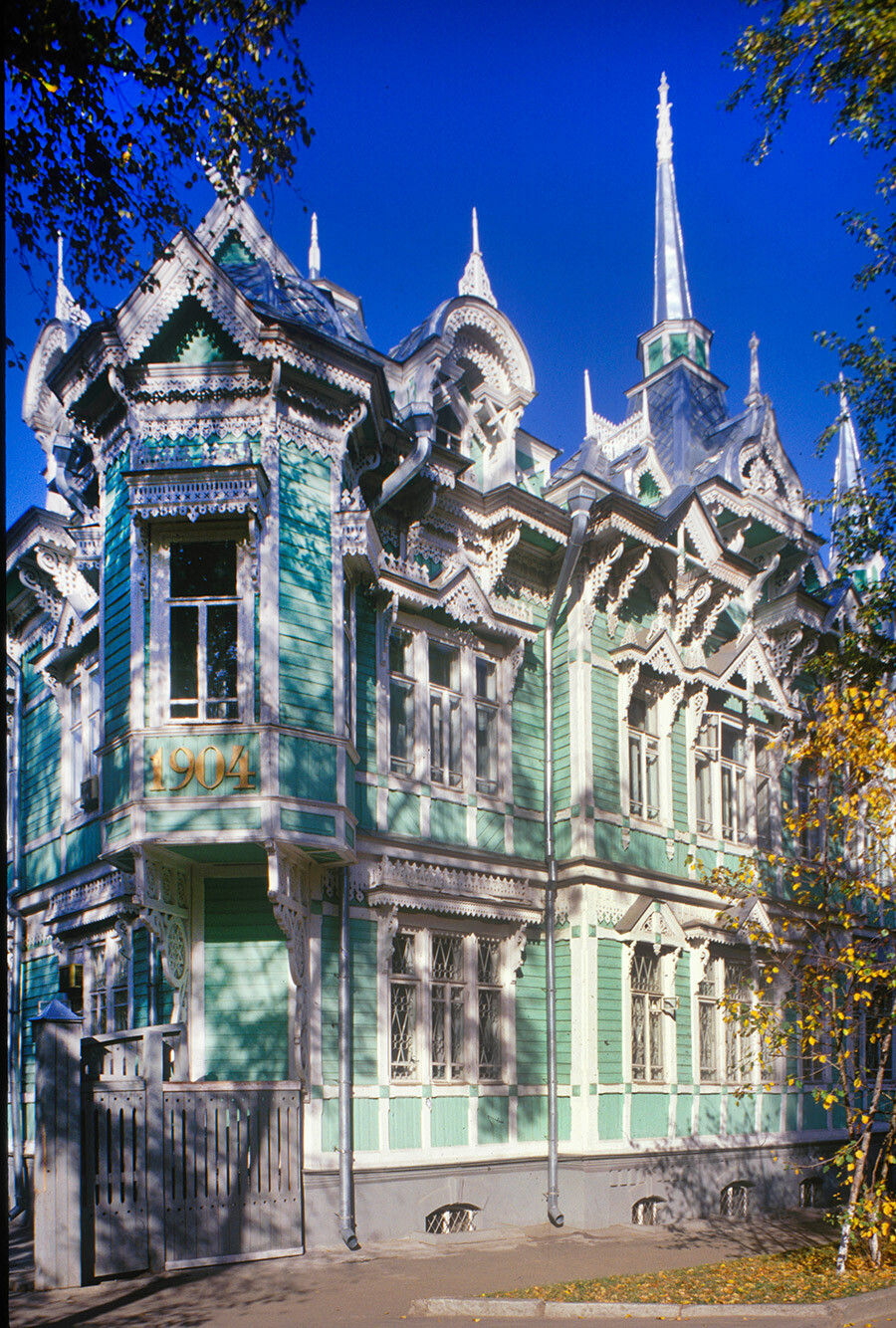 Wooden house, Belinsky Street 19. Excellent example of "Carpenter Gothic" style. September 24, 1999
William Brumfield
This momentum, reinforced by strong institutions of higher education in Tomsk, continued after the war with the development of nuclear research installations for both military and energy purposes.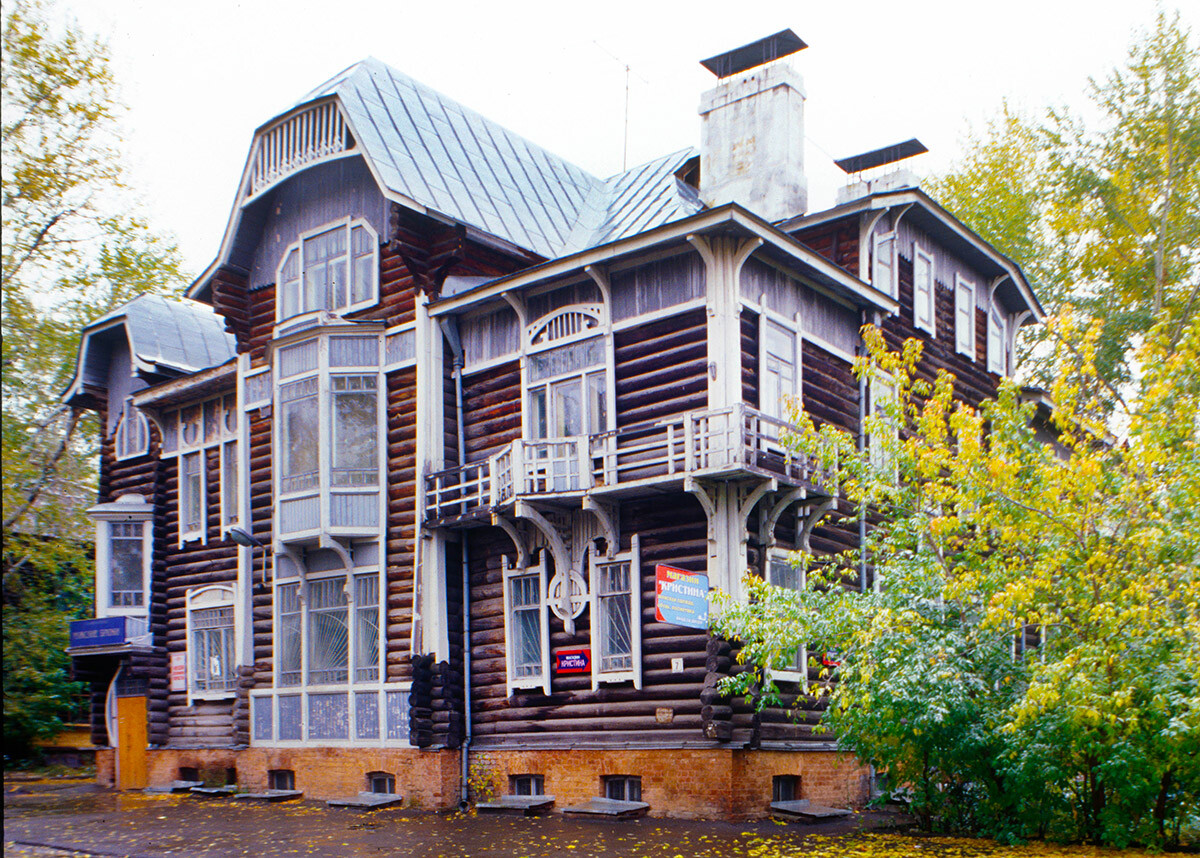 Wooden house built by architect Andrey Kryachkov. Fine example of Art Nouveau architecture in wood. September 26, 1999
William Brumfield
With over a half a million inhabitants and a regional population of almost a million, Tomsk remains a leading Siberian center for administration, education, industry and energy resources.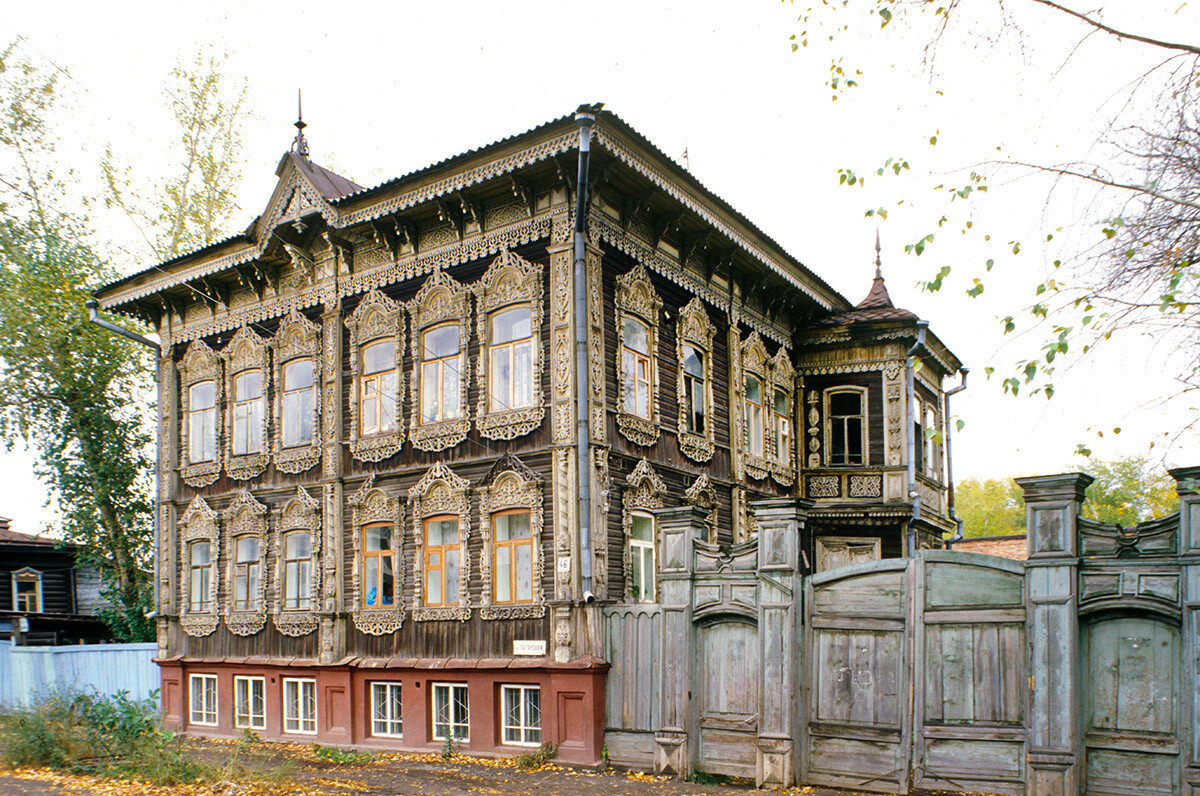 Wooden house & courtyard gate, Tatar Street 46. One of many distinctive wooden houses built in the district of Tatar merchants. September 26, 1999
William Brumfield
Protecting the environment has been a major concern, particularly in an area of stunning natural beauty.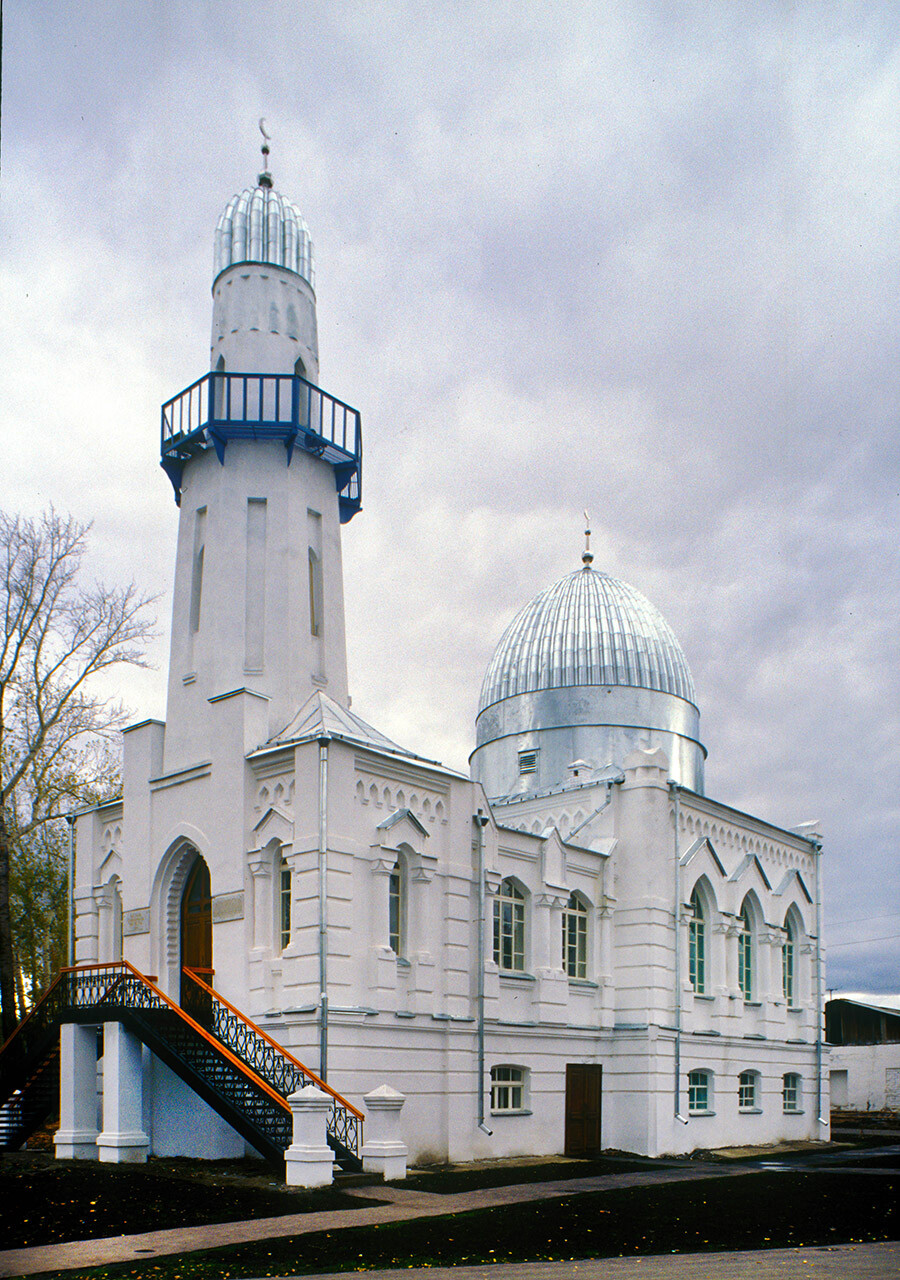 White Mosque, built in Tatar District in 1912-16. September 26, 1999
William Brumfield
At the same time, dedication to the city's historical environment – including its houses of worship – has succeeded in preserving an architectural legacy that represents a Russian national treasure.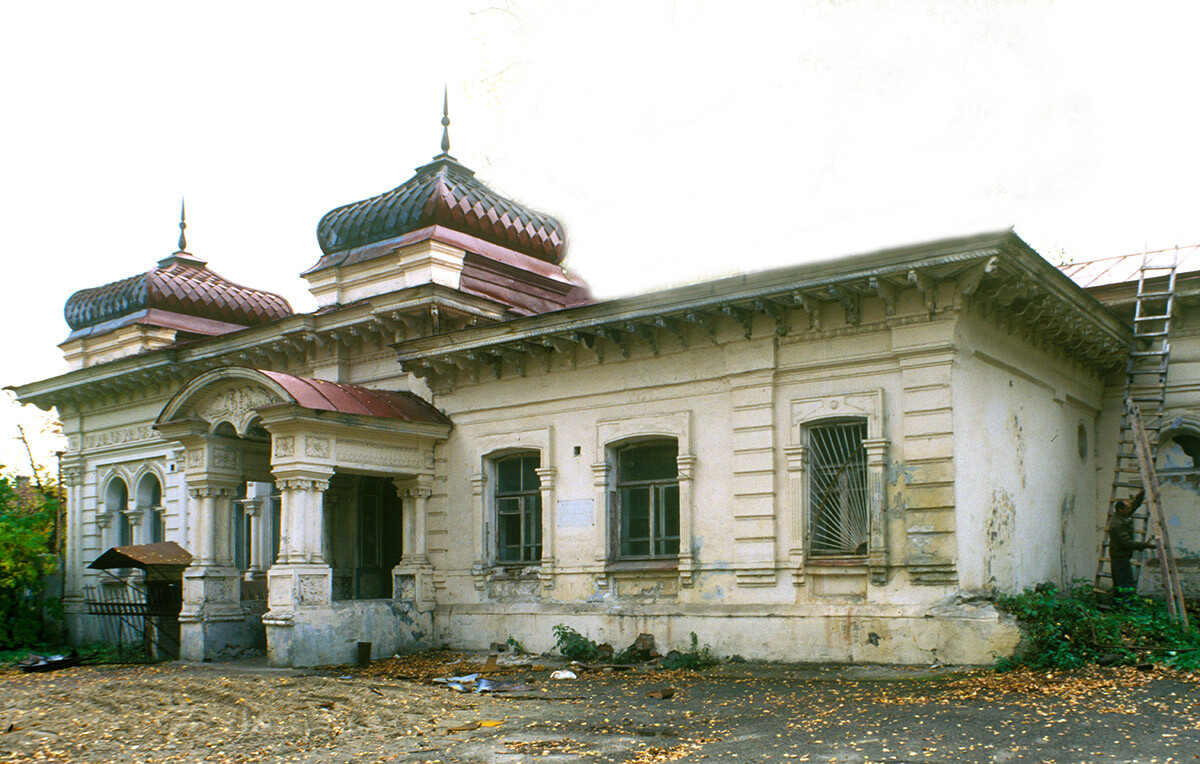 House of merchant Karym Khamitov, built in Tatar District in 1894. Under conversion into cultural center for Tatar community of Tomsk region. September 25, 1999
William Brumfield
Indeed, a walk through the historic neighborhoods of Tomsk reminds just how much Russian culture belongs to the forest.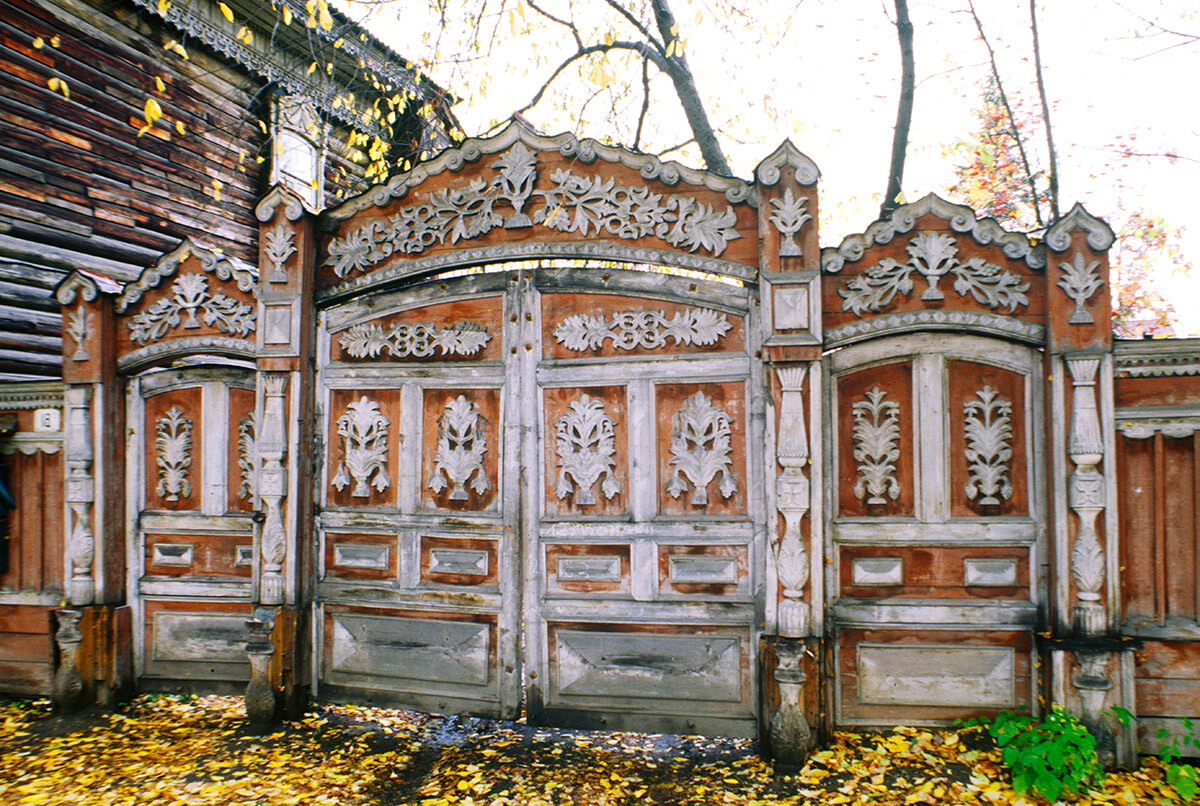 Ornamental wooden gate leading to courtyard of house on Solyanoi Lane 18. September 26, 1999
William Brumfield
In the early 20th century, Russian photographer Sergey Prokudin-Gorsky developed a complex process for color photography. Between 1903 and 1916, he traveled through the Russian Empire and took over 2,000 photographs with the process, which involved three exposures on a glass plate. In August 1918, he left Russia and ultimately resettled in France, where he was reunited with a large part of his collection of glass negatives, as well as 13 albums of contact prints. After his death in Paris in 1944, his heirs sold the collection to the Library of Congress. In the early 21st century, the Library digitized the Prokudin-Gorsky Collection and made it freely available to the global public. A few Russian websites now have versions of the collection. In 1986, architectural historian and photographer William Brumfield organized the first exhibit of Prokudin-Gorsky photographs at the Library of Congress. Over a period of work in Russia beginning in 1970, Brumfield has photographed most of the sites visited by Prokudin-Gorsky. This series of articles juxtaposes Prokudin-Gorsky's views of architectural monuments with photographs taken by Brumfield decades later.
If using any of Russia Beyond's content, partly or in full, always provide an active hyperlink to the original material.