How to cook exotic Far Eastern borsch with seaweed (RECIPE)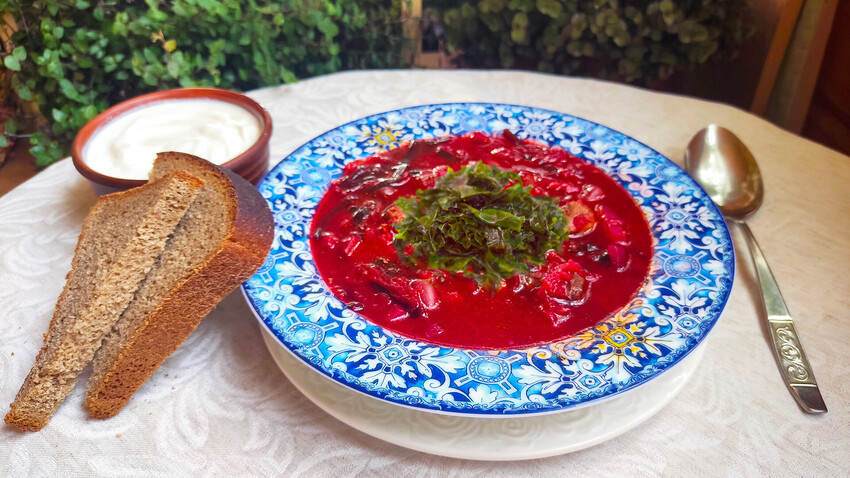 Discover the flavors of Far Eastern seaweed borsch.
Olga Brovkina
With its subtle seaweed taste, sampling this Far Eastern borsch is a must even for non-seaweed enthusiasts. Don't be intimidated! It's not at all fishy, as you might think. 
When we think of traditional borsch, our minds often recall images of hearty beetroot-based soups that are served with sour cream and a side of dark rye bread. However, Russia's vast landscape and diverse regions have given rise to numerous variations of this beloved dish. One such version, Far Eastern seaweed borsch, has a fascinating history.
The origins of Far Eastern seaweed borsch can be traced back to the mid-19th century, when immigrants from the European part of Russia began settling in the Far East. This migration wave began with military personnel and the Cossacks. However, the most significant catalyst was the abolition of serfdom in 1861, which opened up the Amur and Primorsky regions for settlement by "peasants who do not have land, and enterprising people of all classes who want to move at their own expense".
This wave of settlers that moved to the region subsequently led to the establishment of multiple Cossack villages and settlements in the region. They brought their culinary traditions, which would eventually blend with the local flavors of the Far East.
Far Eastern seaweed borsch is set apart by the fact that local ingredients are the main centerpiece, particularly seaweed. This nutrient-rich underwater plant thrives in the coastal waters of the Far East.
During World War II, when there were food shortages, the local population had to seek out alternative food sources, and many people realized that seaweed could be a good substitute for food that grows on land. The resulting seaweed borsch, which is a fusion of local culture and available resources, became characteristic of the region.
Despite its unconventional ingredients, Far Eastern seaweed borsch surprises many with its subtle and harmonious flavors. The very thought of the taste of seaweed is not easy to overcome in the minds of some people. In fact, however, it's hardly distinguishable amidst the richness of other ingredients. Therefore, even those who don't consider themselves seaweed enthusiasts can relax and enjoy this dish.
Ingredients for a 3-liter-pan: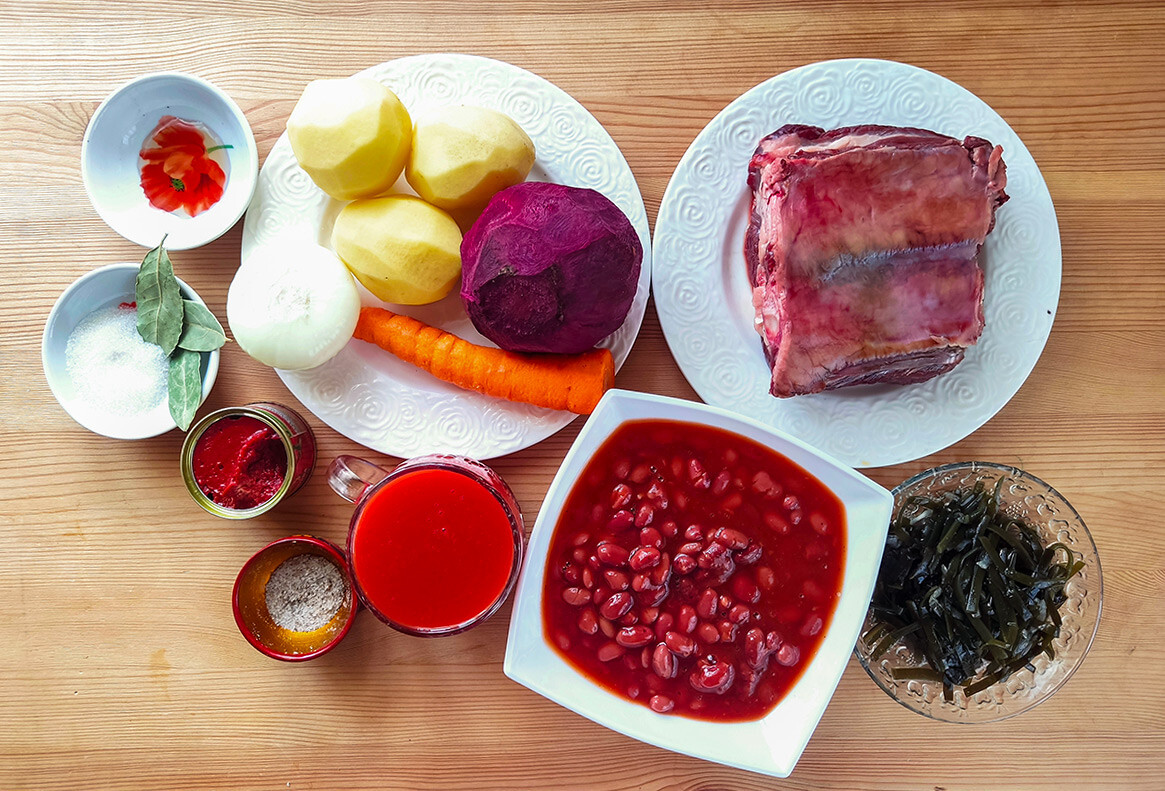 Seaweed (sea kale) - 200 grams
Beetroot - 1 piece
Carrot - 1 piece
Onion - 1 piece
Potatoes - 3 pieces
Tomato paste - 1 tablespoon
Tomato juice - 200 ml (or just 2 tomatoes)
Canned beans in tomato sauce - 1 jar
Beef on the bone - 300 grams
Vinegar - 1 teaspoon
Sugar - 1 teaspoon
Salt to taste
Water - 3 liters
Bay leaves - 3 pieces
Preparation:
1. First, let's prepare the meat broth. Wash the meat thoroughly and cut it into small pieces.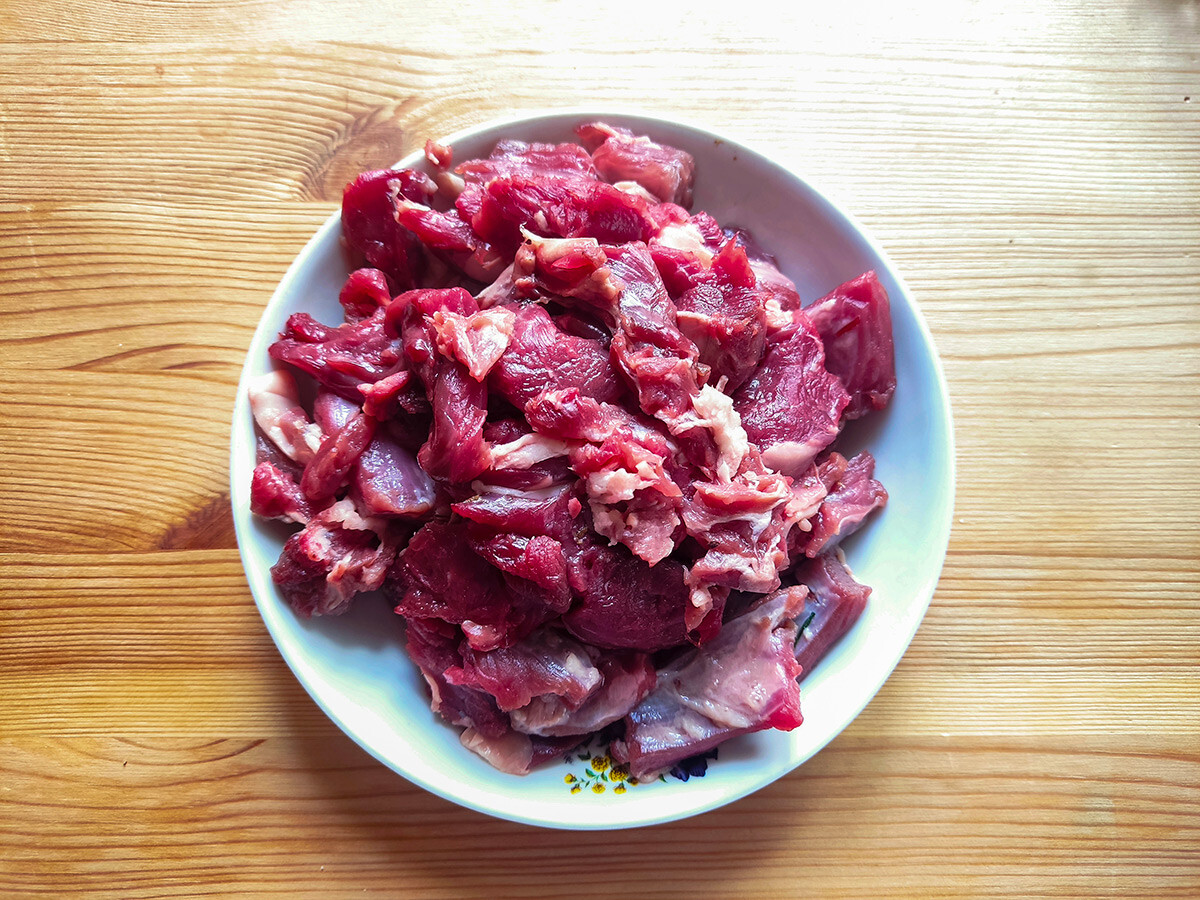 Olga Brovkina
2. Place the meat in a large pot and add 3 liters of water. Add a few bay leaves and a pinch of salt. Cook the meat over low heat for about an hour, allowing the flavors to mix and the meat to become tender. Skim off any impurities that rise to the surface.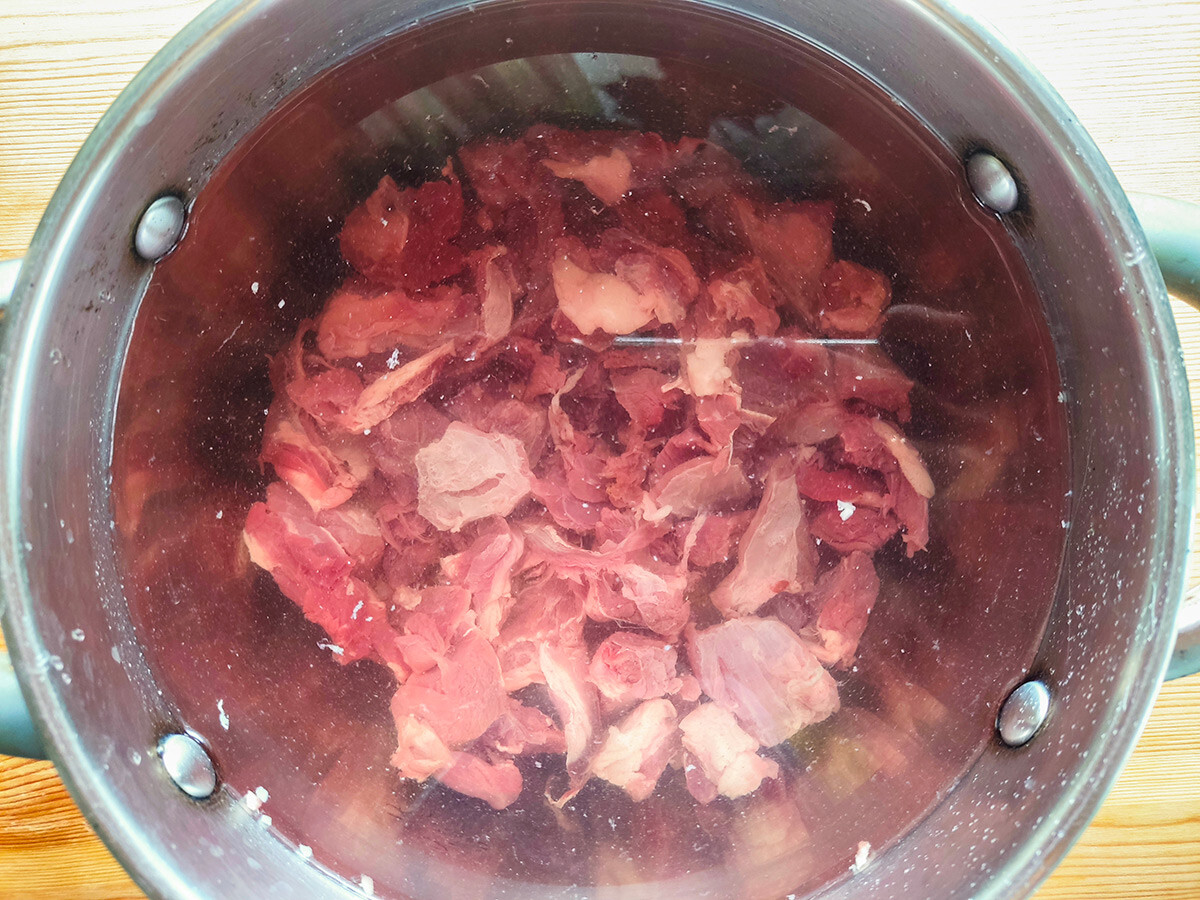 Olga Brovkina
3. While the meat is simmering, we'll prepare the vegetables. Peel and chop the onion into small cubes. Cut the carrot into thin strips. Dice the beetroot into small cubes. Peel and dice the potatoes into bite-sized pieces.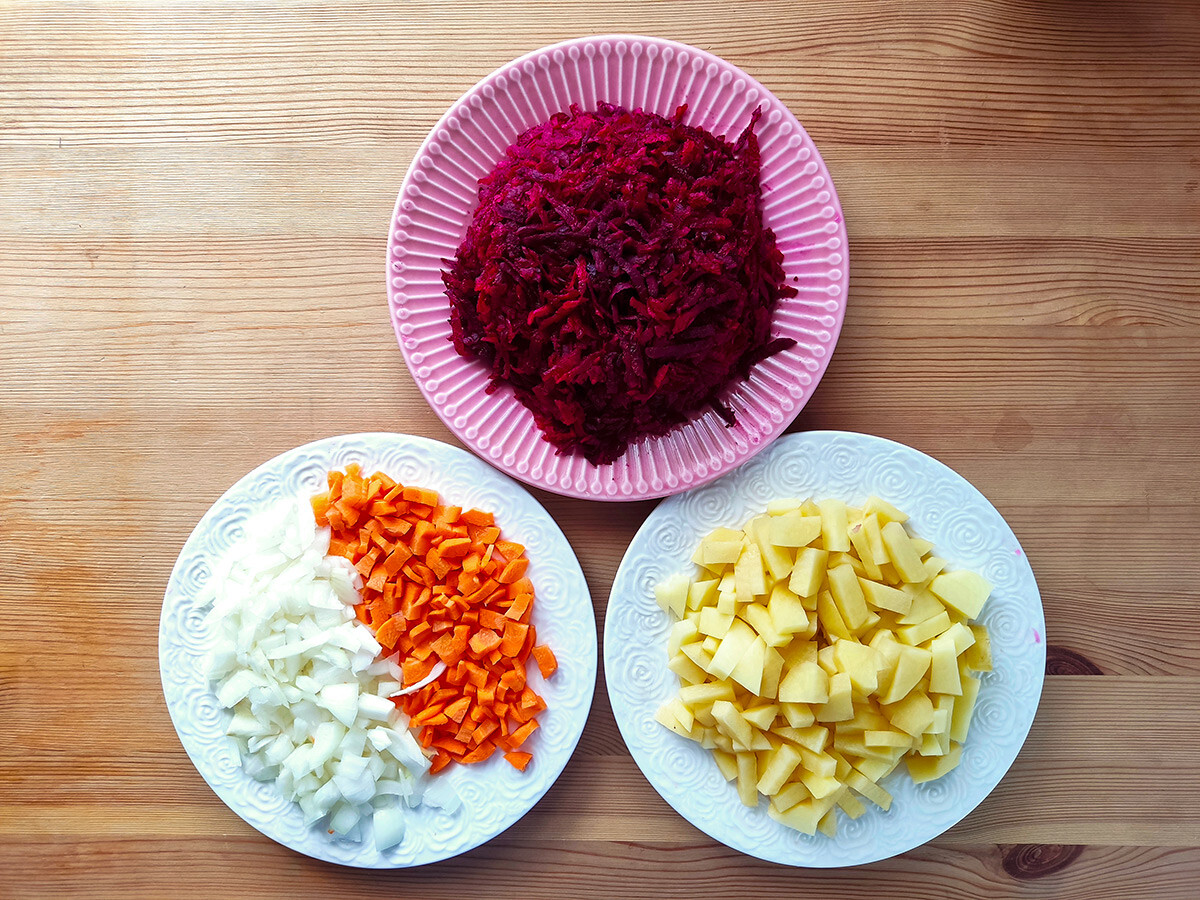 Olga Brovkina
4. Now we'll prepare the tomato base. In a separate pan, heat a small amount of oil over medium heat. Add the chopped onions and sauté until they become translucent. Add the carrots and continue to fry until they become soft.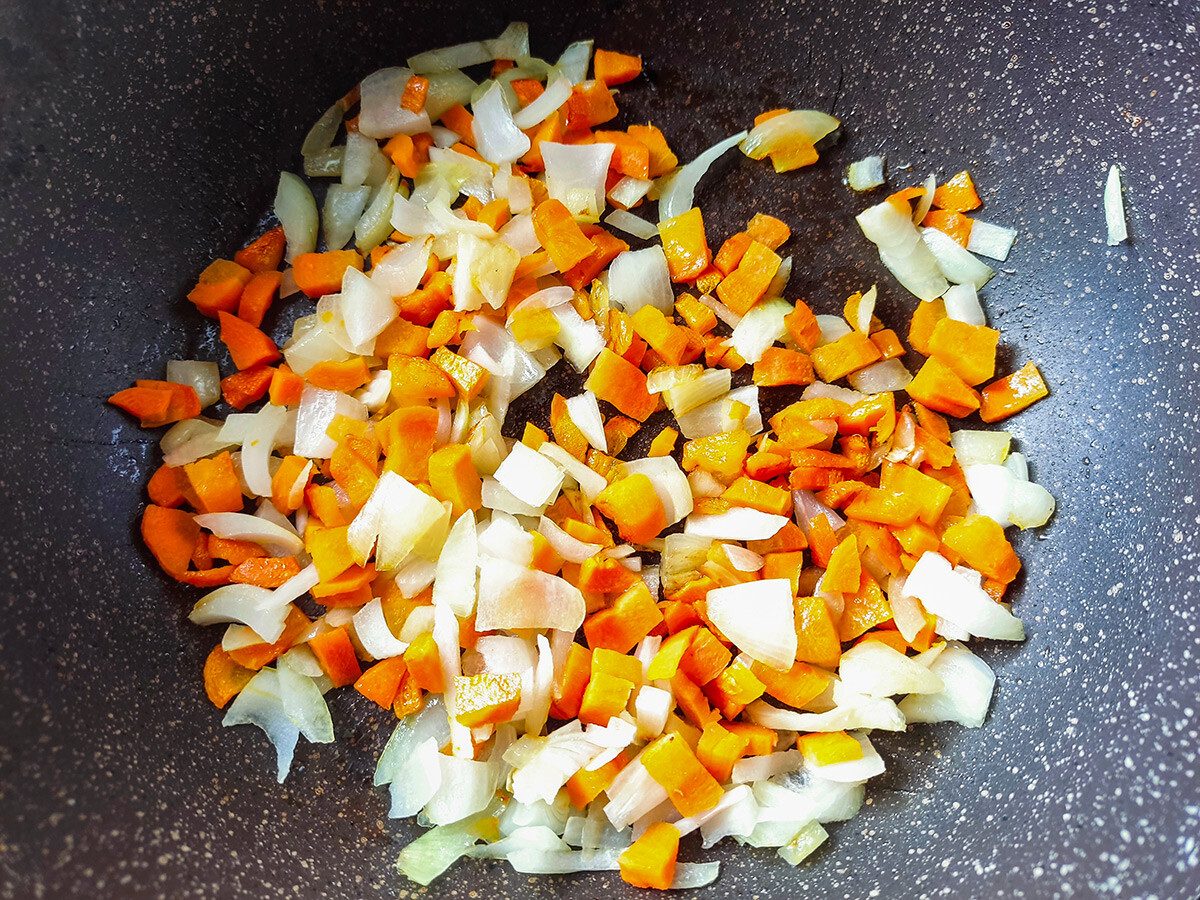 Olga Brovkina
5. Finally, add the diced beetroot. Pour in the tomato juice (or blend the fresh tomatoes and add the resulting mixture) and tomato paste.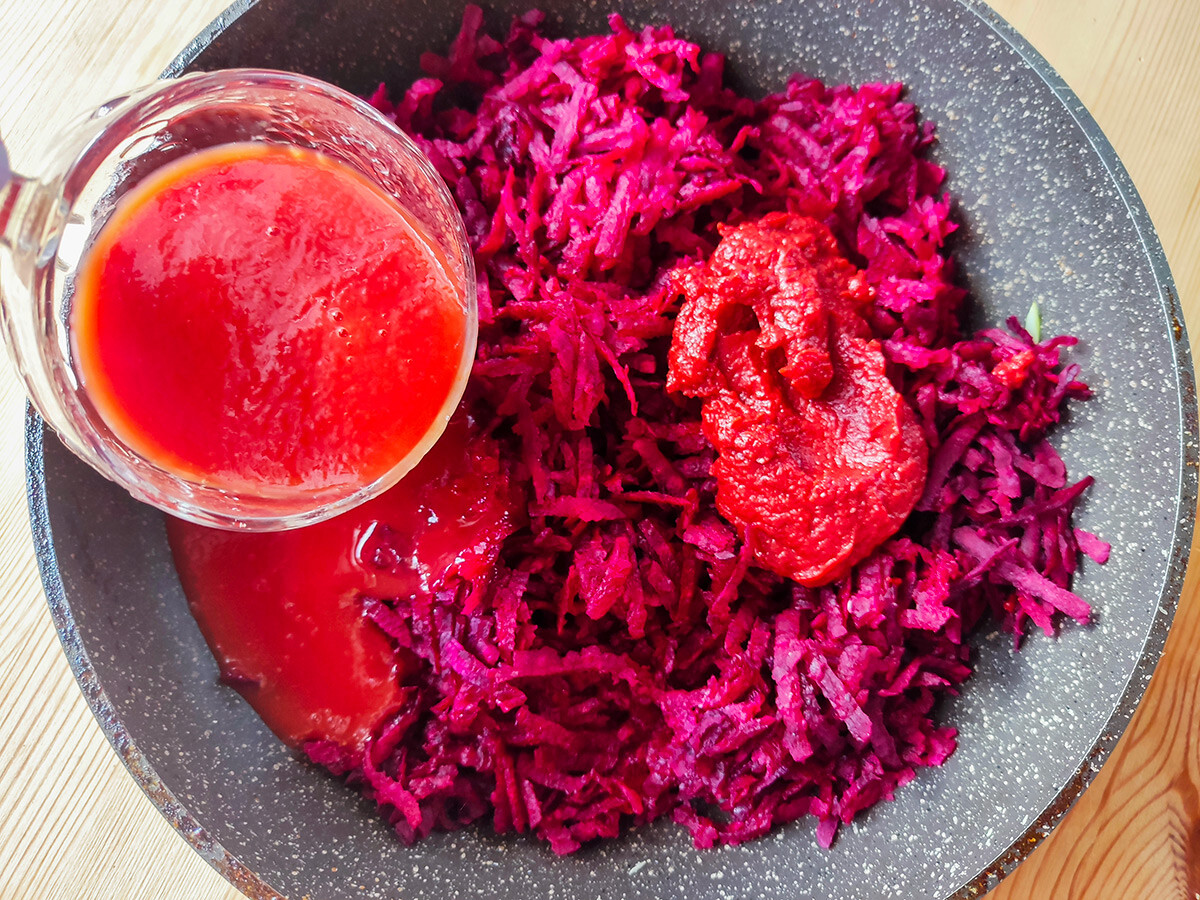 Olga Brovkina
6. Allow the mixture to simmer until it thickens and the vegetables are fully cooked. Season with salt to taste, and then add the vinegar and sugar to achieve a balanced flavor. Stir well.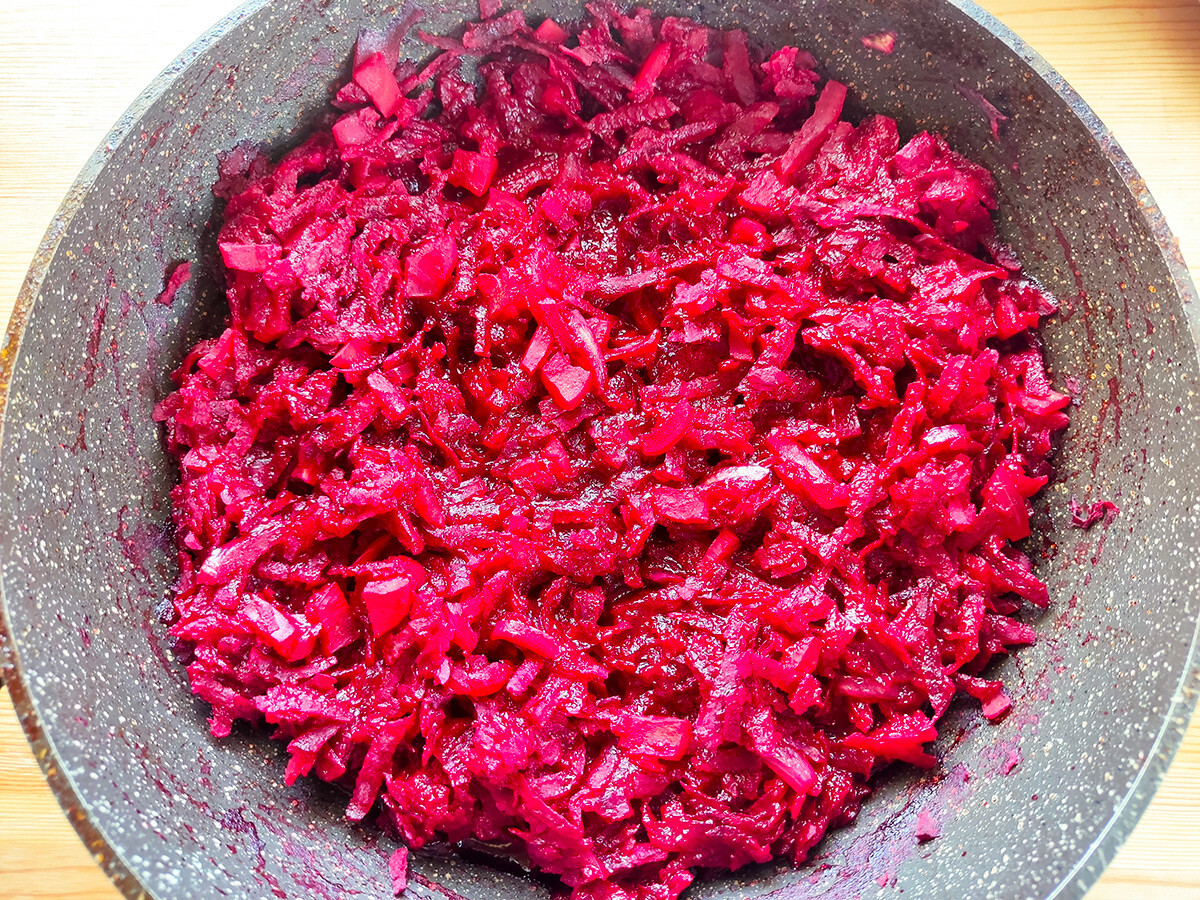 Olga Brovkina
7. Now we'll combine the ingredients. Once the meat in the broth is tender, add the prepared tomato and vegetable mixture to the meat broth. Stir well to combine all the flavors.
8. Add the seaweed and canned beans in tomato sauce to the borsch.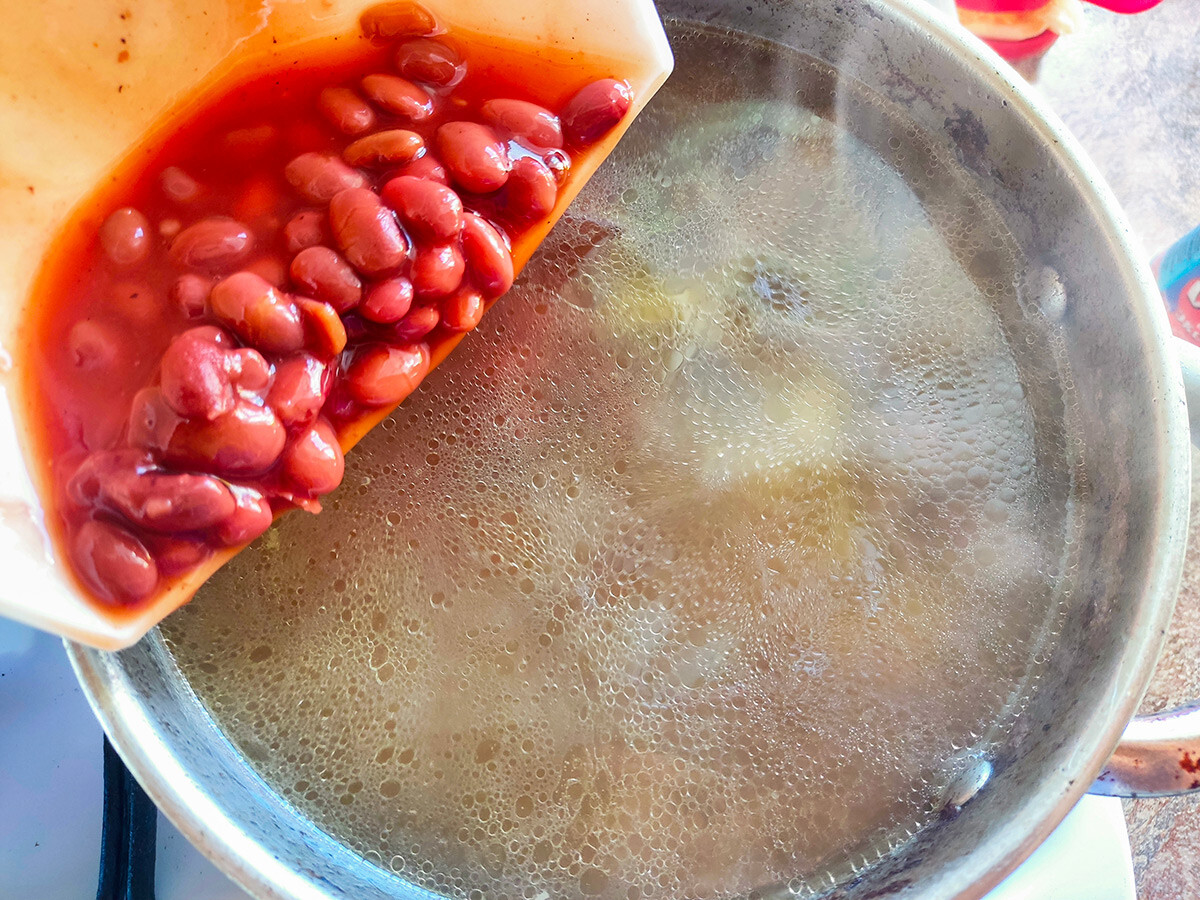 Olga Brovkina
9. Simmer for another 5 minutes to allow the seaweed to absorb the flavors and become tender.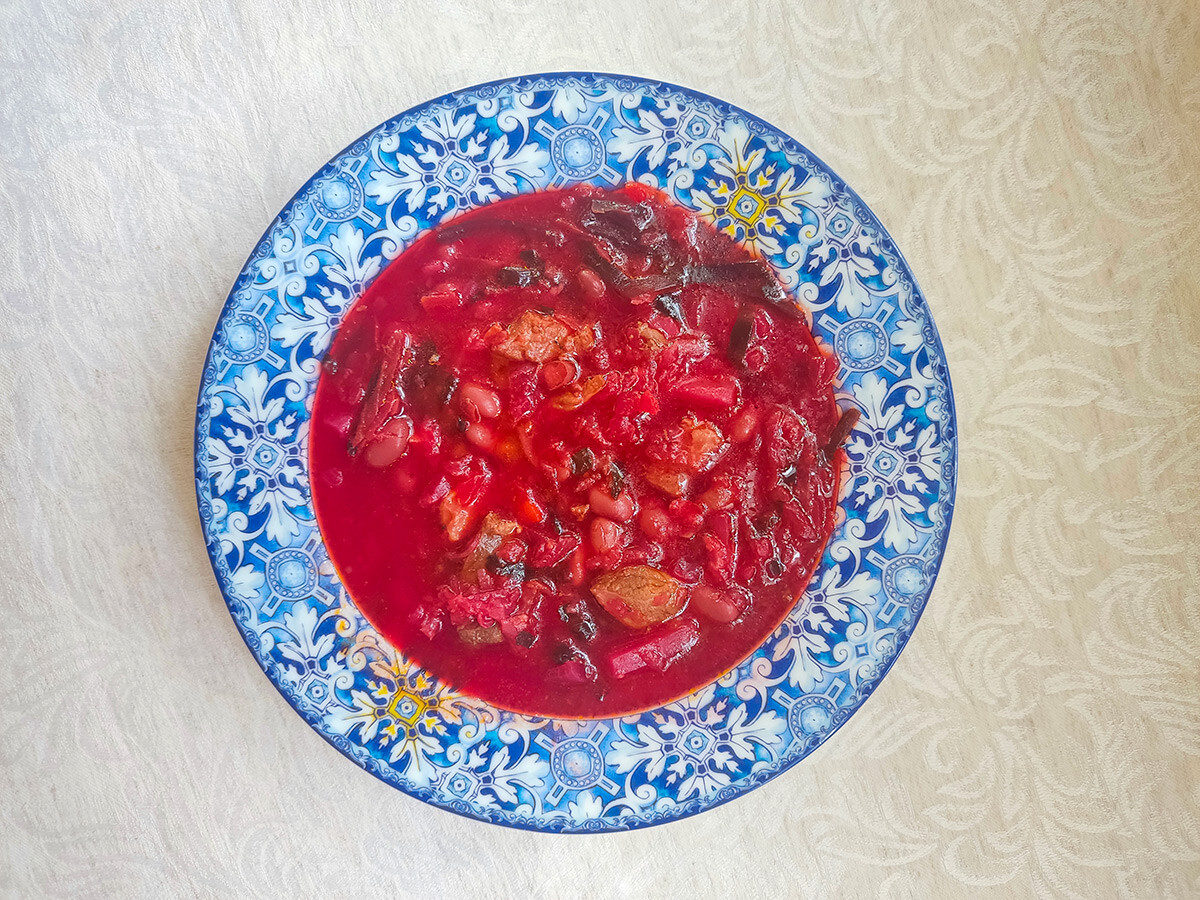 Olga Brovkina
10. Now it's time to serve! Put the borsch into bowls. Garnish with a dollop of sour cream, if desired.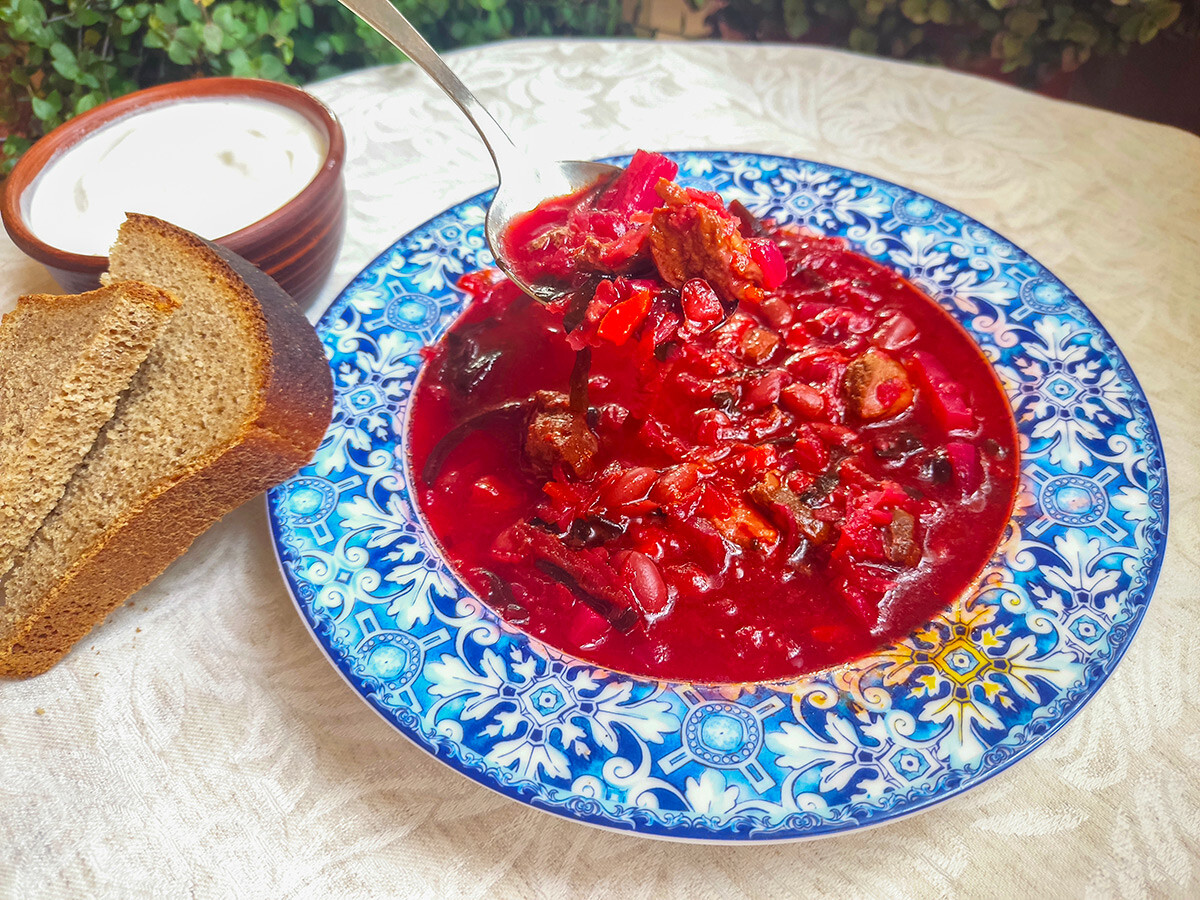 Olga Brovkina
11. Enjoy your homemade borsch!
Dear readers,
Our website and social media accounts are under threat of being restricted or banned, due to the current circumstances. So, to keep up with our latest content, simply do the following:
Subscribe to our Telegram channels: Russia Beyond and The Russian Kitchen
Subscribe to our weekly email newsletter
Enable push notifications on our website
Install a VPN service on your computer and/or phone to have access to our website, even if it is blocked in your country
If using any of Russia Beyond's content, partly or in full, always provide an active hyperlink to the original material.