'Plakuchaya Iva' ("Weeping Willow") restaurant. Smugglers cunningly lure there a decent Soviet citizen named Semyon Gorbunkov. Their goal is to get him drunk and hand him over to a seductress, who will put sleeping pills in his glass of wine. And then they steal the diamonds sewn into a cast on his arm from him…
This is a scene from the iconic Soviet movie 'The Diamond Arm' (1969) and it fully reflects the attitude of most Soviet citizens (and official propaganda) towards restaurants. It was a haven of debauchery, where only criminal elements gathered to do their dirty deeds. And where do they get their money from? Definitely earned illegally there!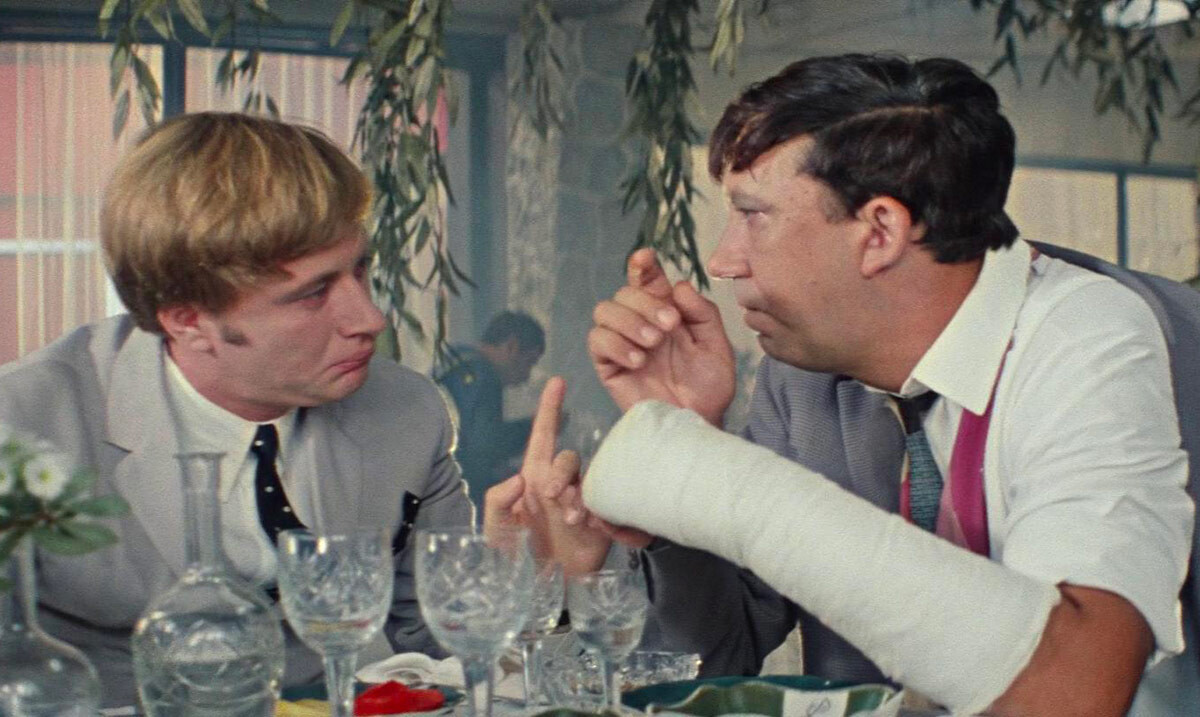 In the much later movie 'Intergirl' (1989), for example, there are scenes where prostitutes go to restaurants to hunt for foreigners. This also reflected the attitude towards such establishments. Only gangsters and prostitutes went to restaurants!
Restaurants were expensive
Indeed, to have dinner in a restaurant, a Soviet person would have had to shell out a quarter or even half of his monthly salary, on average. For example, in the early 1980s, it cost about 25 rubles to spend the night out in a restaurant. For comparison, that was roughly the monthly stipend for students in Moscow. And the average monthly salary of a doctor was about 120 rubles.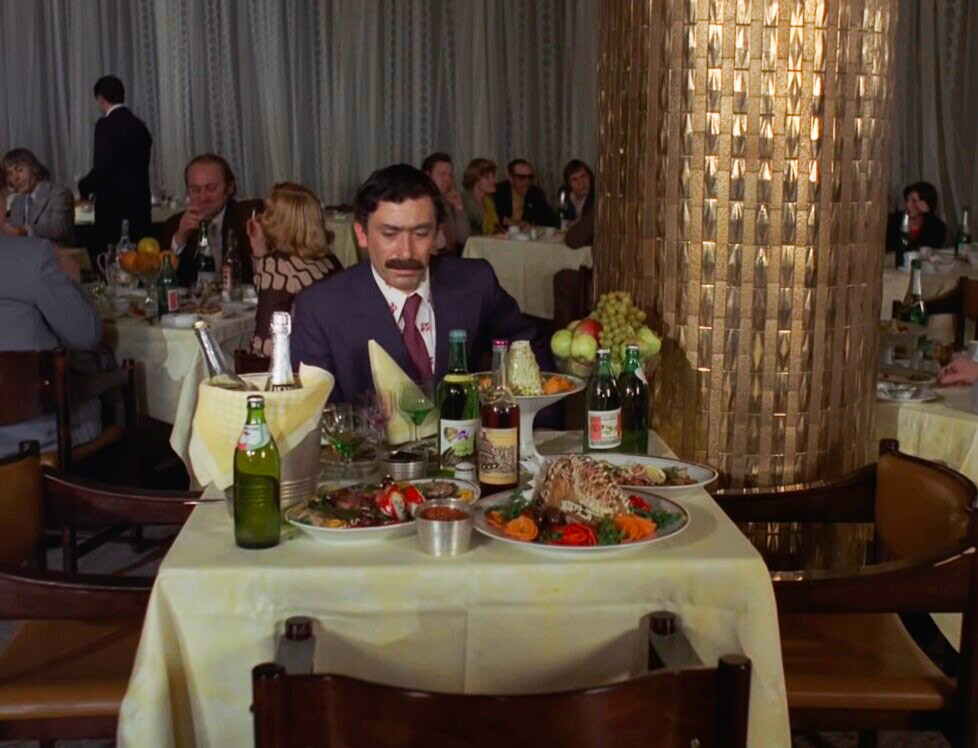 A still from 'Mimino' movie
Georgiy Daneliya/Mosfilm, 1978
Therefore, restaurants were rightly considered entertainment for the elite and wealthy. Ordinary Soviet citizens simply could not afford such luxuries.
"My future husband literally won me over by inviting me to a restaurant in the mid-1980s," Olga from Moscow recalls. "Being a scientist and PhD student, he had gone to Siberia on purpose to work on a construction site. He brought back an impressive sum of money and we went out for lunch a couple of times to one of the trendy restaurants on Kalininsky Prospekt [now Novy Arbat Street]."
Just like today, lunch in a restaurant was much cheaper than dinner back then. Most often, it was a limited set of ready-made dishes, something like a modern "business lunch". But few people went to a restaurant for lunch.
Read more: What were the most expensive and exclusive restaurants in the Soviet Union?
It was hard to get a table
There were very few restaurants. In Moscow and Leningrad (now St. Petersburg), there were slightly more, while in provincial towns like, for example, the southern resort of Taganrog (in Soviet times, 300,000 people lived there) there were only a couple. In small towns, even not far from Moscow, there were no such establishments at all and those wishing to have a sumptuous dinner had to travel.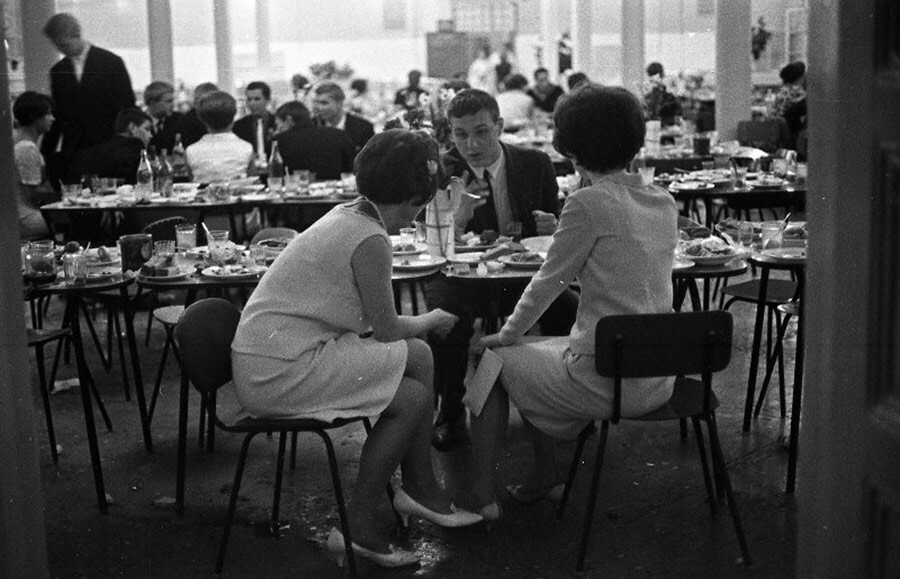 This was naturally why it was difficult to get into these few restaurants. And not everyone was allowed in. Often, just to get in, you had to seriously tip a maitre d', who strictly inspected the guests, organizing a kind of "face control" (all those who were not suitable were told that the restaurant was overbooked).
It's worth mentioning that restaurants often looked posh, especially by the standards of a Soviet person accustomed to simplicity. For example, the 'Praga' restaurant in Moscow had a huge aquarium that amazed residents from 'khrushchyovkas'.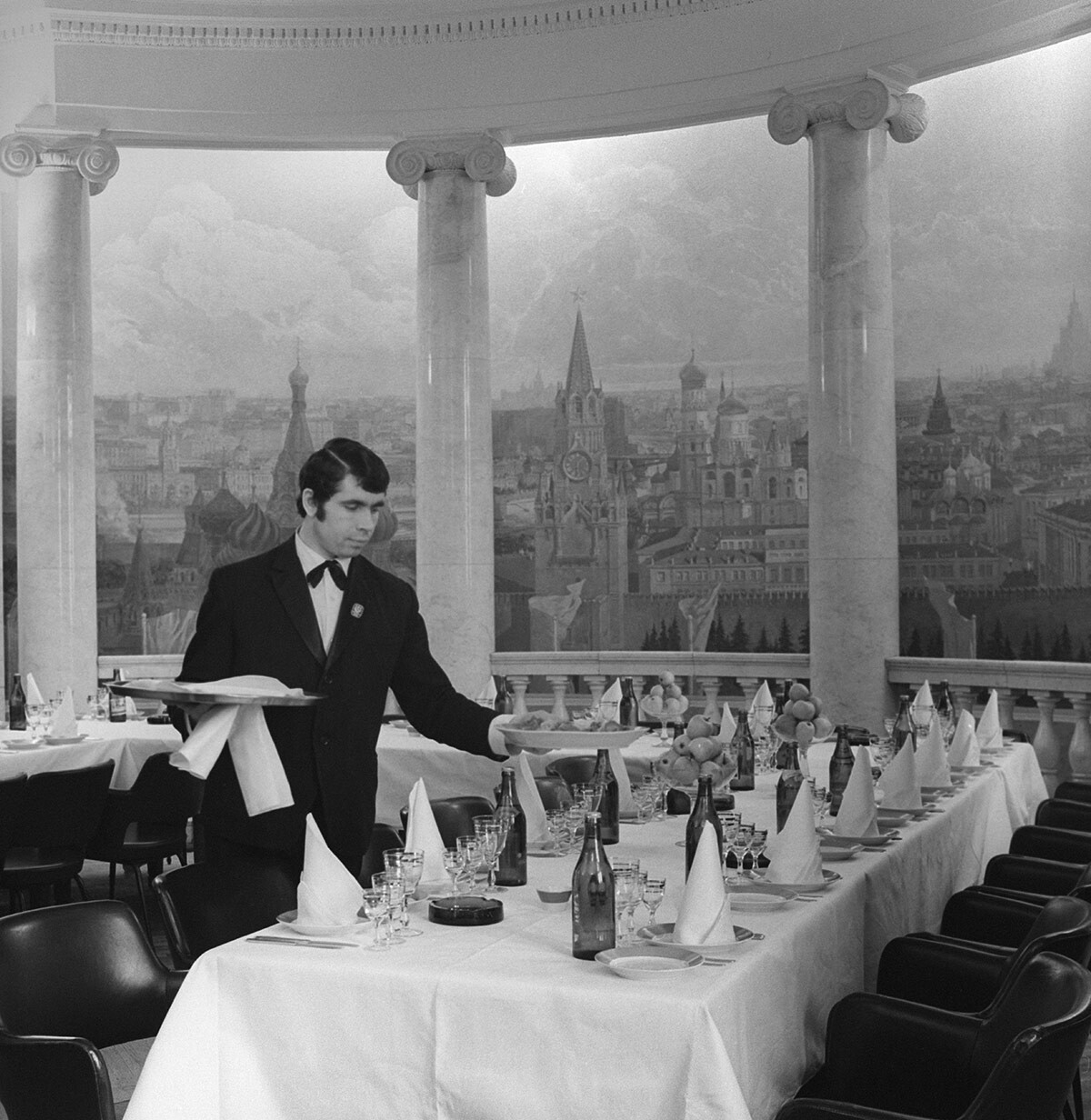 In 'Praga' restaurant, 1968
Yury Artamonov/Sputnik
There was always live music in the evenings and many people came to dance. It was also an unwritten rule to dress up for the restaurant; people who looked unkempt or too plainly dressed had no chance of getting in.
If a person got lucky enough to be let in, they had to pay another fee to the waiter inside. So that they both would get a decent table, provide a good service and serve fresher dishes and better quality drinks. 'The Twelve Chairs' (1971) movie comedically shows arrogant waiters who simply ignore insolvent citizens and then reluctantly take the order, time and again saying: "We're out of that!"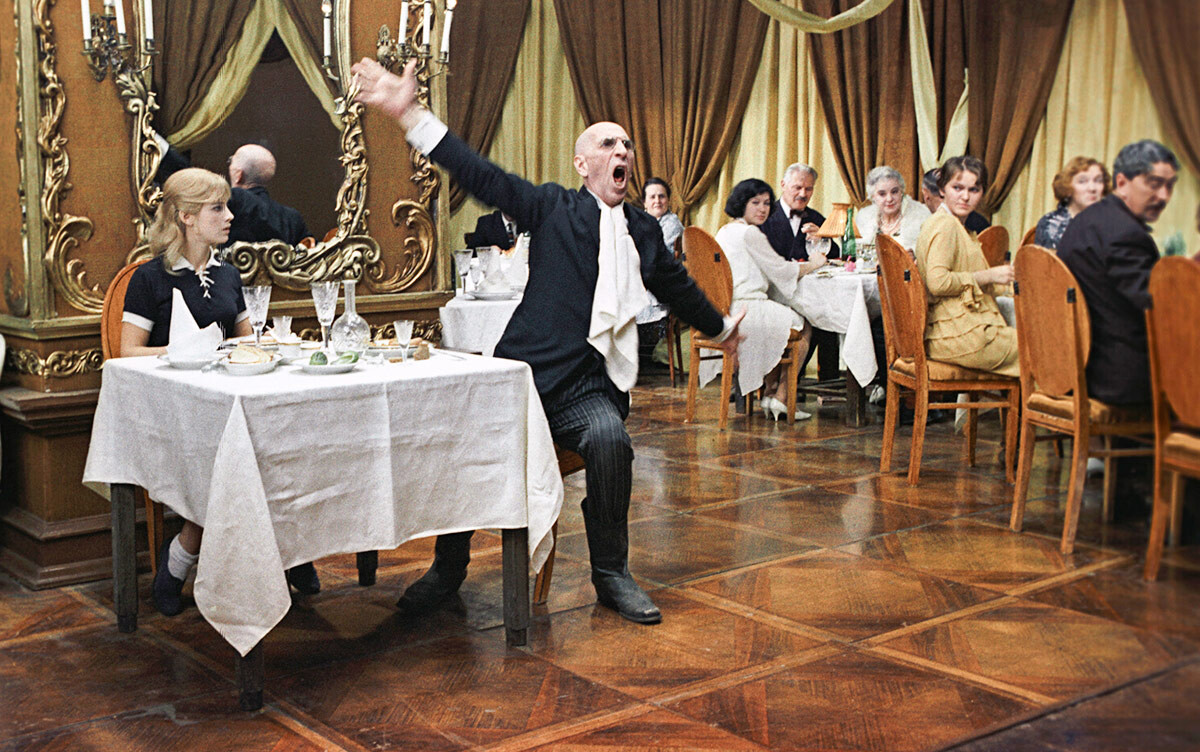 A still from 'The Twelve Chairs'
Chiglyakov/Sputnik
Waiters in restaurants were practically celestials, who often felt like they had won a lucky ticket in life. In addition to their paychecks, they received hefty tips and had access to the kitchen. Usually, they also got to take away the leftover food after large banquets. Such a case is shown in the movie 'Station for Two' (1982): a waitress offers her friend a meal and he squeamishly asks: "Are these scraps?"– "It's leftovers," she replies resentfully and proudly.
There was no restaurant culture in the USSR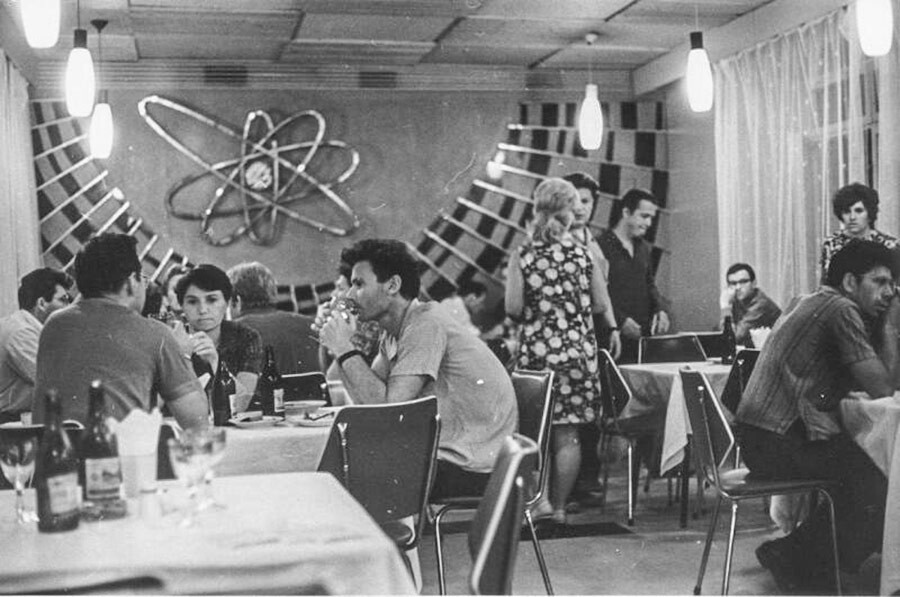 "I can count on my fingers how many times I've been to a restaurant. A couple times at someone's wedding. It just never even occurred to me to go there. After work, we had dinner at home. Weekends we'd go to my parents' house for lunch. Then we didn't know with whom to leave kids in the evening if we would go out to a restaurant," recalls Elena, an accountant from the Moscow suburbs. By the way, children under 16 were simply not allowed there in the evening.
Birthdays, friend parties, holidays and, often, even weddings – Soviet people used to celebrate everything at home. There was a whole culture of table gatherings' salads were prepared from available products, pickles being marinated since summer were taken out.
Many Soviet residents grew up in villages or small working-class settlements. So, when they moved to big cities, they had to economize on everything, in order to feed their families and dress themselves. Going to a restaurant was considered something superfluous, some unnecessary luxury, even something immoral. As they used to say in 'The Diamond Arm': "Our people don't take taxis to a bakery." That could be said about restaurants, as well.
So where did people go if not to restaurants?
A Soviet person could have lunch in canteens, which were only open during the day. Canteens with ready meals to choose from were available in all schools, institutes, factories, offices, libraries, etc. And it was possible to have a full lunch for just 50 kopecks or 1 ruble (compared with 25 rubles in a restaurant).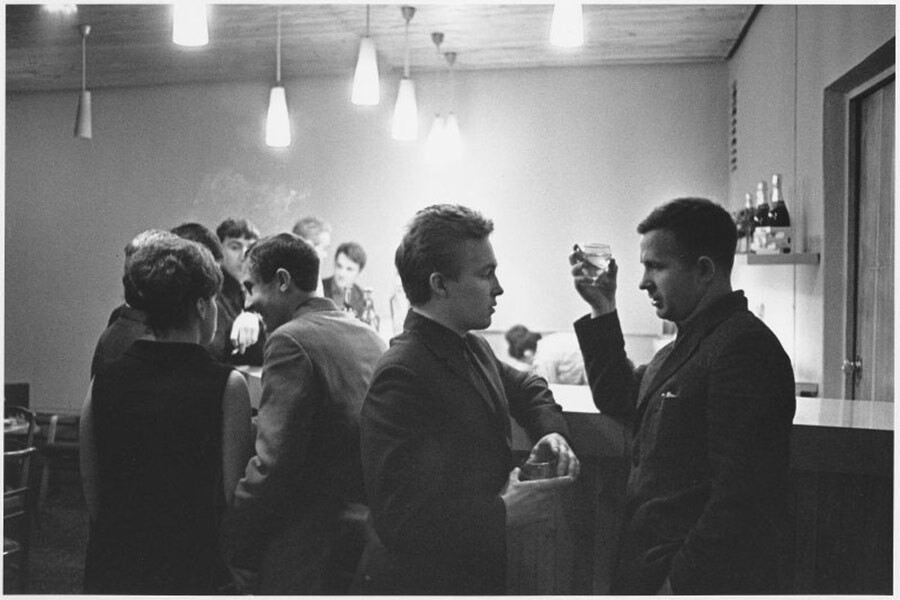 There were also small cafes, pastry stores with tables, beer bars and drinking bars with stands (Read more about Soviet culture of drinking out here). In the late Soviet era, there were even a few cocktail bars, which also held discos. There were also buffets – in theaters or, for example, in billiard rooms. There, one could order, for example, lemonade, cognac, nuts, a sandwich or a dessert.
So, who actually went to restaurants?
Ordinary Soviet people went only on very big occasions – and, most often, saved up money for it in advance. But, there was also a contingent of people who went to restaurants frequently, for lunch or dinner, it didn't matter. In addition to the criminals, it was the so-called elite – officials, high-ranking officers and professors and their children, the so-called "golden youth" – who were frequent guests of restaurants.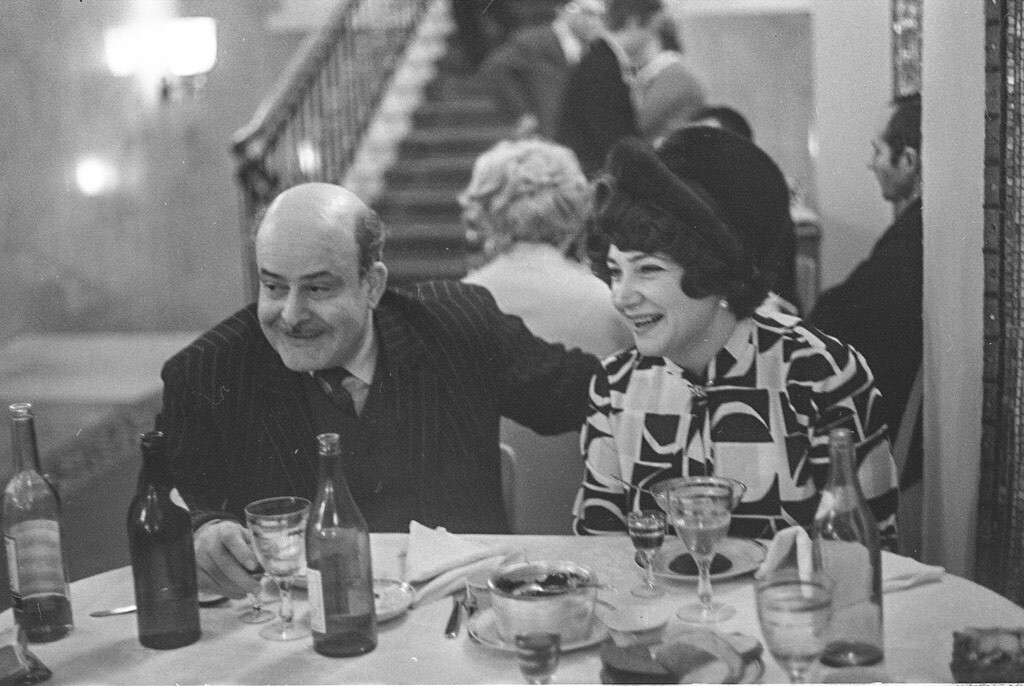 "I remember our university professor invited us to the 'Pekin' restaurant [in Moscow], it was a big event for us, but he himself went often," Olga recalls. It was customary to buy a round (or pay for the whole dinner) in a restaurant on the occasion of receiving a scientific degree or a new officer's rank.
"My grandfather served in an elite military unit in the 1950s-1960s and went to restaurants very often. He earned quite a lot and went out with fellow servicemen. They literally partied hard, knew all the waiters who brought them alcohol, even if it ran out in the restaurant. Then, they carefully helped the drunk officers get into a cab home or to their personal driver," recalls Maria, a teacher at Moscow State University.
Foreigners were also among those who went to restaurants. "One of the rare times I was in a restaurant was when Hungarians came to visit us as students at the institute and we took them to the 'Budapest' restaurant," recalls Muscovite Sergei.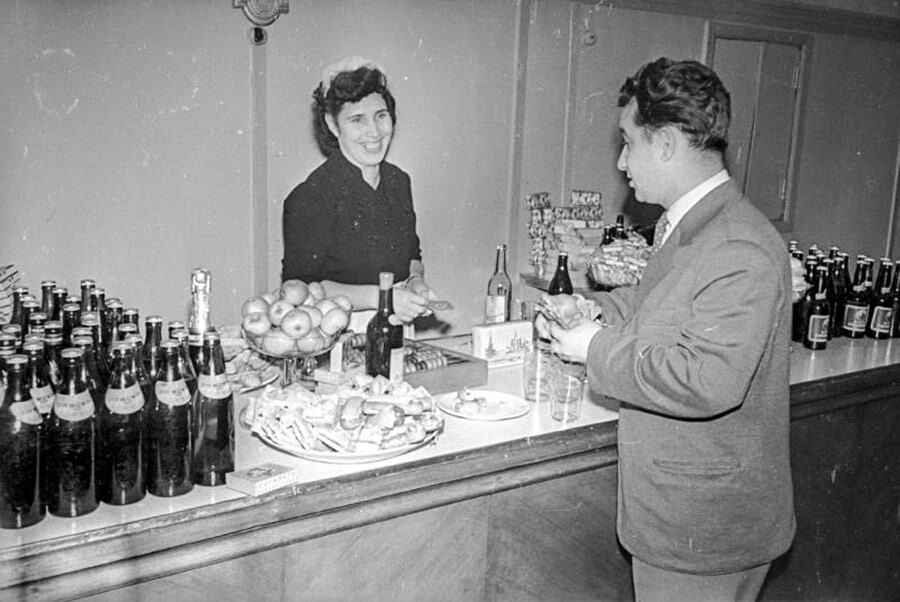 Spending time in restaurants was also the domain of writers, journalists and famous actors, who in Soviet times, earned good or even very good wages. "We went to theaters and restaurants," Sergei Dovlatov wrote in his 'Compromise' collection of short stories, "In short, we led a normal lifestyle for the creative intelligentsia."
Dear readers,
Our website and social media accounts are under threat of being restricted or banned, due to the current circumstances. So, to keep up with our latest content, simply do the following:
Subscribe to our Telegram channel
Subscribe to our weekly email newsletter
Enable push notifications on our website
Install a VPN service on your computer and/or phone to have access to our website, even if it is blocked in your country
If using any of Russia Beyond's content, partly or in full, always provide an active hyperlink to the original material.