This girl makes fantastic modern kokoshniks! (PHOTOS)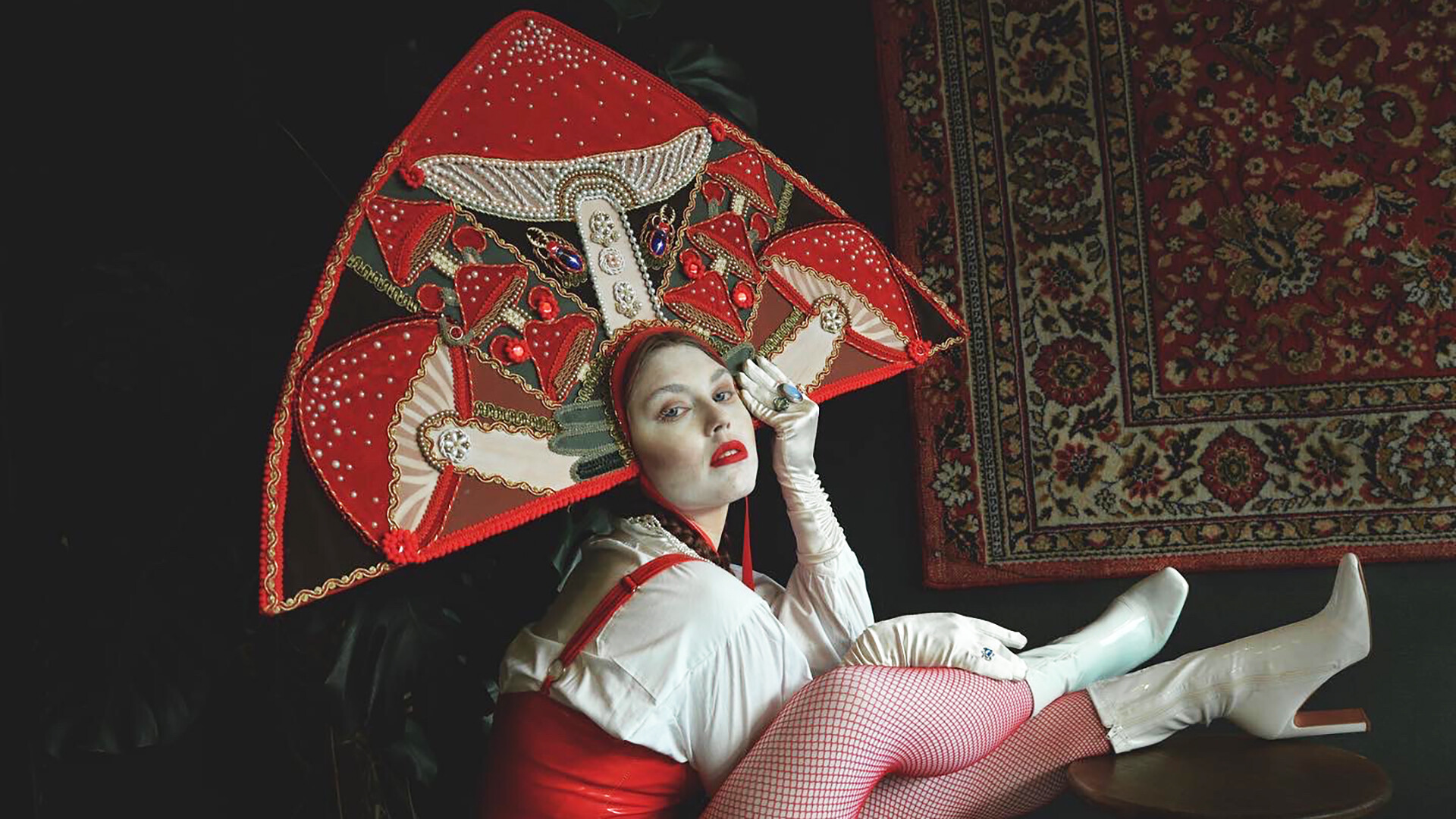 Serafima Zlobina from St. Petersburg creates Russian style headdresses - aka kokoshniks - and they are true pieces of art. And the designer really hopes that they will become fashionable again soon.
Ever since Serafima can remember, she was a creative child and her favorite things to do were drawing, applique and embroidery. In 2023, the 22-year-old artist will graduate from the St. Petersburg Stieglitz State Academy of Art and Design.
The first kokoshniks she made almost by accident. Serafima was preparing for a photo shoot (another one of her passionate hobbies) and, in the envisioned, surreal theme, she needed a flashy and bulky outfit and decided to make a kokoshnik. In just a couple of hours, she painted it with gouache and decorated it with beads. The photos were a success and her subscribers on social media commended the experiment.
At first, kokoshniks and photo shoots were her personal creative initiative. Then, different brands noticed Serafima's approach and she became a stylist of ad campaigns.
Serafima's kokoshniks became the true "feature" of the folk band Uzoritsa.
Now she creates whole collections of kokoshniks and rents them out, which are proving to be quite popular. "The most popular one is a large kokoshnik with fly agarics, it's usually rented for performances."
Among her big hits is also the 'Winter swans' kokoshnik, created for the ball of Peter Aksenov's jewelry house 'Axenoff Jewellery'. Recently it was spotted at the ice show of Evgeni Plushenko.
This kokoshnik required 40 hours of work by hand.
On average, one kokoshnik requires about two days of work, but there are some examples that take five or more days, especially when a lot of careful work is needed, as well as a lot of embroidery.
Decoratively cut cardboard serves as the base for the headdresses. Their shapes are always different – Serafima chooses them for the composition of each separate kokoshnik. For decoration she uses old fabric cuts, silk ribbons, velvet, lace, beads, rhinestones and even plasticine and foil. She works a lot with the techniques of beadwork and applique.
Her kokoshniks feature references to Saint Basil's Cathedral, fairy tale butterflies and birds, mushrooms and floral ornaments, among other things. Her works look modern, but pay homage to the traditional folk motifs.
"Fairy tale motifs set the style for my works. The shape of the headdress is a homage to ancient times." With that, Serafima rethinks fairy tale motifs in a modern way, stripping away any canons. "I would call my works performances, since they usually affect the watcher in the same way as a show would," she says.
All of Serafima's kokoshniks are very large and colorful - of course, they are the main focal point and the center of attention during photo shoots. Then, to match them, outfits and accessories are selected, as well as the background and the surroundings.
However, the girl doesn't plan to stop with kokoshniks - she wants to work with other accessories, for example making kerchiefs with the batik technique - painting on fabric. She wants to also create a clothing collection in a fairy tale style.
"Kokoshniks have already made their way into everyday fashion, for example as headbands with a sharp arch on top. Right now they're called mini-kokoshniks. I create such little headdresses from eco-leather or velvet. I often see things like that on girls in public places. My wish for the future - the popularization of modern kokoshniks in gigantic sizes!" Serafima says.
Dear readers,
Our website and social media accounts are under threat of being restricted or banned, due to the current circumstances. So, to keep up with our latest content, simply do the following:
Subscribe to our Telegram channel
Subscribe to our weekly email newsletter
Enable push notifications on our website
Install a VPN service on your computer and/or phone to have access to our website, even if it is blocked in your country
If using any of Russia Beyond's content, partly or in full, always provide an active hyperlink to the original material.