10 Russian style icons to follow on Instagram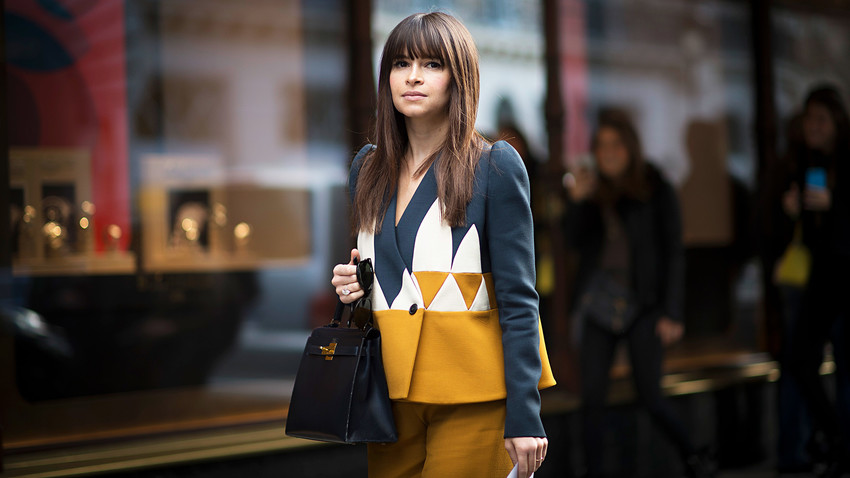 Miroslava Duma (see our No 4)
Getty Images
Russian fashion designers such as Gosha Rubchinskiy and Ulyana Sergeenko are making waves in the fashion world, but this bunch also have serious style.
1. Matilda Shnurova
This woman should have lived in the 1920s – her nymph-like elegance is befitting of the Silver Age of Russian poetry. Fabolous Matilda Shnurova is the ex-wife of Russian rocker Sergei Shnurov, owns St. Petersburg's most fashionable restaurant, Cococo, and is also the founder of a ballet school.
2. Xenia Sobchak
She went head-to-head in Putin in the presidential elections, and always looked the part during debates. In 2018 she was named Hello! magazine's most stylish woman of the year.
3. Evelina Khromchenko
For more than a decade, former fashion editor and observer Khromchenko was the "prosecutor" on a TV talk show called Fashion Court. By the way, she was the Russian voice over for Meryl Streep's character in the film The Devil Wears Prada – Khromchenko has even been compared to Anna Wintour, Vogue's editor (who the movie is based on).
4. Miroslava Duma
As Russia's main IT girl and founder of online fashion platform Buro 24/7, Duma has an indisputable sense of style. Now 32, she's mother of three kids and a successful entrepreneur, which only adds to her sex appeal?
5. Renata Litvinova
A talented film director and actress, Litvinova is a heavenly creature, with her white skin, classic red lipstick, and 1920s curly blonde hair. She's been the face of such brands as L'Oreal Paris and RADO watches. She sometimes sports futuristic/retro on her Instagram, which will inspire you no end.
6. Vlad Lisovets
This man is fashion guru, pure and simple. Born into the family of a train driver and a chemist, Lisovets is one of Russia's most popular hair stylist and designers. He is frequently invited to host different TV beauty shows.
7. Sergei Shnurov
Ex-husband of No 1 in our list, he is also the country's current No 1 rock star. As a result, his style is often tinged with a touch of anarchy. Shnurov looks equally awesome in a fur coat (with nothing on underneath), or in a basketball uniform, which he sometimes wears on stage during concerts. His heavy golden necklace has become one of his trademarks.
8. Ivan Urgant
He started his TV career in the late 1990s when MTV Russia was launched. Now Urgant is the host of the country's only American-style late night show. He has a great sense of humor and style, and looks equally dashing in tuxedos, leather jackets/trousers, and simple T-shirts.
9. Sergei Polunin
The enfant terrible of the Russian ballet, scandalous and tattooed talented dancer Polunin appears in public in tuxedos, leather jackets (and pants), and casual T-shirts. On his Instagram he mixes up his outfits and videos of his great dancing – have you seen his "Take me to church" video?
10. Anton Belyaev
Leader of popular indie band Therr Maitz, which often tours in Europe, Belyaev is rarely seen without his stylish glasses. Despite the fact he mostly wears black, he has an awesome smile.
Read more: 10 ideas for the perfect fashion shoot in Russia
If using any of Russia Beyond's content, partly or in full, always provide an active hyperlink to the original material.