Fyodor Alekseyev. Cathedral Square in the Moscow Kremlin, the 1800s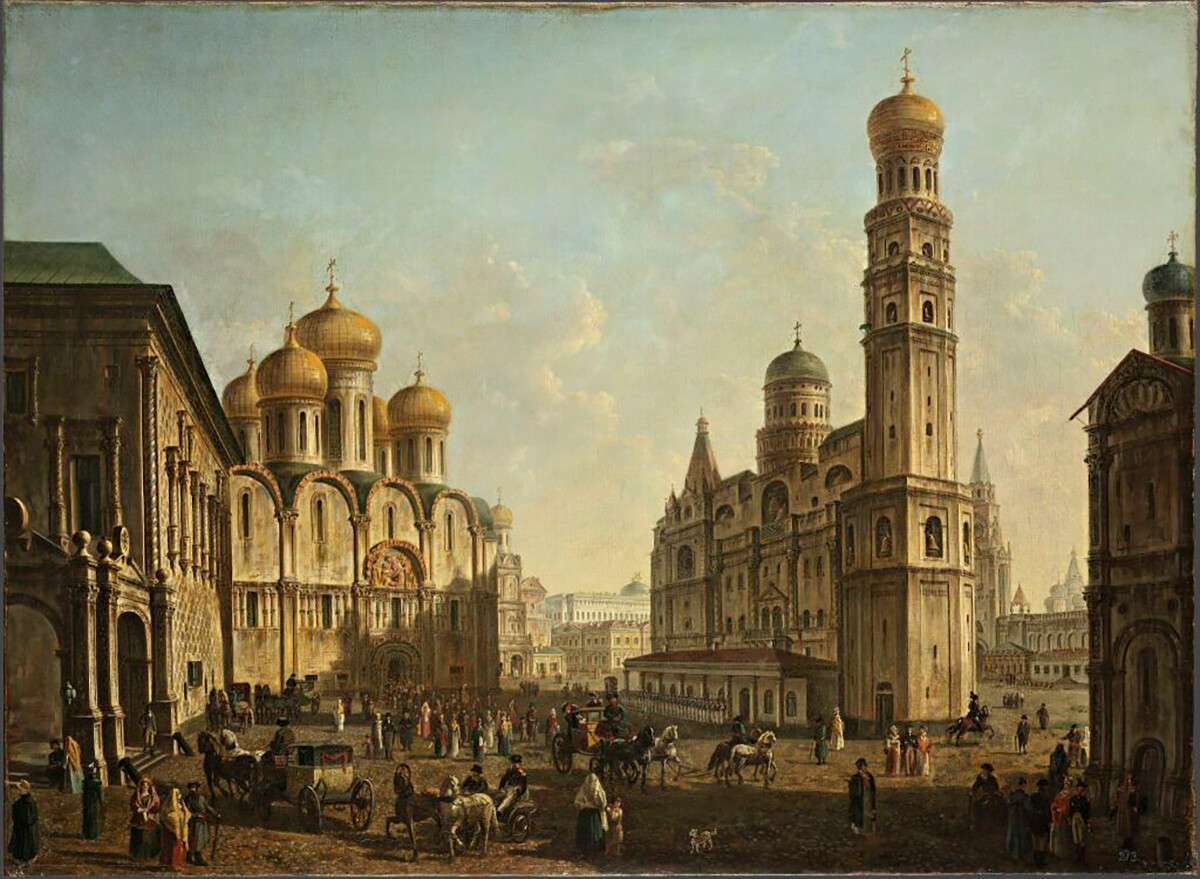 Many paintings that depict churches – or any other type of city for that matter – don't just have artistic value, but also historical value, possessing a high degree of accuracy.
Karl Beaudry. Religious procession at the Annunciation Cathedral in the Moscow Kremlin, 1860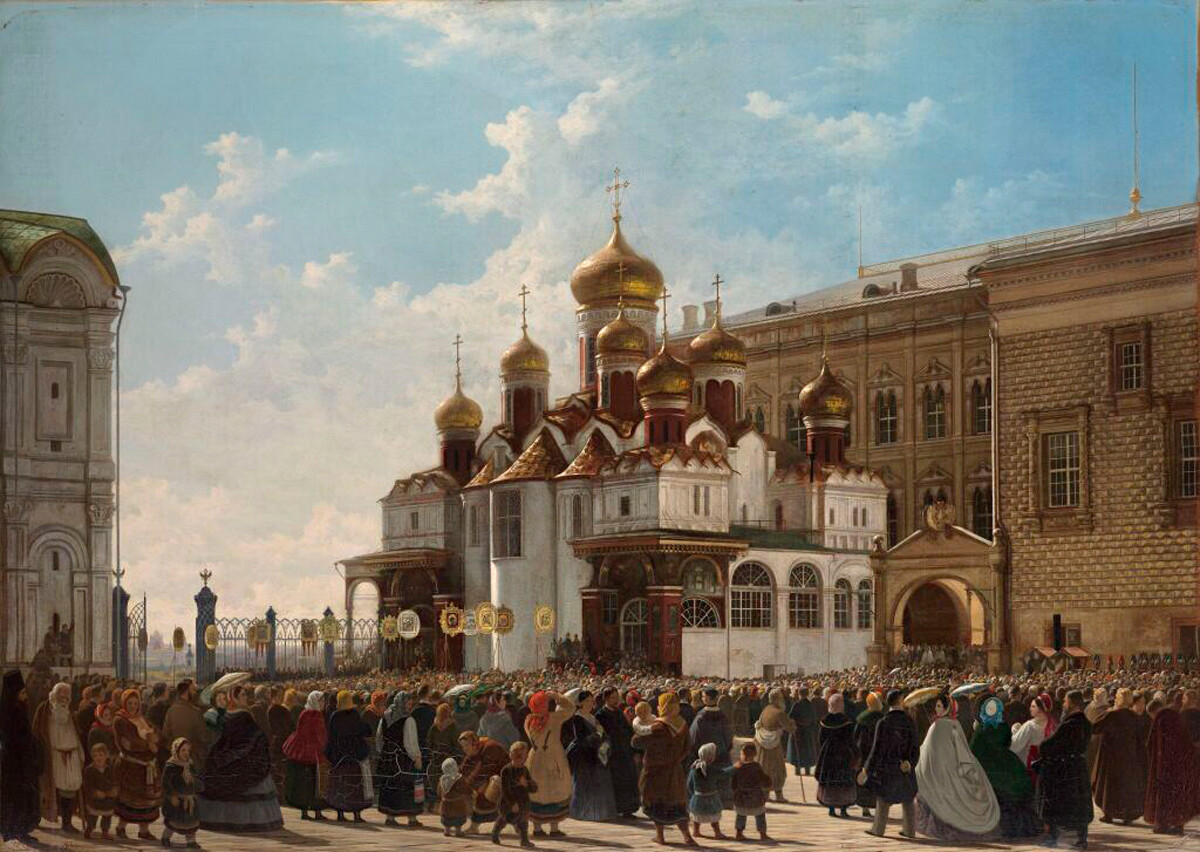 Tretyakov Gallery
The beautiful old cathedrals of the Moscow Kremlin drew special attention from painters.
Apollinary Vasnetsov. The Moscow Kremlin. Cathedrals, 1894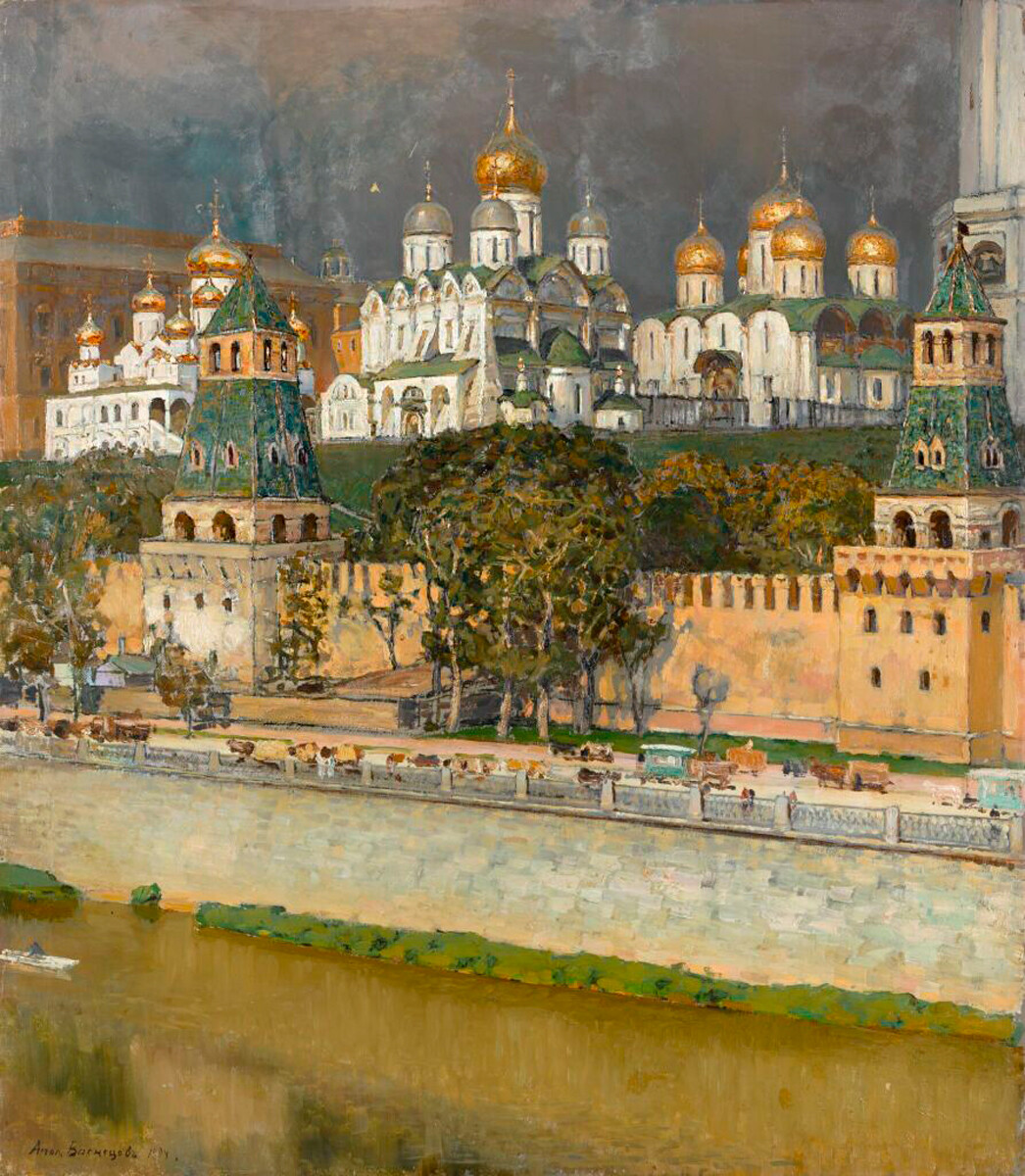 Tretyakov Gallery
Vasnetsov especially loved to look at Moscow churches, finding a source of inexhaustible inspiration in how sun rays play with patches of light on golden domes.
Vasily Polenov. The Dormition Cathedral. South Gates, 1877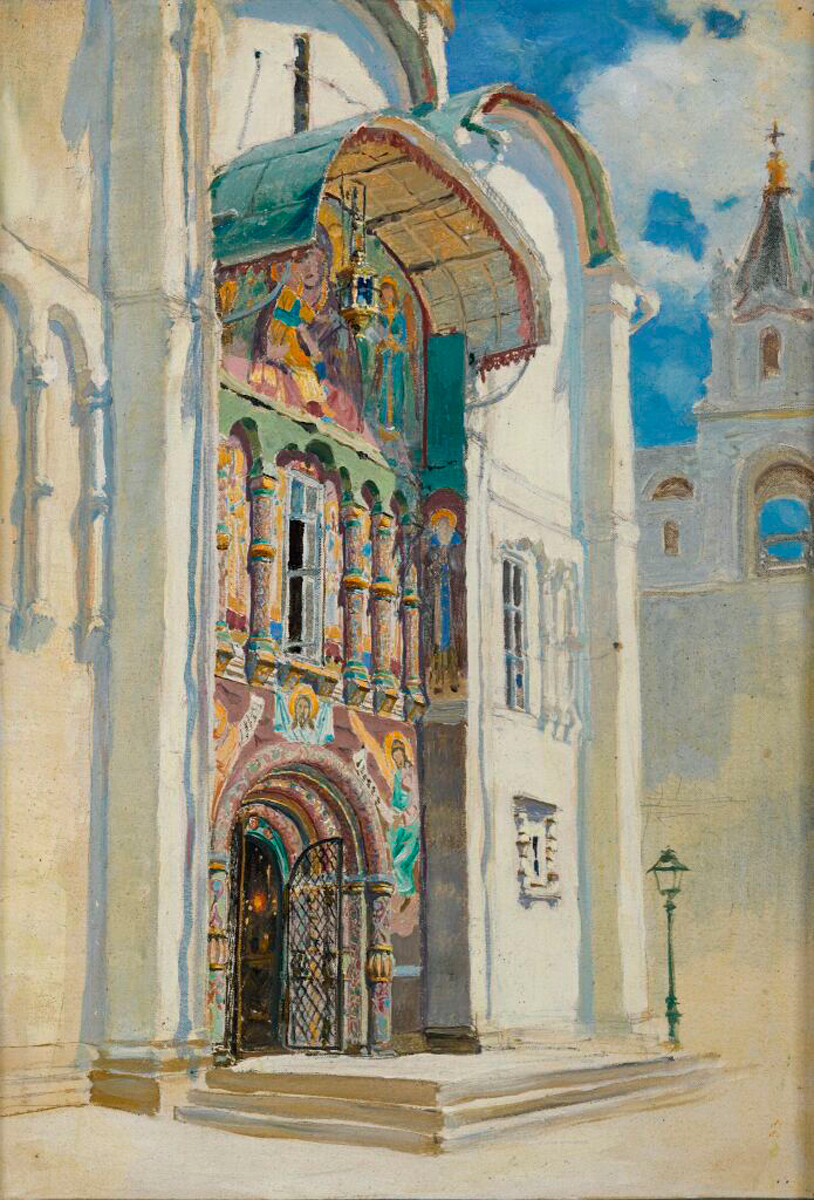 Tretyakov Gallery
Yet another angle and detail one can adore in the cathedrals of the Moscow Kremlin.
Apollinary Vasnetsov. Clouds and Golden Domes. Simonov Monastery, the 1920s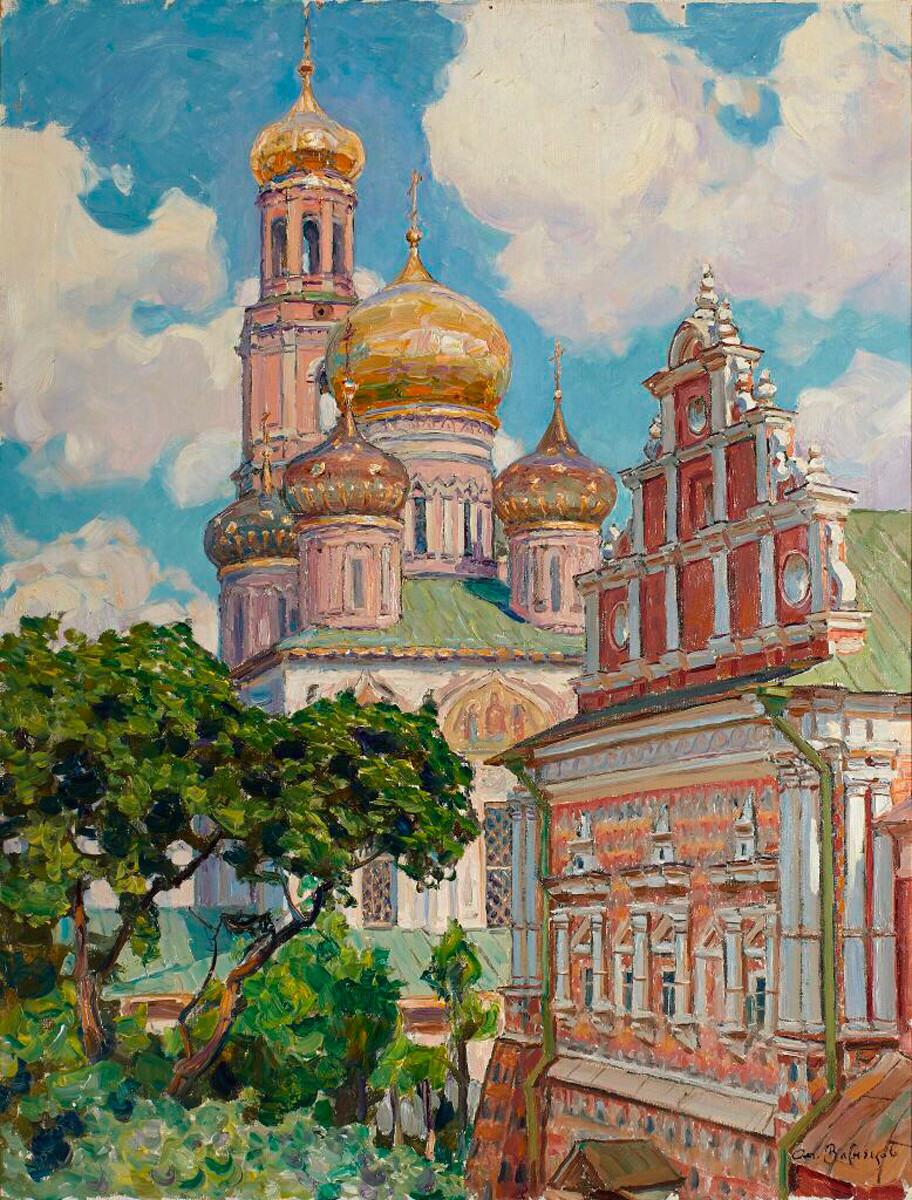 Tretyakov Gallery
And some of Moscow's churches, which were unfortunately lost during Soviet times, now only remain in Vasnetsov's paintings – like, for example, the Simonov Monastery.
Apollinary Vasnetsov. Novodevichy Convent. The Cathedral, 1926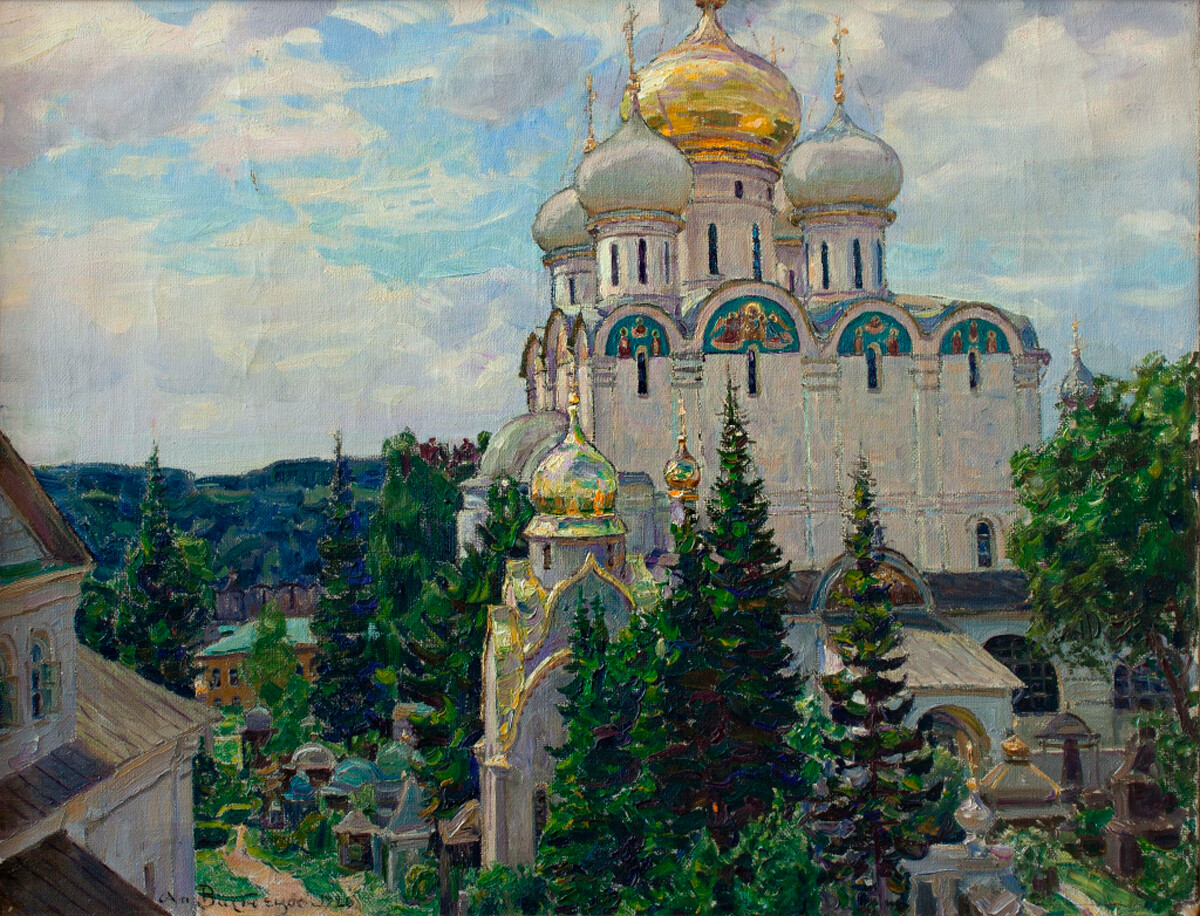 Tretyakov Gallery
The main cathedral of the most beautiful monastery of Moscow is depicted in this painting. The painting radiates the joy of life. At the beginning of the 20th century, there was a forest around Novodevichy Convent and, now, it's a central part of Moscow with road overpasses around.
Apollinary Vasnetsov. The Ascension Church. Village Kolomenskoye, 1927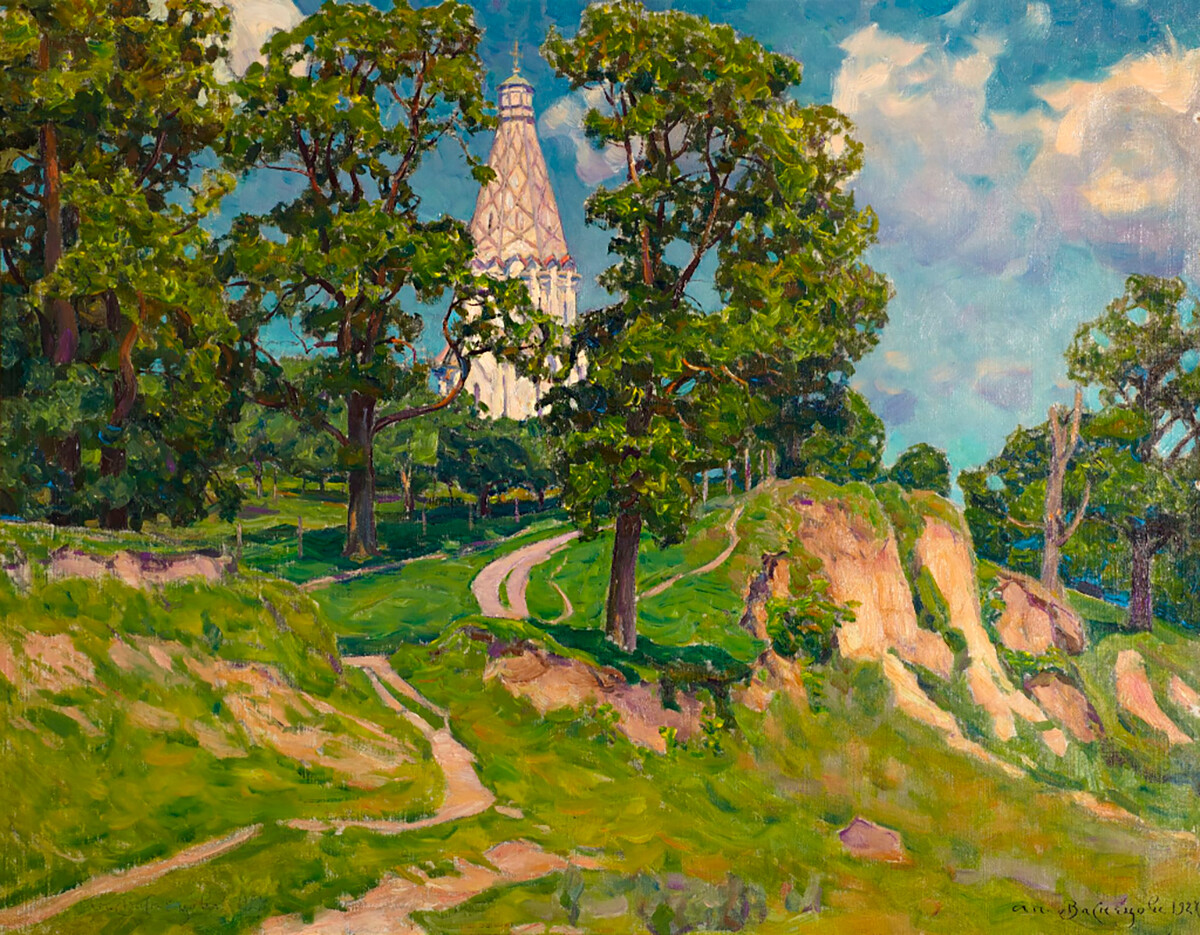 Tretyakov Gallery
Today, Kolomenskoye is no longer a village, but a museum reserve within the city. This 16th-century church is a true masterpiece of architecture and the first stone steepled-roof church in Russia.
Vasily Polenov. Moscow Yard, 1878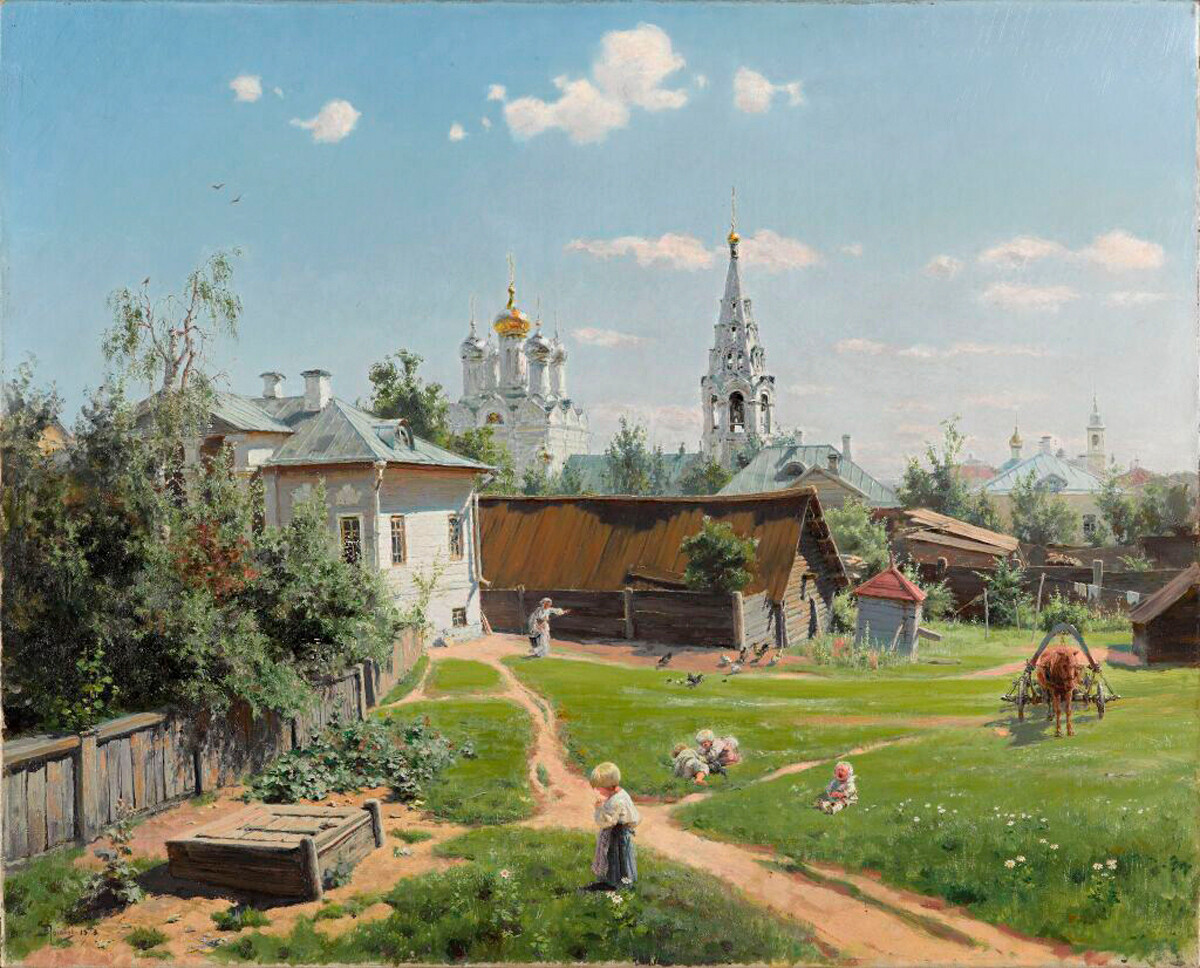 Tretyakov Gallery
One of the most famous paintings by Polenov captured a yard in the alleys of Arbat Street; in the background - the Church of the Transfiguration on the Sands.
Valentin Serov. Winter in Abramtsevo. Church, 1886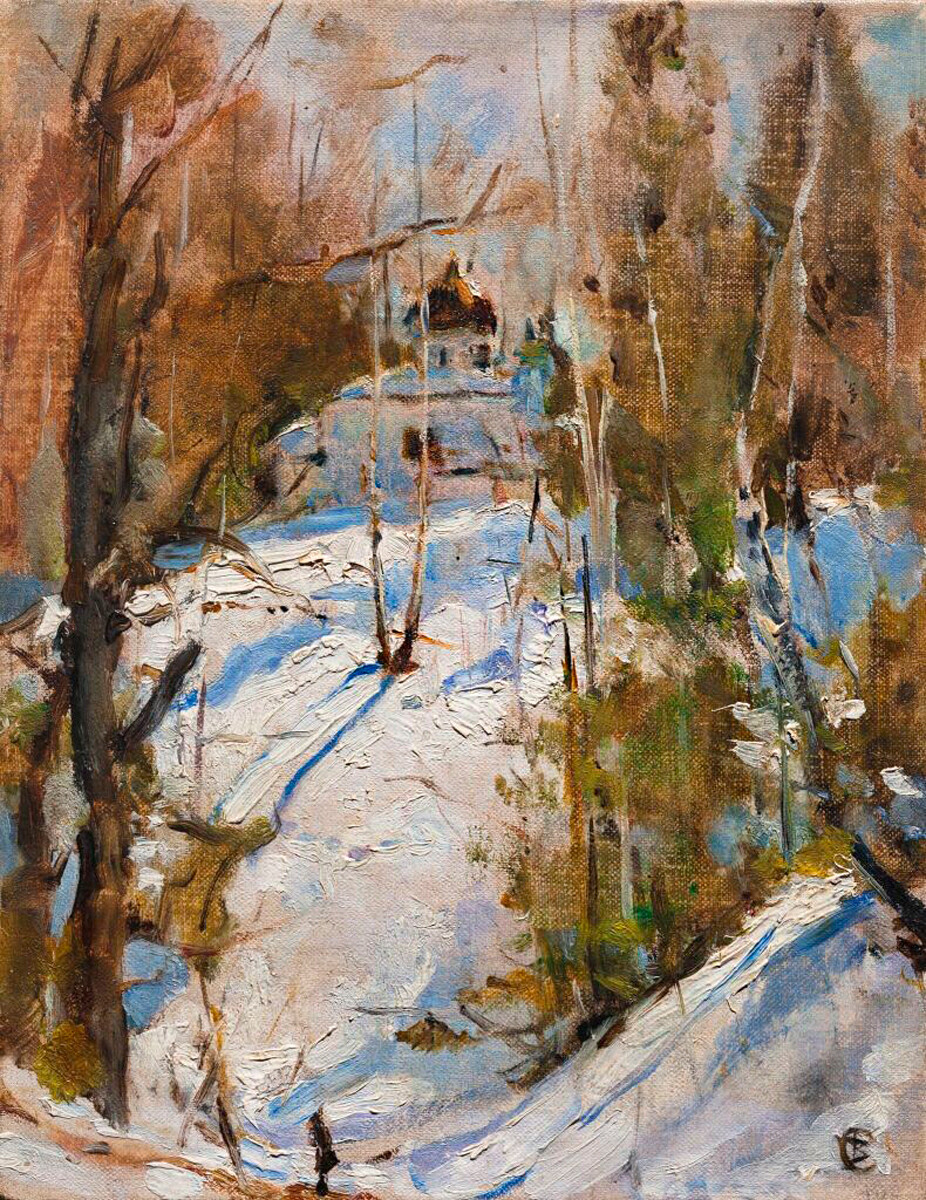 Tretyakov Gallery
Serov, like many other artists of the end of the 19th century, spent a lot of time in Abramtsevo – patron of art Savva Mamontov's estate; they worked en plein air. Serov even married his wife in this church, built based on sketches by artist Viktor Vasnetsov.
Isaac Levitan. Over Eternal Peace, 1894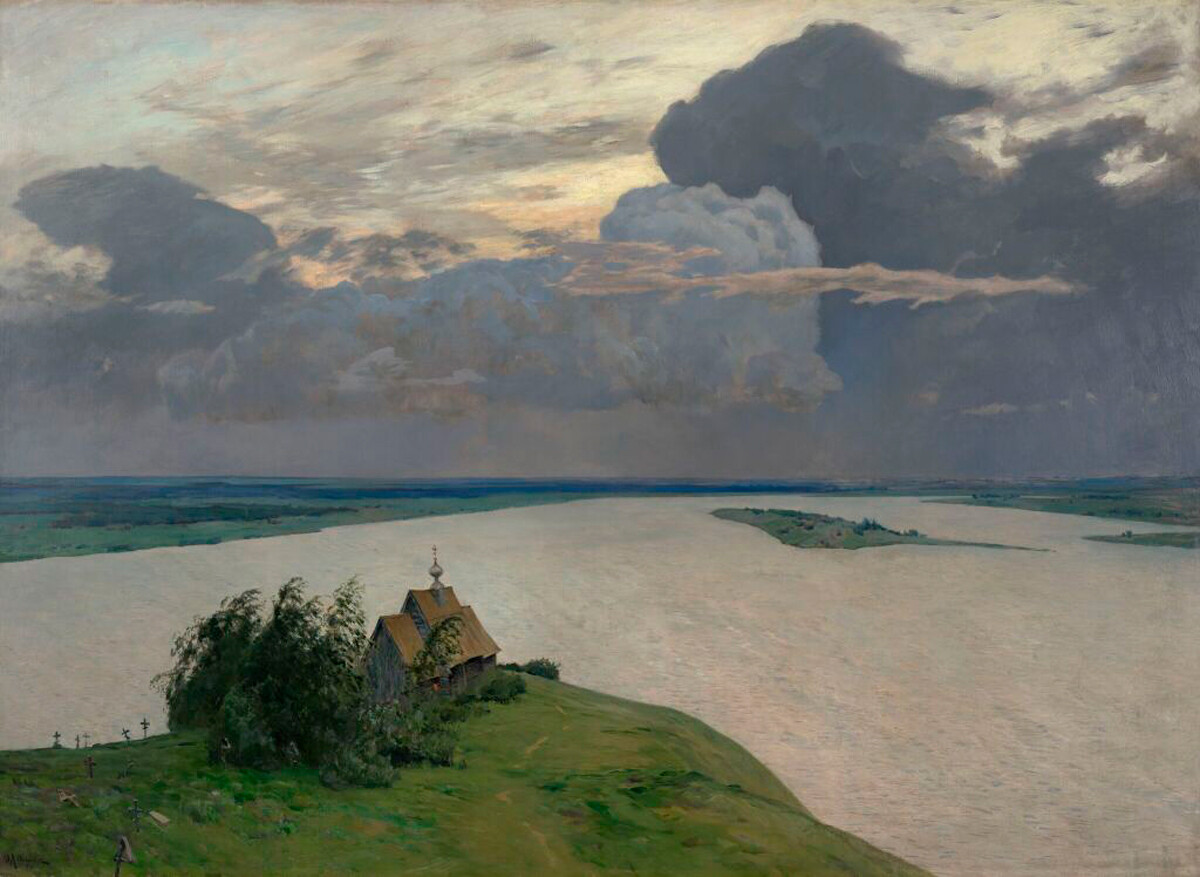 Tretyakov Gallery
This god-forsaken little church, overgrown with weeds, on the shores of Lake Udomlya near Vyshny Volochyok, gained fame thanks to this monumental (and most famous) painting by Levitan.
Isaac Levitan. Silent Abode, 1890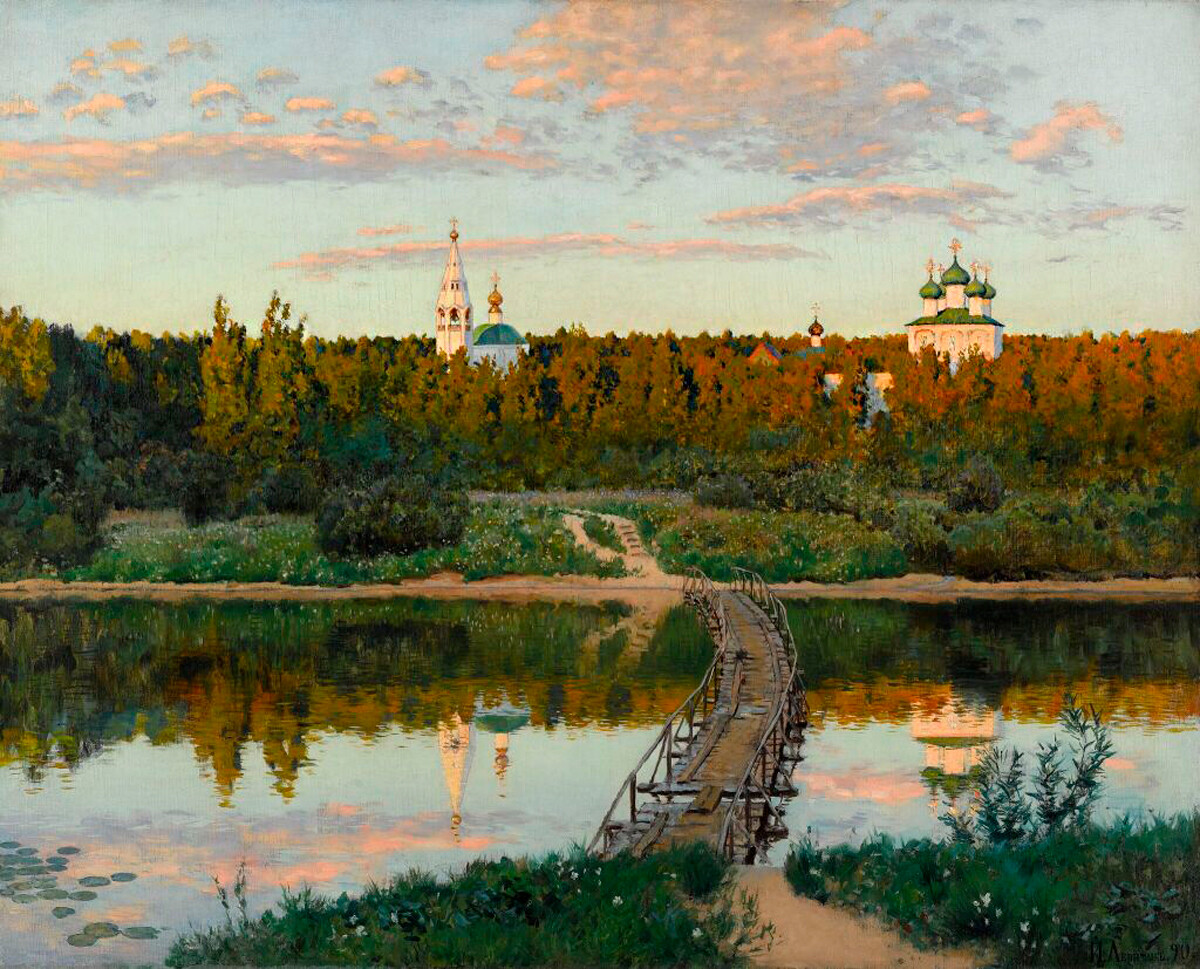 Tretyakov Gallery
Levitan painted churches and monasteries a lot, they had a calming effect on him. Art historians believe that the footpath and the bridge in the painting seemingly welcome us to an abode of spiritual harmony.
Isaac Levitan. Inside the Peter & Paul Church in Plyos, on the Volga, 1888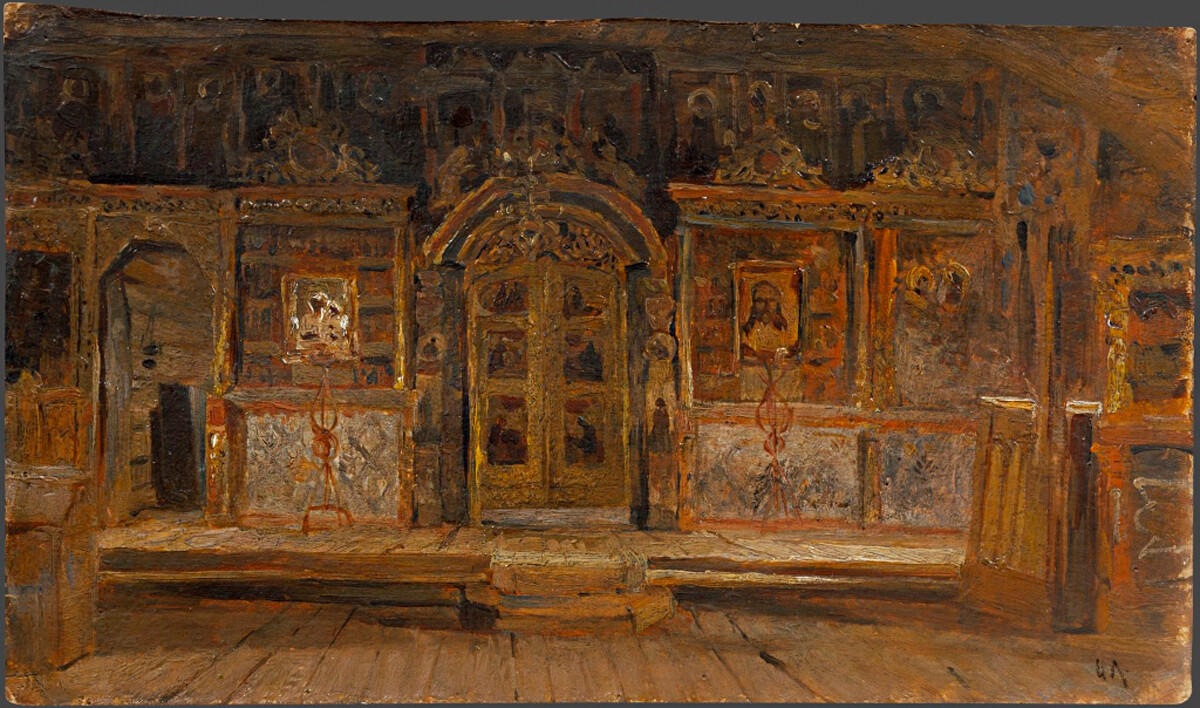 Tretyakov Gallery
Levitan worked a lot in the picturesque town of Plyos; depictions of many local churches came from under his brush. And he even depicted this wooden church (now lost) from the inside.
Pavel Korin. The Interiors of the Dormition Cathedral of the Moscow Kremlin, 1936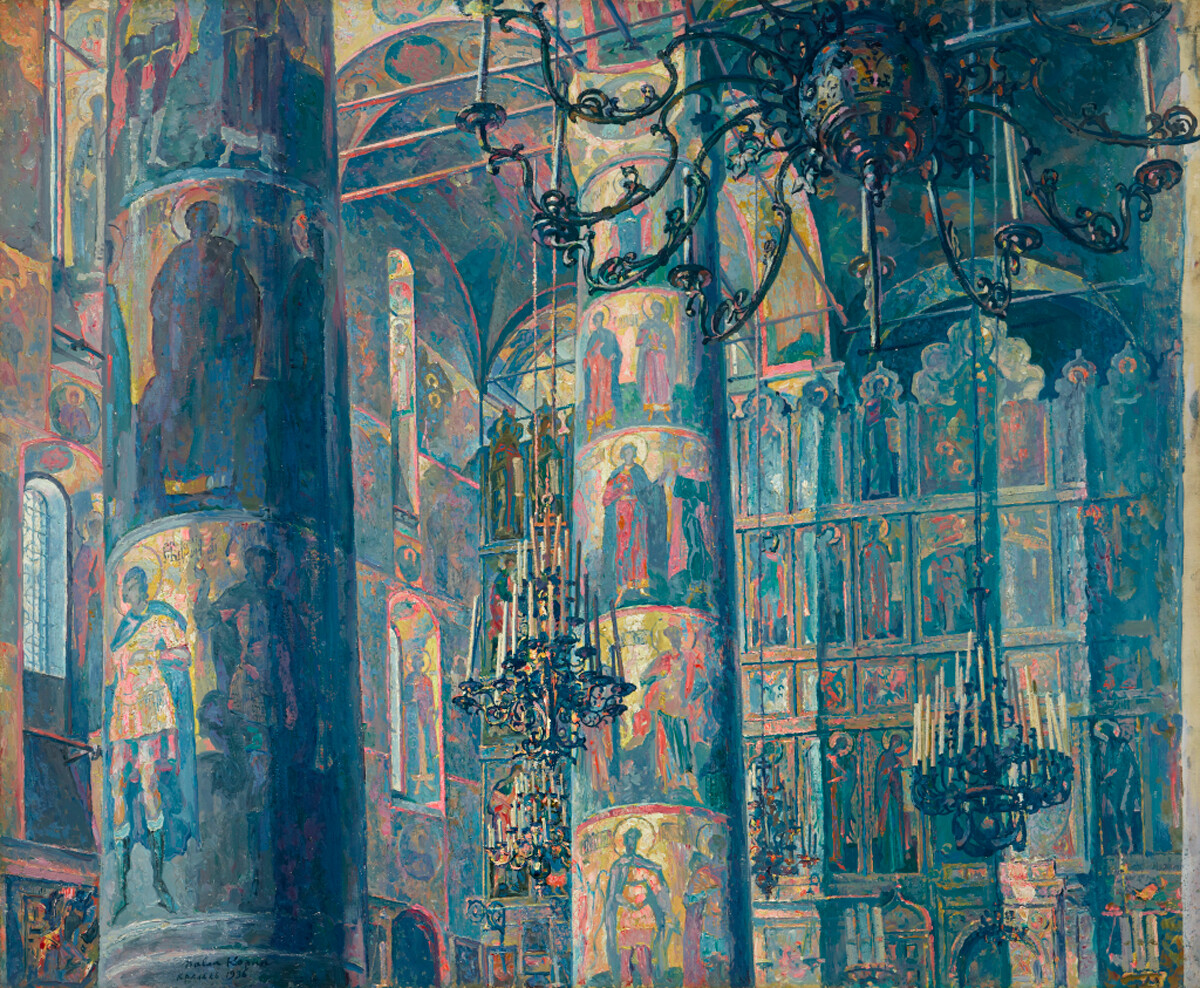 Tretyakov Gallery
The interior decoration of churches didn't appear in paintings as often as their exterior. And, thus, the more precious are such paintings.
Ilya Repin. Wedding of Nicholas II and Alexandra Feodorovna, 1894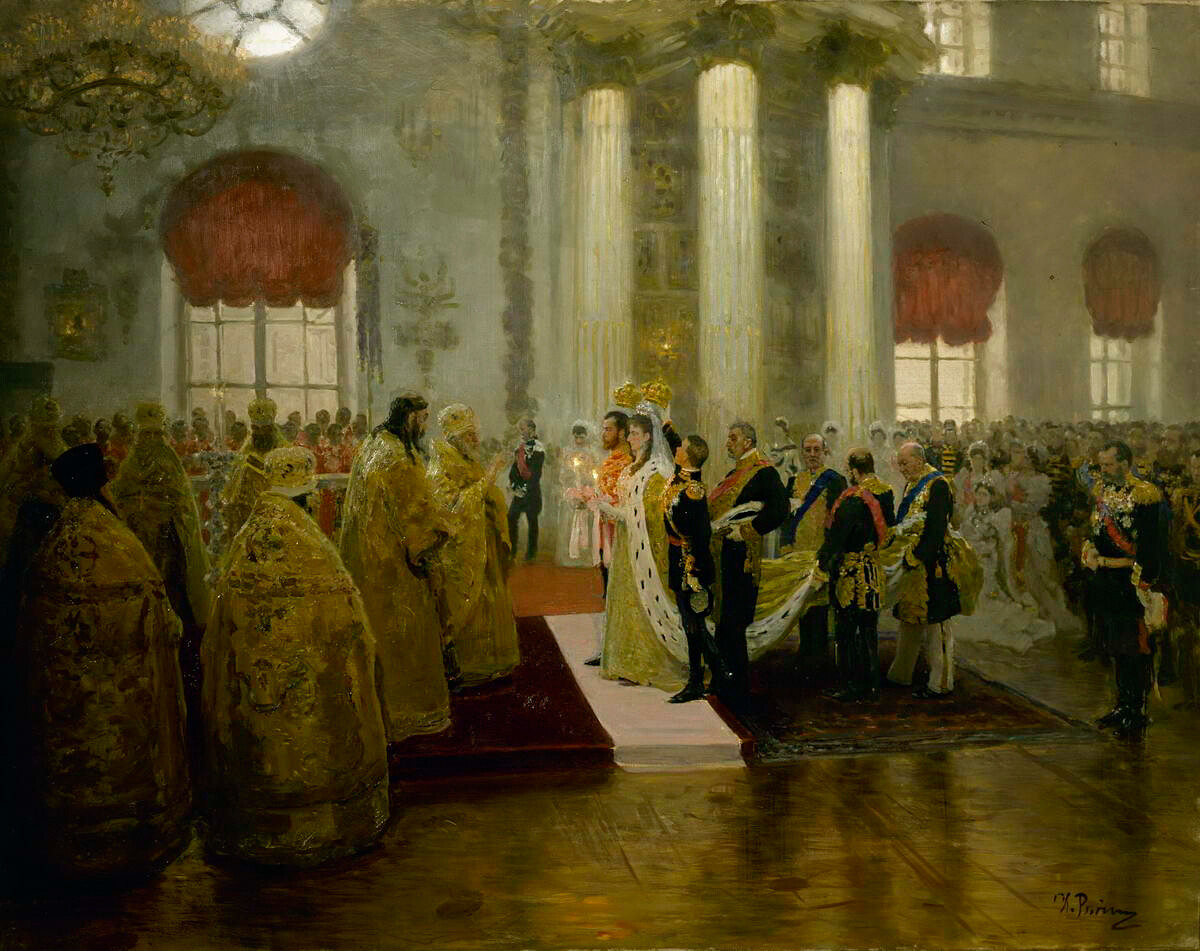 The Russian Museum
Court artist Repin went further and depicted the most important sacrament – the wedding of the last Russian tsar, Nicholas II, in the Winter Palace church in St. Petersburg.
Konstantin Yuon. Boats near the River Bank. Pskov, 1904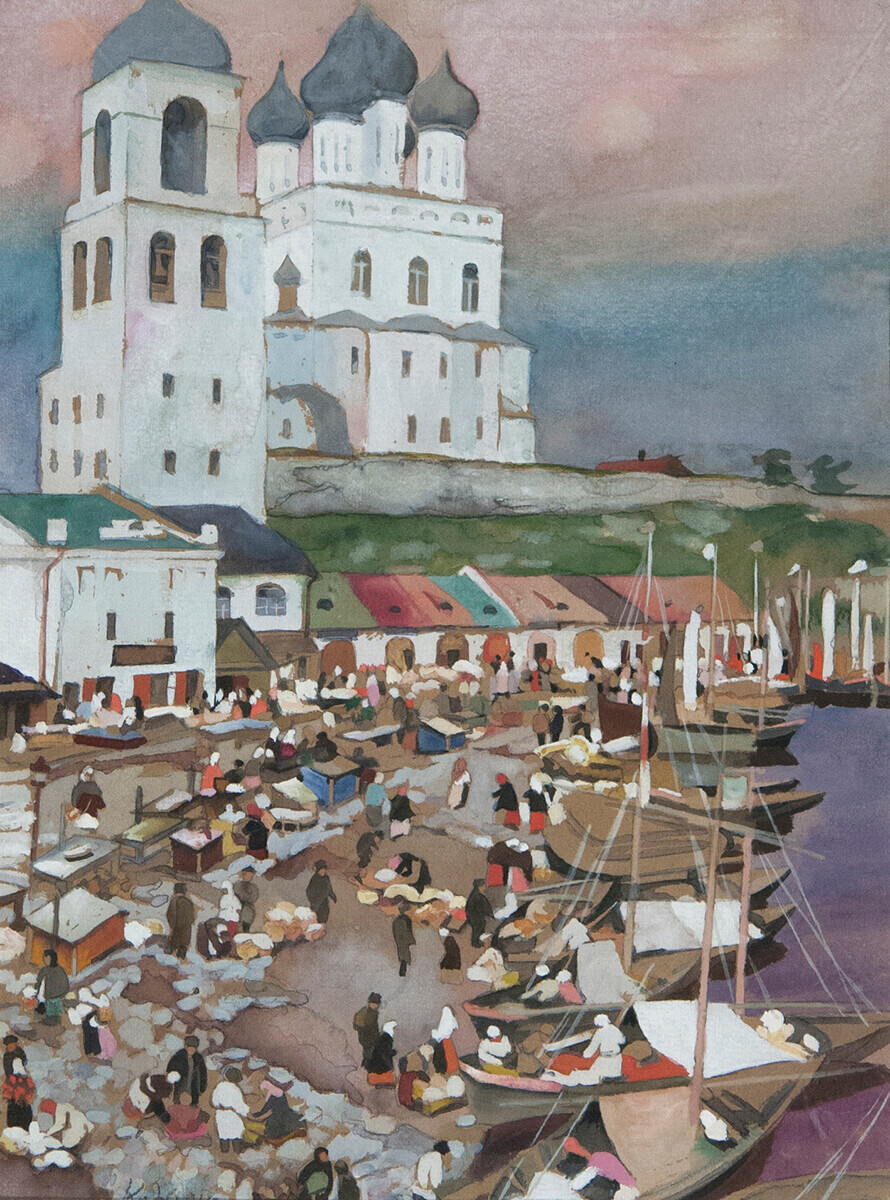 Kaluga Museum of Fine Arts
A frequent attribute of the views of Pskov is its ancient churches, currently listed as UNESCO World Heritage Sites. Including, for example, this grand Trinity Cathedral of the Pskov Kremlin.
Nicholas Roerich. Church of the Dormition of the Theotokos in Pskov, The 1900s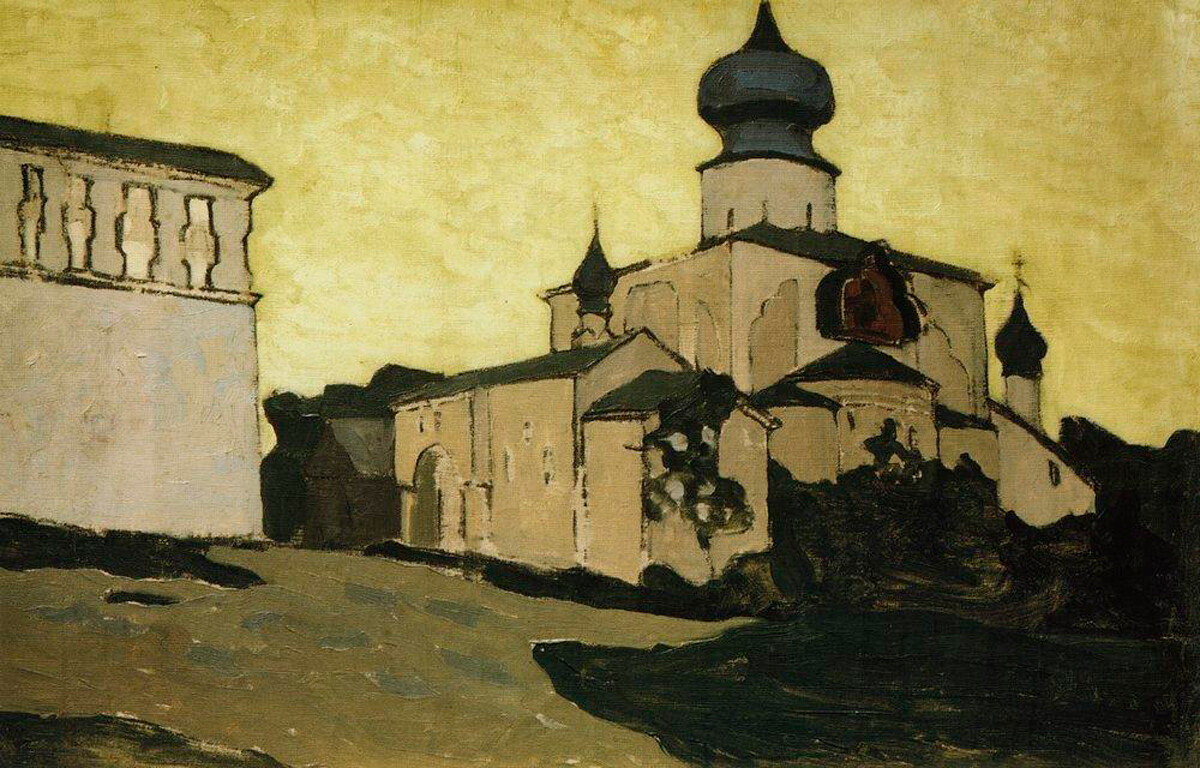 The Russian Museum
Known for his Himalayan landscapes, Roerich created many paintings with biblical subjects – and traveled across ancient cities of Russia, painting old churches.
Nicholas Roerich. Uglich. Church of Prince Dmitry, 1904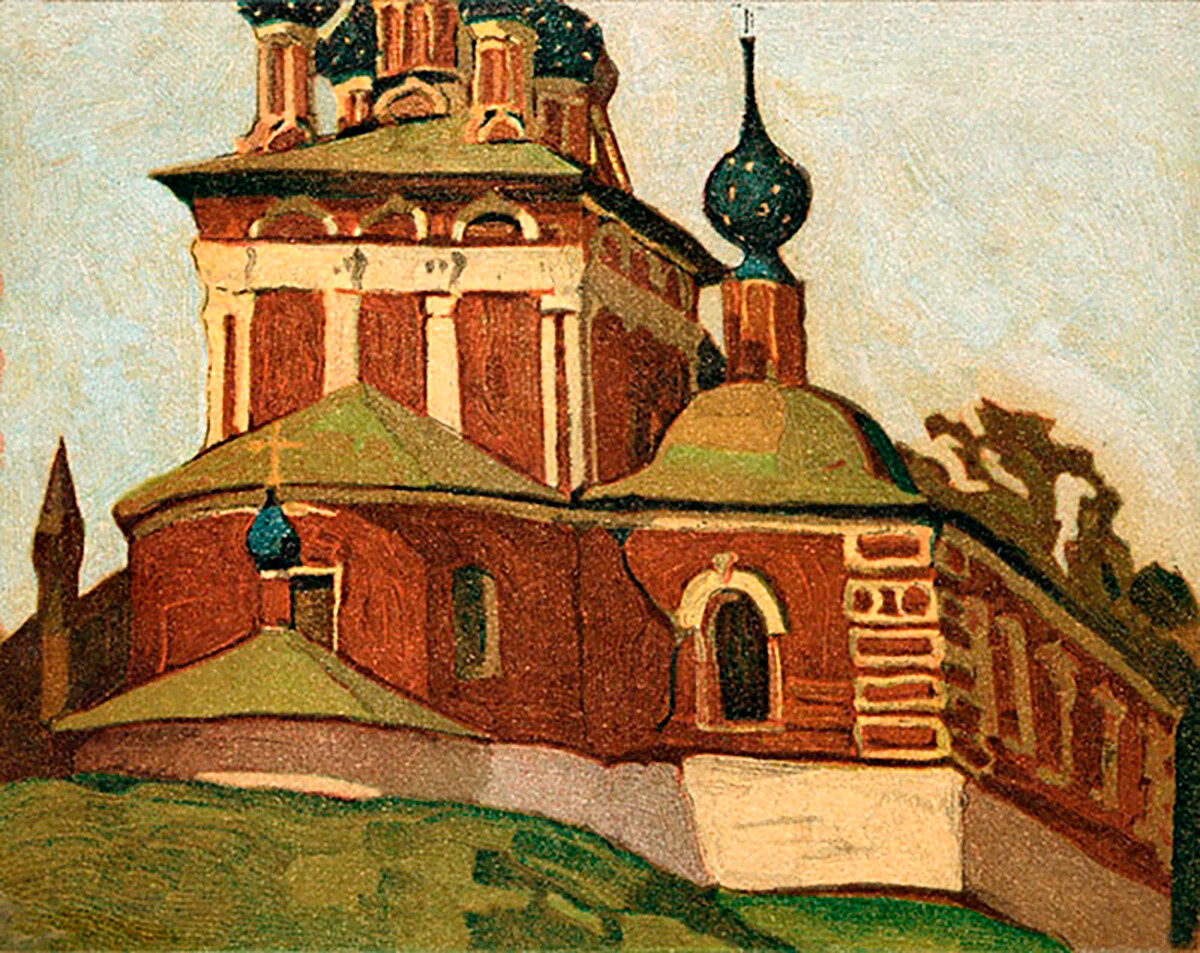 International Center of the Roerichs
Roerich concerned himself greatly with the preservation of ancient monuments of architecture; depicting them in his paintings was yet another way to preserve them for future generations.
Wassily Kandinsky. Red Church, 1901-1903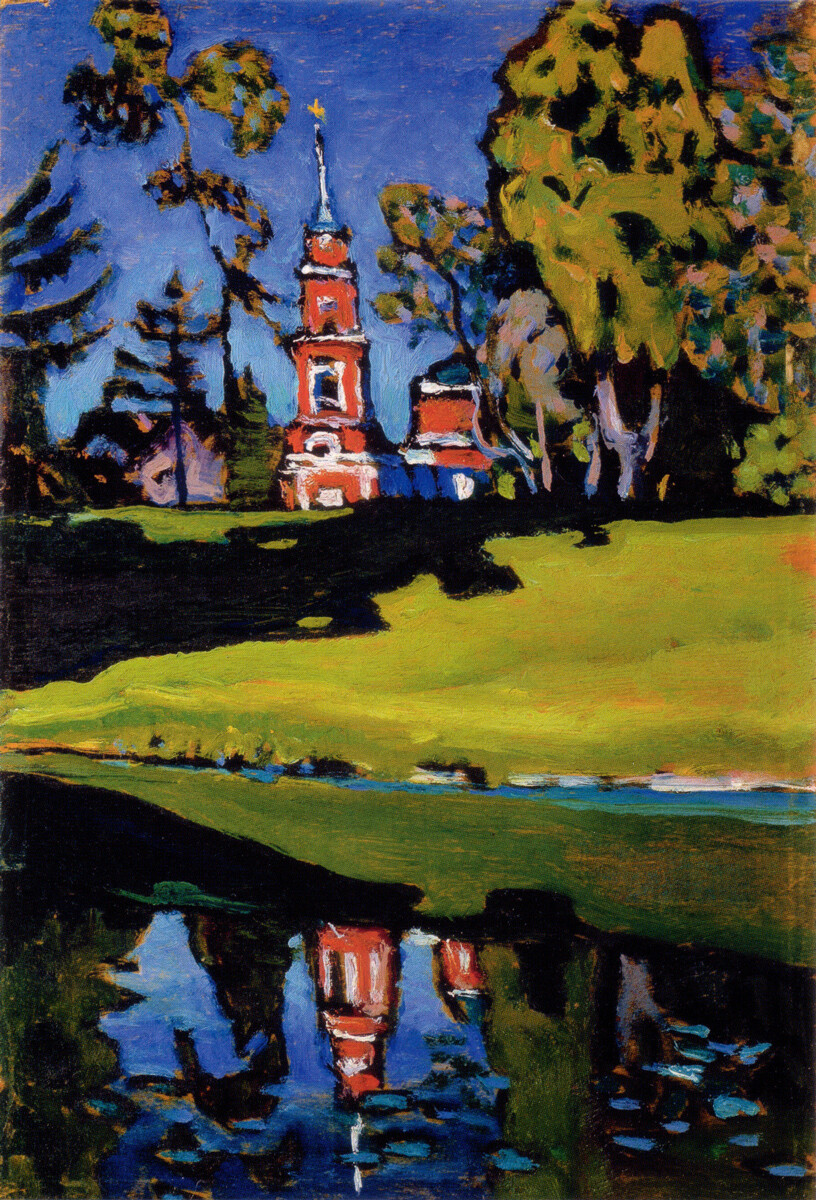 The Russian Museum
Before becoming a master of abstract art, Kandinsky created quite rich landscapes.
Aristarkh Lentulov. Saint Basil's Cathedral, 1913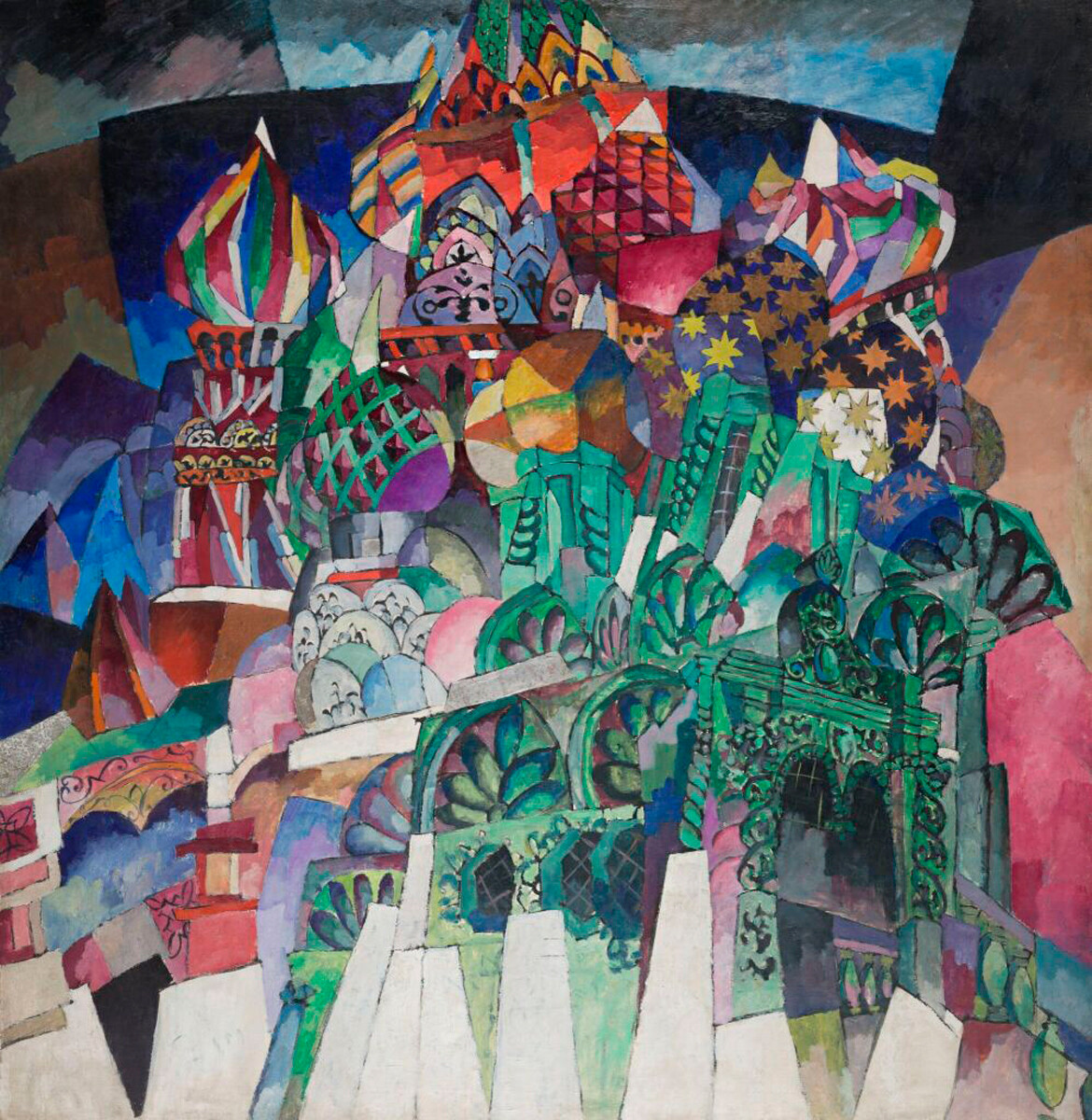 Tretyakov Gallery
One can easily spot the features of the most famous Moscow cathedral in this avant-garde fantasy.
Boris Kustodiev. Maslenitsa, 1916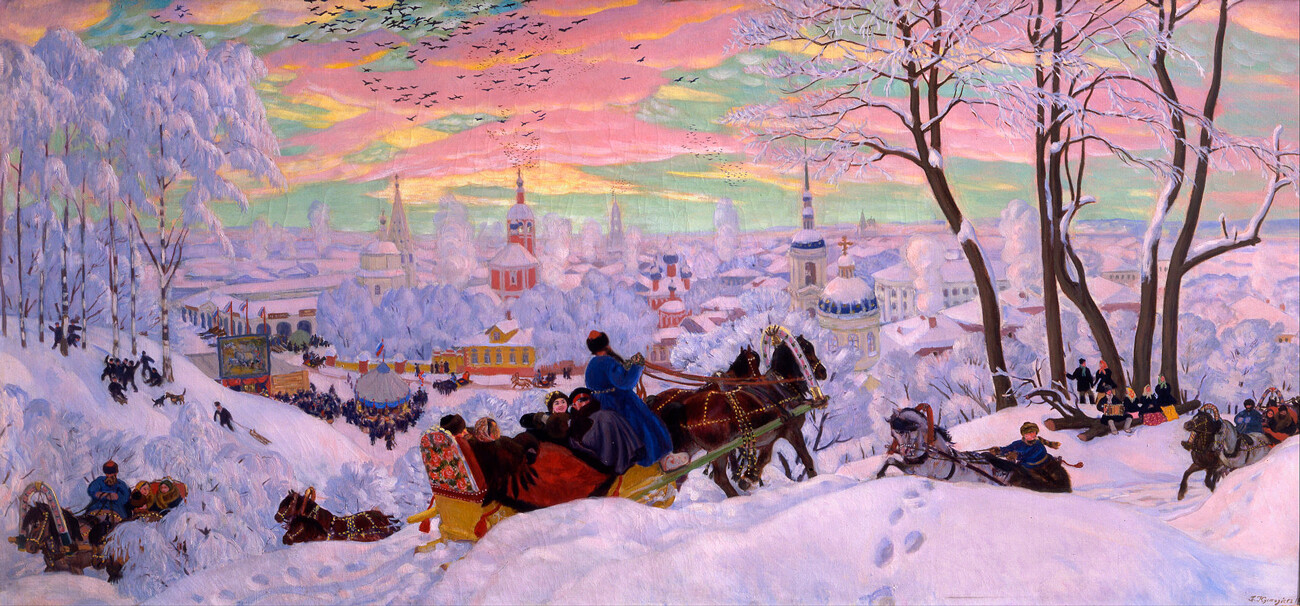 The Russian Museum
Depicting churches in a toy-like way is an important element of Kustodiev's creative work and a feature of the merchant life he was showing.
Mikhail Nesterov. Solovki, 1917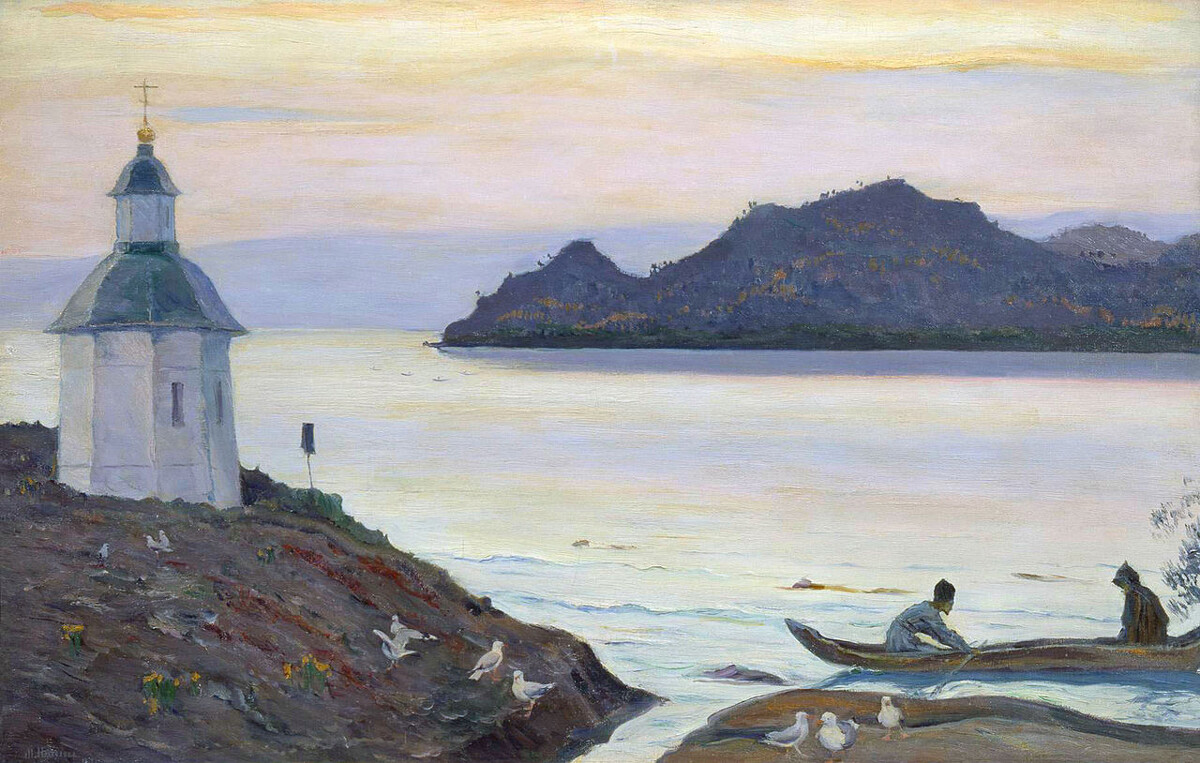 Lugansk Regional Art Museum
Mikhail Nesterov created a large amount of religion-themed paintings. He even traveled to the remote Solovetsky Monastery in the White Sea.
Mikhail Nesterov. Holy Rus, 1901-1906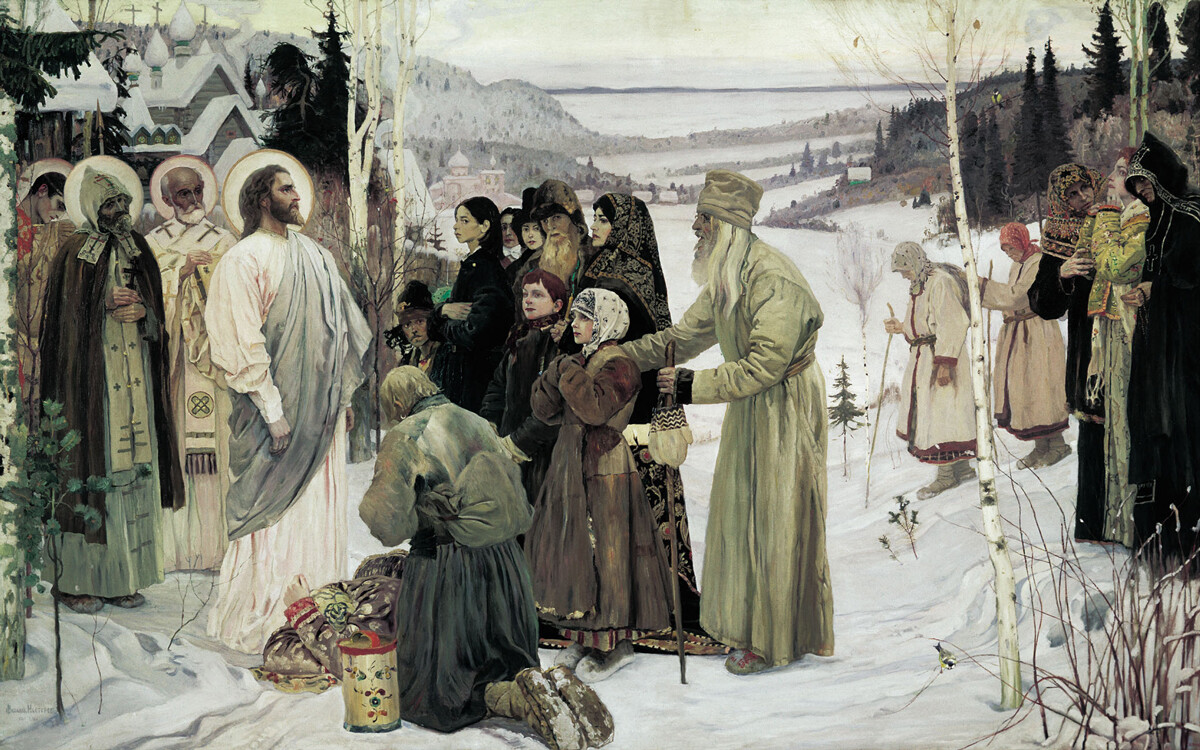 The Russian Museum
Nesterov embodied his spiritual search in this monumental painting, which has become a literal illustration of the phrase: "We're Russians, God is with us."
Sergei Gerasimov. Church of the Intersection on the Nerl, 1953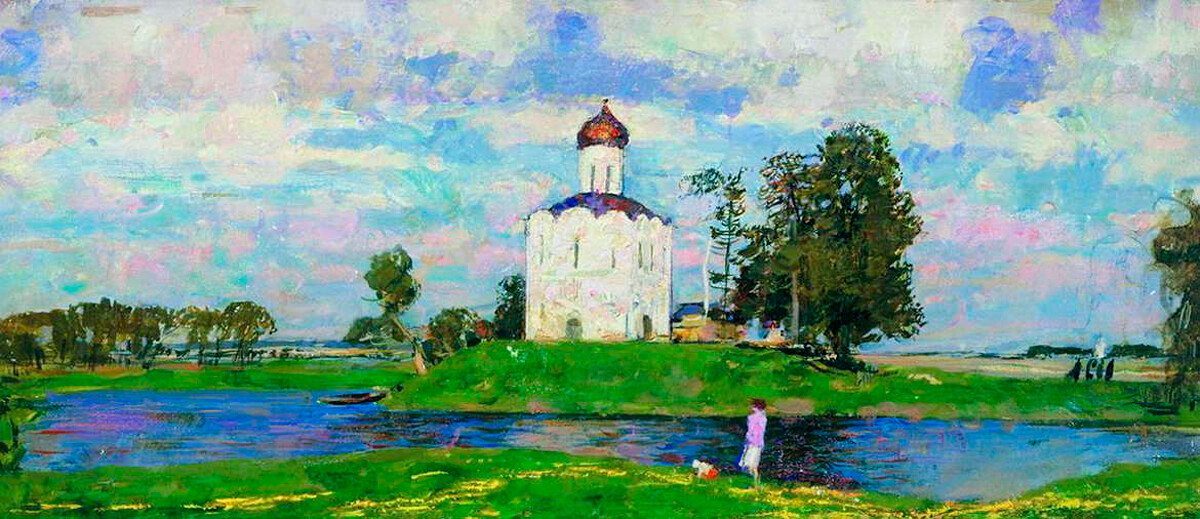 Tretyakov Gallery
One of the most beautiful and ancient churches of Russia is a 12th-century church not far from the city of Vladimir. Even court Soviet painter and master of social realism Sergei Gerasimov couldn't pass it by.
Dear readers,
Our website and social media accounts are under threat of being restricted or banned, due to the current circumstances. So, to keep up with our latest content, simply do the following:
Subscribe to our Telegram channel
Subscribe to our weekly email newsletter
Enable push notifications on our website
Install a VPN service on your computer and/or phone to have access to our website, even if it is blocked in your country
If using any of Russia Beyond's content, partly or in full, always provide an active hyperlink to the original material.